Hovercraft Events / News / Information

The Official Newsletter of the World Hovercraft Organization
September 2004 - In this issue:
- Announcement: Cancellation of HoverWorld Expo 2004
- Hoosier Hovercraft Championship
- Interview with Robert Hodson, Trans-American Hovercraft Adventure


Announcement: Cancellation of HoverWorld Expo 2004
With great regret, we must inform you that the National Capital Authority in Canberra has recently declined the opportunity to stage HoverWorld Expo 2004.
Despite the wholehearted best efforts of the World Hovercraft Organization, the Australian Hovercraft Federation, and the entire HoverWorld Expo organizing team, the National Capital Authority in Canberra has "withdrawn its support for the HoverWorld Expo 2004 event on Lake Burley Griffin." In addition, Australian Capital Tourism believes that the tourism benefits of HoverWorld Expo 2004 would not be significant enough for it to receive support through their Events Assistance Program.
After four years of planning - and a massive investment of man-hours and funds - we certainly share in your disappointment. As Australian citizens, we are sincerely aggrieved at the loss of this opportunity for Canberra and all Australians to celebrate the 40th anniversary of a genuine historic first: the World's First Hovercraft Race, staged in Canberra in 1964.
Sadly, many nations will share this disappointment. Groups from throughout the world have registered to attend HoverWorld Expo 2004, including teams from Australia, New Zealand, Malaysia, Sweden, Nigeria, Canada, the United States and the United Kingdom.
Although Canberra officials were initially responsive to bringing HoverWorld Expo to their city, and provided much assistance in the planning process, the extensive regulatory process in Canberra ultimately proved to be insurmountable and cost-prohibitive for the not-for-profit Australian Hovercraft Federation and the World Hovercraft Organization.
As disheartening as it may be to all of us that the event has been canceled, it is perhaps the best alternative, given that the enormous number of ever-increasing regulations with which we were expected to comply would, at best, severely limit the scope of activities offered to participants and, at worst, subject HoverWorld Expo 2004 to being closed at any time during the event.
More than two months ago we appealed to the various governmental agencies in Canberra to grant some minor concessions and assistance with the regulatory and approval processes that would allow HoverWorld Expo to take place. Upon no response from the twenty-five individuals contacted, and after several repeated appeals, we received the National Capital Authority's kindly, but final, withdrawal of approval in a letter dated September 1, 2004.
It is our deepest and most sincere regret if this decision has caused any hardship or loss to you.
So that the cancellation of HoverWorld Expo 2004 does not leave you entirely without an opportunity to celebrate the 40th Anniversary of the World's First Hovercraft Race, the Australian Hovercraft Federation is working to organize a cruise on the famous Murray River downstream from Albury Wodonga, December 28, 2004. Details will be available to you soon on WorldHovercraft.org, and in future issues of HoverWorld Insider.
Please be assured that the World Hovercraft Organization will stage events in the future, in locations that will allow for us to create events as enjoyable as World Hovercraft Week 2002 in Terre Haute, Indiana. In addition, you can anticipate a new venue of events being planned in conjunction with DiscoverHover, our international school hovercraft program.
Most Sincerely,
Chris Fitzgerald,
Chairman, World Hovercraft Organization
Ken Osmond,
President, Australian Hovercraft Federation

Hoosier Hovercraft Championship
The Hoverclub of America invites you to this year's very special Hoosier Hovercraft Championship, Friday-Sunday, 15-17 October 2004 on Lazy L Lake in West Terre Haute, Indiana USA. The Hoosier Championship will be the first official points event of the Hoverclub's 2004/2005 US racing season.
Terre Haute has long been a hub of hovercraft activity in the United States, the birthplace of the Hoverclub of America, and was the host city of World Hovercraft Week 2002, during which Mayor Judy Anderson appropriately re-named the city "Hover Haute, Indiana." The World Hovercraft Organization and its international school hovercraft program, DiscoverHover, as well as Neoteric Hovercraft, Inc. are all based in Terre Haute.
If you have never attended a hovercraft event, this is one you won't want to miss! Besides the racing action and the chance to meet hovercrafters from throughout the US and Canada, this year's Hoosier Championship will offer several special attractions:
Endurance Racing: Open to students and novices!
Based on handicapping, endurance racing opens the field for students and novices to compete alongside experienced hovercraft racers. Several school teams have already indicated their intention to compete in the Hoosier Championship Endurance Race, many of them participants in the DiscoverHover program or the Hoverclub's Youth Program. Cecil Scalf, Hoverclub of America Inc. Chief Marshall, has asked for all drivers to pre-register. This will assist with executing a safe program. Please email Cecil at cscalf@charter.net giving the number of hovercraft, team members, and what races you wish to enter.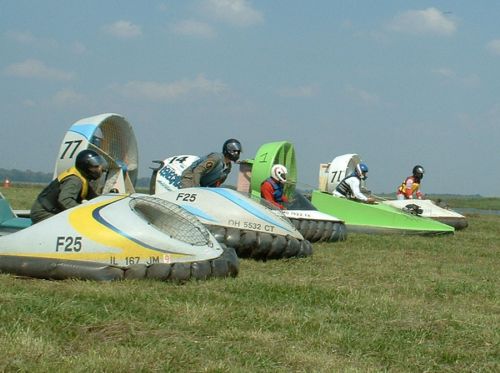 Start of the 2003 Hoosier Hovercraft Endurance Race, Terre Haute, Indiana
WIG Racing
Bob Windt and Bill Zang of Universal Hovercraft will participate in a WIG (wing-in-ground effect) race, as a trial run/evaluation for the World's First WIG Hovercraft Race, now being planned by the World Hovercraft Organization. There will also be a pre-race WIG demonstration. If you've never seen a WIG craft in action, this is a definite must-see!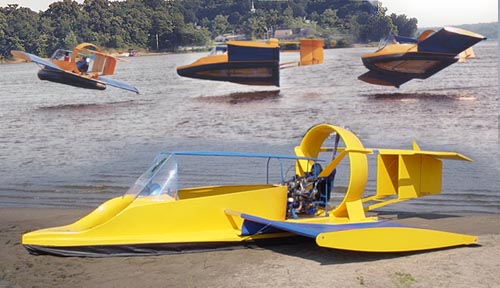 First ever evaluation of WIG racing, will be staged by Bob Windt and Bill Zang of
Universal Hovercraft
at the 2004 Hoosier Championship.
Hoosier Championship Cruise
Following Saturday's racing events, the Hoosier Championship Cruise will launch upstream Sunday morning on the Wabash River from Fairbanks Park, following a 10 a.m. drivers' meeting.
Open Forum with Robert Hodson, Trans-American Hovercraft Adventure
Meet Robert Hodson, the British adventurer, who will attend the Hoosier Championship during his two-year, coast-to-coast exploration of America's rivers in a two-ton Griffon Hovercraft - the longest hovercraft journey in history. Robert will be joined in an open forum by Bob Windt, Mike Keister and Don Bender - who recently completed a 1000-mile hovercraft trek up the Missouri River - to discuss their adventures with you.
For more about Robert's Trans-American Hovercraft Adventure, see the following sites … and watch the Neoteric Hovercraft web site for an extensive photo gallery of Robert's visit to Neoteric Hovercraft, coming soon.
Tribune Star, 16 Aug. 2004, Terre Haute, Indiana:
Nation-crossing hovercrafter stops in Terre Haute
HoverWorld Insider, Jan. 2004:
From Sea to Shining Sea … by hovercraft!
The Daily Helmsman, 5 Aug. 2004, Memphis, Tennessee:
Man explores U.S. rivers by hovercraft:
Robert Hodson's web site:
http://www.hover-adventure.com/

For more information about the Hoosier Hovercraft Championship, contact:
Hoosier Championship:
Steve Pope: spope70@bluemarble.net
Wabash River Cruise:
Chris Fitzgerald: hovermail@neoterichovercraft.com
DiscoverHover International School Hovercraft Program:
www.DiscoverHover.org
Chris Fitzgerald: office@worldhovercraft.org
Hoverclub of America Youth Program:
Marquis Songer: marquissonger@hovercraft.com

Interview with Robert Hodson, Trans-American Hovercraft Adventure
Robert Hodson, a British citizen, sold his home in Goldalming, Surrey to buy the hovercraft that is now piloting him on his two-year, coast-to-coast Trans-American Hovercraft Adventure. His epic journey began on April 7, 2004 when Robert launched from Georgia on the Savannah River.
Robert visited Terre Haute, Indiana from 13 August to 4 September 2004, as the guest of Chris Fitzgerald, President of Neoteric Hovercraft, Inc., Chairman of the World Hovercraft Organization, and founder of DiscoverHover, the international school hovercraft program.
While Robert enjoyed some "Hoosier Hospitality," and his hovercraft received some tender loving care while at Neoteric, he shared his thoughts about his adventure with Sharolyn Herring, Marketing Director of the World Hovercraft Organization: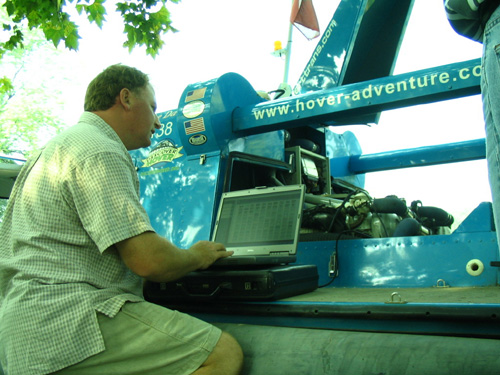 Using his laptop, Robert checks his hovercraft's 1.9L ADE turbo VW engines, which can be monitored for faults using their digital engine management system.


Robert, how did your Trans-American Hovercraft Adventure come to be?
The idea first evolved in my mind six or seven years ago. I'd been in America several times exploring the land, but always wanted to get onto the rivers and waterways. I must have had some sort of seed interest there in the back of my mind. When I was packing up and selling stuff in England, in what you call a yard sale here in America, I found an old book about a hovercraft expedition into Nepal that I had read when I was very young.
Also, I've lost several close friends in recent years, and it really made me think about making the most of life. One had Lou Gehrig's disease and I watched him become completely debilitated. He was a wonderful guy, with a wife and child, and eventually all he could do was move a cursor on a computer screen with his eyebrow or from his lip. I lost another good friend a few years before that. It makes you think you should just go for something because you see the frailty of life. It makes you really think, well, I'm not just going to wait. You can wait all your life to try and do an adventure, but you may never get there, you know.
Why did you choose a hovercraft rather than a boat for your adventure?
A hovercraft would get me to places I couldn't get to in a boat. Also, I get terribly seasick so a hovercraft could provide a smooth ride and an answer to that. I've not felt at all sick on this trip, even when I've gone through choppy water in the Gulf.
In a lot of the water I've been on, I've been going against the flow; in a boat that would be a struggle and put a lot of strain on fuel supplies. Even on the Mississippi River, I've made good headway against 5-6 knots at times, while seeing little boats - and certainly big boats, the barges - struggling hugely with the currents.
Also, I felt the hovercraft might open doors for me, giving me access to people and communities the way that just another boat or canoe wouldn't. Really, for me, the trip is about seeing what part of America the rivers open up, seeing the land that's beyond the trees that line most riverbanks. I need to stop and meet people, and the hovercraft does that, opens the doors that give me a way in to the hinterland behind the river.
How are people receiving you along the way?
Most people say, "Are you doing this alone? You don't even have a dog with you!"
Usually the first thing from men is, "How fast does it go? What engines you got in there?" I can go just in excess of forty knots, with two VW diesel engines delivering 84 hp each. And they want to know how much these things cost. I tell them, well, I had to sell my house to buy it.
But women have different concerns, saying, "Where do you sleep? But there's no bathroom!" They're more interested in basic living qualities - or in this case, the lack of them!
How many hours a day are you actually spending on the water?
I've done pretty much a thousand miles a month. Typically it would be just over 150 miles a day, but it doesn't flow like that. I may be two weeks in one place and then I may do 500 miles on the water just like that. I'd say I'm spending about 20 percent of the time on water and 80 percent on land. I think about ten straight days on the water is the longest I've gone without stopping and sleeping in a bed.
How are you finding that America compares to Great Britain, geographically and environmentally?
The immediate difference is the size; Britain is the size of something like Alabama. What goes along with that is less pressure. We've got 56 million people in a small space and that means the rivers and waterways have a lot of competition on them and there are lots of rules and regulations. It's relatively unregulated here, believe it or not, though I've met law enforcement along my way. At home, I simply wouldn't be allowed on a lot of the rivers, certainly not with a hovercraft and especially not one of this size..
In many respects America is a land of opportunity for somebody with a hovercraft, especially with your large rivers. The Thames, for instance, is our largest river, and it's the size of the smaller rivers over here. Britain has a great coastline, but we don't have rivers with big mudflats and sandbanks.
There are places, I'm afraid to say over here, that people throw away litter and beer cans and bottles and I think it's a great shame to see that. I think Britain may be a little bit cleaner on the whole, but there's dirty places in England, that's for sure.
But it's much more open here, so it has the feeling of being less polluted, less intense. But I have found quite a few places with effluent coming in where you'll see water bubbling away and you'll think it's rapids - but before you get there you'll smell that it isn't rapids!
What about the people? Are you finding great differences between Americans and the British?
In many ways Americans are able to be more varied within their culture because they have more space, more room to do your own thing is what I'm saying. English people in the main will be more reserved, will hold back a little bit, are more conservative on committing themselves in talking about a lot of different things because they all have to live very closely together. Over here, you can hear two completely different opinions from two people on the same street and they're quite vocal about it, will vocalize strength of opinion more readily than an English person probably would.
America seems to be quite polarized in politics and certain other areas. People are more "go for it" here, which I really enjoy - I think that's fantastic! Okay, it may be a slightly strange thing I'm doing, but there's an awfully lot of people who say, "Hey, I'd like to come with you!" There's a lot more of that than there would be at home, where I'd get, "You're just crazy, who on earth would want to do that". There's a much more adventuresome spirit in America.

What has been the most enjoyable aspect of your trip so far?
Well, the first day in Savannah was something of a seminal moment for me, heading up a river for the first time on a hovercraft that I'd never driven on a river before! And getting to Augusta from Savannah in one piece was also a very satisfying moment. And I really enjoyed a time down at the bottom of the Mobile River as it comes into the Gulf. I met up with some old friends down there for July Fourth. People came for rides and let me into their lives for a few days.
Food has been one of the best things. I've probably put on weight. Because I have to stop for diesel, there's ample opportunity to snack, and it's America so there's lots of fast food places. And people love to show me their home cooking, which is fantastic.
There have been quite a few special moments when I've just been on my own and I've pulled off into an absolutely beautiful white sand bank and found the perfect place to stop. Although I enjoy meeting people, I'm equally at home on my own in the outdoor environment - those provide very special moments, clear skies at night, being able to see the stars, early morning with the mist just lifting off the water - beautiful! And perhaps going round a bend where the water's a bit glassy and you've found yourself committed a little bit more to the bend than you would have liked, and you find the bend does what you want it to do and it turns into a beautiful turn - those are great moments!
The other good times are when people come for a ride on the craft and you see their eyes light up with this new experience, the initial joy. There are relatively few new experiences in the world and for a lot of people having a ride on a hovercraft is one of them. Every bend in the river is a new experience.
Have most people you've met been familiar with hovercraft?
No, absolutely not. "Hover what?" I get a lot of "hoovercrafts." People relate them very quickly to an airboat, but they really don't understand how it's lifting. You can talk to somebody half an hour about it, and they still don't understand that it's actually just air lifting the craft up underneath; they think it's like a solid rubber bag and it's going to puncture. Youngsters have a bit of a better idea about what hovercraft are, I think because of radio-controlled models and they've watched James Bond.
You know the role that hovercraft have played in your life so far. What would you say to DiscoverHover students about what the program could do for them?
If your imagination has been fired up, then you've got to go out there and find out what hovering is really all about, find out the physics involved, and have some fun at the same time. It's a whole new sensation. It's not a common sport, it's not something everyone does. You can find information about hovercraft, but with the DiscoverHover program you have people who can provide back up and support, so if you're interested in hovering, it's a very good way to get into it. Because, otherwise, on your own it could be a lonely trip.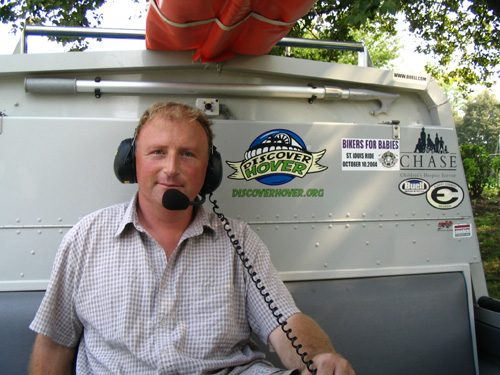 Robert poses as a backseat driver and proudly displays the DiscoverHover logo on his hovercraft. When taking passengers, this is where they sit, and in the evening this becomes a platform for Robert's inflatable bed.

You've mentioned that people you meet are giving you gifts - you must feel like Lewis and Clark and the natives are bearing gifts! What sort of gifts do you most need?
I would say, pretty much nothing! The people give very generously from their hearts, all sorts of extraordinary things from tee shirts and baseball caps to a memento that belonged to someone special in their family and, of course, food and supplies. But I can't accumulate; I'm normally trying to get rid of stuff, including stuff I thought I would need, then have to leave somewhere along the way. I've got loads of different types of insect repellent from people, and they all swear theirs is the only one that will work, and I've got too much of it now. So the best gift is pretty much nothing. Maybe a packet of biscuits or cookies for that day, that would be nice.
What will you be doing to the hovercraft here at Neoteric?
The main thing is Chris and I will be looking at a little electrical thing. One of the engines is starting to hunt. Whether a little pipe has been squashed or there's a bit of fuel starvation, I'm not sure. If you can diagnose what the problem is, then you're more than halfway to solving it.
You've been out on the river in a Neoteric craft. How was the experience of light hovercraft after piloting your two-ton Griffon craft?
I'm fascinated by the reverse thrust buckets. And a big difference, obviously is that it offers great versatility and can get you to places a bigger craft can't get to. Everything increases in intensity as far as driving a smaller craft and that's great - you're closer to the water. And it offers the opportunity to stop off a lot easier than with a bigger craft; it's like stopping a car as opposed to stopping a big truck.
What are your plans after leaving Terre Haute?
I'm looking forward to getting back up here mid-October for the Hoosier Hovercraft Championship, so what I'll probably do is head back down the Wabash River and go up the Cumberland to Nashville and explore a little beyond that. Then I'll go down to the Tennessee and go back up to the headwaters and overwinter on the Tennessee to write up and document what I've done this year.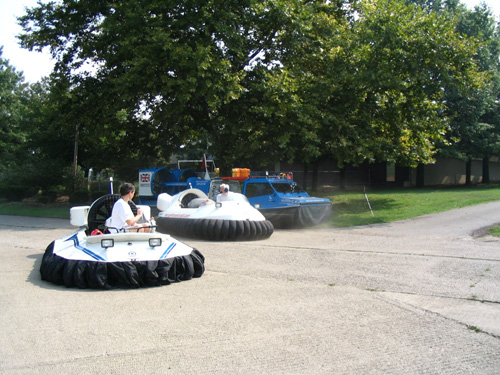 Chris Hebb and Chris Fitzgerald depart Terre Haute with Hodson in their Neoteric hovercraft for a 90-mile river trek to Vincennes for a fish fry hosted by the Vincennes Boat Club, then south to New Harmony to camp overnight on a sandbar. Crisis struck the flotilla before departure when Robert discovered his GPS was missing, which contains all records of his 4,000 mile trip so far! His departure was delayed several hours while everyone searched Terre Haute, but in the end he departed without it.
I'm really looking forward to going to the big empty spaces of the Midwest. I'm fascinated with farming. I love the idea of being able to put a seed in the ground and then taking something out of it. Getting something out of Nature's harvest, there's really something sort of basic about it I really enjoy. The people I tend to get on with very well seem to be country folk, so I'd like to spend a few months going through the Midwest, getting really involved in their communities, the ranches, the big corn and soy bean farms.
What do you hope to take away from your Trans-American Hovercraft Adventure?
In many ways, I've already got out of it what I originally hoped. Now my hope is that what I get out of it will be shared by many other people. The most satisfying aspect will be to see other people involved in the adventure. Everywhere I stop, the people that I talk to and stay with, they're not just signs on the road, they're very much involved. And I think it inspires them to perhaps get up and do something that they've always wanted to do, you know, just to have a go. So if it does that in any way and puts a smile on peoples' faces, that's what I'll get out of it.

………………………………………………………………………………………………………………………………
Subscribe to HoverWorld Insider
Submit news or articles to HoverWorld Insider.

Read past issues in the HoverWorld Insider archives.
HoverWorld Insider is published by the World Hovercraft Organization. All rights reserved.
Copyright (C) 2003 World Hovercraft Organization