Hovercraft Events / News / Information

The Official Newsletter of the World Hovercraft Organization
March 2006 - In this issue:
- Sport and Recreation: Event news and updates
- Education: DiscoverHover expands to 1500 schools in 44 countries
- Military Hovercraft: Secret Skunk Works project utilizes hovercraft technology
- Commercial Hovercraft: Hovercraft eliminate "bugs" in South Korean port expansion
- Hovercraft Manufacturer News



Hovercraft in Sport and Recreation
April 2006: Hoosier Hovercraft Championship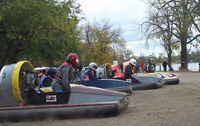 Entry level hovercraft ready to race at the
2004 Hoosier Hovercraft Championship.
The Hoverclub of America and the DiscoverHover school hovercraft program invite you to the Hoosier Hovercraft Championship Friday 28 April through Sunday 30 April at Lazy L Lake in West Terre Haute, Indiana USA. This is a major hovercraft event in the United States - a perfect opportunity to see what hovercraft racing and cruising is all about and to enjoy the camaraderie of the hovercraft world.
Besides the high flying racing action and the chance to meet hovercraft notables from throughout the US and Canada, plans are being finalized for several special attractions for DiscoverHover students and instructors, including:
Meet the Experts
Let learning take flight with pointers from the pros! In planning is a seminar that will let you join hovercraft world notables for a visit to a Terre Haute high school's long-standing hovercraft program, and a forum on helpful building tips. You could have the chance to discuss your building project with the designer of the DiscoverHover One, the holder of the Guinness Hovercraft World Speed Record, and the judge of the Learning Channel's Emmy Award-winning Junkyard Wars Hovercraft episode, to be shown at the seminar. This event is tentatively scheduled for Friday evening, 28 April – watch DiscoverHover.org and HoverclubofAmerica.org for updates.

Obstacle Course Skills Challenge
Let's see what your school's hovercraft can do! Test and improve your piloting skills alongside hovercrafters from throughout the United States on a land/water obstacle course. Each student from your school, as well as your instructor, will have the opportunity to maneuver the course in your hovercraft – and take home an award. The Skills Challenge is tentatively scheduled for Saturday 29 April. Regulations will be posted after 15 March, so watch HoverclubofAmerica.org and DiscoverHover.org for updates.

Hoosier Hovercraft Cruise
Join hovercraft racers and cruisers at 10 a.m. Sunday 30 April for a scenic cruise on the Wabash River and Sugar Creek to Turkey Run State Park for the famous lunch at the Park Lodge. You're welcome to cruise along in your craft, or drive to the park to enjoy lunch with the cruisers.

Important!

1) To participate in these events, DiscoverHover schools must be members of the Hoverclub of America. You may join online at HoverclubofAmerica.org.

2) You must register on site to participate in events, and your hovercraft must pass a safety inspection at 10 a.m. Saturday 29 April at the Lazy L Lake race site. The fees are $40 per craft/ team to race, and $25 for non-racing craft.

3) DiscoverHover schools must email the following information by 15 April to PR@WorldHovercraft.org letting us know how many students and instructors will participate in each of the following events:
- School Visit/seminar
- Obstacle Course/Skills Challenge
- Awards Banquet
- Wabash River Cruise/Lunch
If you have never attended a hovercraft event, this is one you won't want to miss. As America's original hovercraft city, Terre Haute has been for decades the hub of US and international hovercraft activity. The Hoverclub of America was founded in Terre Haute, and the city is home base for both the DiscoverHover international school hovercraft program and Neoteric Hovercraft, Inc., the world's original light hovercraft manufacturer. The 2002 World Hovercraft Championship took place in Terre Haute, during which Mayor Judy Anderson appropriately renamed the city Hover Haute, Indiana.
The Hoverclub of America and all of us at DiscoverHover look forward to meeting you in Hover Haute next month for the 2006 Hoosier Hovercraft Championship!

* For updates to the schedule of events, check in often at HoverclubofAmerica.org.
* For photos/reviews of past Hoosier Championships, see the Hoverclub's Events page
June 2006: US National Hoverally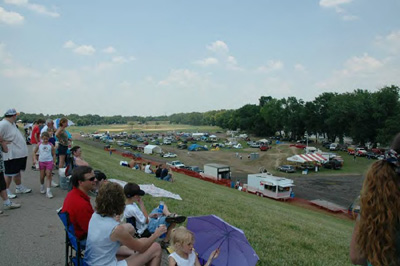 Hoverally 2005 in Chillicothe brought
participants from Asia, Australia, Canada,
Europe and the United States.
The largest hovercraft event in North America, the Hoverclub of America's 31st Annual National Hoverally, will take place Thursday 22 June through Sunday 25 June in Chillicothe, Ohio USA. More than 100 hovercraft are expected to attend. The event will include the 2006 National Hovercraft Championship, cruising, and model competitions.
An exciting new addition to this year's Hoverally – endurance racing – will open the competition to a broader range of hovercrafters. An open and unlimited class 50-lap feature, endurance racing gives everyone from students to experienced racers an "equal opportunity" chance to win, because speed and power of the hovercraft are not the most important factors. Details and regulations for this dynamic event will be posted soon on HoverclubofAmerica.org.
For updates and the schedule of events, see Hoverally 2006
August 2006: World Hovercraft Championship
Final preparations are underway for the 2006 World Hovercraft Championship, to be held 21-26 August 2006 in Latronquiere at Lac du Tolerme, Lot, France.
WHC2006 will debut an exciting and prestigious new event: World Hovercraft Cup Endurance Racing. This new concept is specifically designed to attract teams from throughout the world to engage in friendly competition between nations while encouraging quieter, more economic and environmentally friendly hovercraft. WHC2006 endurance racing will consist of three one-hour races on separate days, and the winning team will take home the World Hover Cup for their nation.
This is a premiere opportunity for student hovercrafters worldwide to experience European hovercrafting. Drivers age 11 to 16 years will be able to participate in World Hovercraft Cup Endurance Racing as a part of a senior team.
For complete details and registration information, see WHC2006.com.

Each issue of HoverWorld Insider will publish upcoming events and news about hovercraft in sport and recreation. Please email your announcements and updates to Insider@WorldHovercraft.org.

Hovercraft in Education
DiscoverHover expands to 1500 schools in 44 countries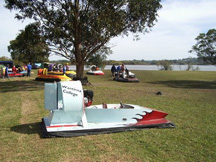 Australia's Wantirna College built the
world's first DiscoverHover One hovercraft.
The World Hovercraft Organization's DiscoverHover international school hovercraft program debuted in 2003 as a resource to give "…students worldwide the educational opportunities that accompany the building of a hovercraft and racing it in established hovercraft races." The focus of the program is the construction and piloting of the DiscoverHover One hovercraft, which meets global standards for entry-level racing hovercraft.
DiscoverHover provides hovercraft plans and instructions, Curriculum Guides and comprehensive resources at no charge to schools and universities, youth organizations, instructors, and students age 7 to 21 anywhere in the world.
When DiscoverHover.org went online in September 2003, a light trickling of traffic found its way to the site; for the first few months, visits to the site did not exceed 15 per month. The power and appeal of this unique youth opportunity is reflected in its current statistics:
Today, visits to the web site exceed 170,000 per month, and this trend continues to grow;
DiscoverHover membership has grown to approach 1500 schools, youth groups and individual students, and a number of schools have built more than one hovercraft;
The program has expanded throughout the world, with registrants in 44 countries to date: Australia, Argentina, Austria, Belgium, Canada, Colombia, Cyprus, Czech Republic, Denmark, France, Germany, Guatemala, Hong Kong, India, Indonesia, Ireland, Israel, Japan, Kuwait, Lebanon, Malaysia, Mexico, Moldova, Montenegro, Netherlands, New Zealand, Norway, Peru, Philippines, Poland, Russia, Serbia, Singapore, South Africa, Spain, Sweden, Switzerland, Thailand, Tunisia, Turkey, United Arab Emirates, United Kingdom, United States and Venezuela.
New DiscoverHover "Sister School" program
In response to the number of requests received from instructors wishing to collaborate with other schools as they build the DiscoverHover One, the World Hovercraft Organization will soon establish its new DiscoverHover Sister School program.
Sister school programs are proven to be educational opportunities that have tremendous impact on those involved, and can have a lasting influence on international relations as well.
Partnering with a school or several schools in other countries, or even with another school in your own country, not only allows you to share ideas and expertise as you build your hovercraft, it deepens the educational experience for both students and instructors. Participants in similar sister school programs cite their many benefits, including deeper understanding of other cultures; new global and historical perspectives on their own societies; lasting personal relationships; increased language competence; and increased curiosity, excitement and enthusiasm about learning.
Your program can begin with a simple exchange of emailed information and helpful building tips, but can easily expand into cooperative curriculum development and exchange visits by students and instructors between schools. As the program evolves, additional information and guidelines will be posted on the DiscoverHover web site.
Watch your email for your invitation to participate in the new DiscoverHover Sister School program! In the meantime, don't forget that the DiscoverHover Forum will let you open a discussion with the entire worldwide DiscoverHover membership as well as with program officials.
School hovercraft programs open up the world
The immediate benefits of student-centered projects such as DiscoverHover are well known: greater engagement in the learning process, increased motivation, higher academic achievement, greater self-esteem and more positive relations with peers. But do these effects end with graduation?
Not according to Marquis Songer and Jason Kuehn, who were introduced to hovercraft years ago in the school program at North Vigo High School in Terre Haute, Indiana USA, one of the first school hovercraft programs in the world.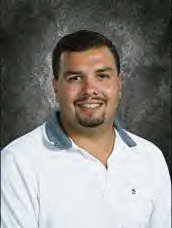 Marquis Songer, President of the
Hoverclub of America, says his
high school hovercraft program
steered him into teaching.
Songer is now President of the Hoverclub of America and a technology instructor at South Vigo High School in Terre Haute, where he directs the school's hovercraft program. Kuehn, a building designer for Gateway Panel, a large construction company in St. Louis, Missouri, serves as the Hoverclub's Forum Administrator. Both are active hovercraft racers, competing in national and international events.
Songer and Kuehn both agree that the practical, hands-on skills gained in school hovercraft programs can be applied to a wide variety of employment opportunities as an adult.
"Much of the composite construction that you learn by working on a hovercraft can apply to many areas later in life – aerospace, lots of things," says Kuehn.
"I didn't realize it at the time, but it steered me into teaching," Songer states, "After high school, when I was an engineering student at Purdue University, I would always come back on weekends to help North students work on the hovercraft. During one of those times I realized I liked this much more than engineering and thought, This is pretty cool. I'm going to change my major and go into teaching. Ever since then it's been a happy life."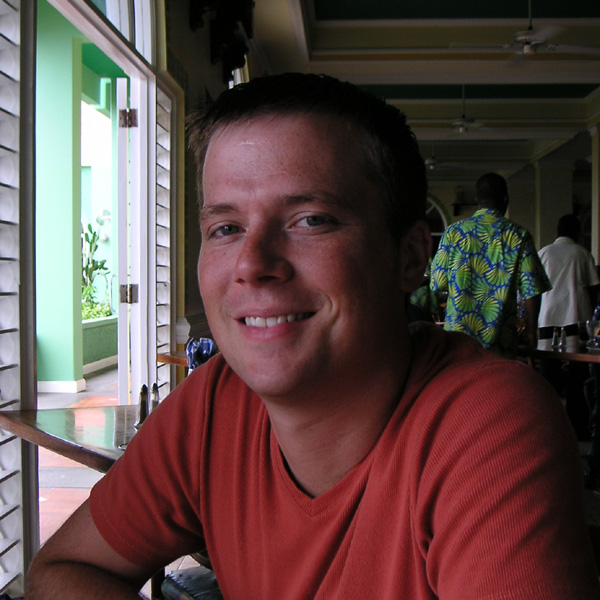 Jason Kuehn, Hoverclub of America:
"School hovercraft programs
open up the world."
Besides the tangible benefits of increased employability and greater job satisfaction, both Songer and Kuehn believe that school hovercraft programs create valuable lifelong relationships.
"I can't even begin to count the number of people I've met as a result of my hovercraft activities, people that will be friends for life, from all over the country, all over the world," Songer relates, "Without the school hovercraft program there's just no way I would have that knowledge of people or that family. It's a fraternity, an extended family; you care for these people like you care for your own brothers and sisters."
Kuehn credits his involvement in the school hovercraft program with an overall greater satisfaction with life:
"I think lots of people don't get much satisfaction out of life," he says, "They don't have anything to work toward, a passion. Maybe one of every thousand people love their job, but for the most part your job gets monotonous. Being involved with hovercraft is a great source of satisfaction in my life. After building one, you're just so proud of it, then you can go places, meet people, you can race, you can go on cruises and see rivers and remote locations that you'd never be able to go to otherwise."
Kuehn concludes in perhaps the best description of the lasting value of school hovercraft programs, "They open up the world in so many ways."
New DiscoverHover Curriculum Guides
Vastly expanded DiscoverHover Curriculum Guides have now been developed by the DiscoverHover Advisory Board in conjunction with leading educators and hovercraft experts from throughout United States and Canada. The Guides are currently in a meticulous technical editing process, and will be published on the DiscoverHover web site when this process is complete.
Share your experiences!
As the DiscoverHover International School Hovercraft Program continues to mature, we invite you to share your experiences with your partners in more than 44 countries:
See your school on the DiscoverHover web site as a Featured School! Submission of your materials can become a class project as you write about your experiences building the DiscoverHover One. (Be sure to take photos as you build your craft.) Email PR@WorldHovercraft.org for application instructions.
Has your DiscoverHover project been in the local news? Send copies of or links to the stories to PR@WorldHovercraft.org and we'll post them on DiscoverHover.org.
If you are an educator and would like to provide curricula or other material for the DiscoverHover web site, please email Office@WorldHovercraft.org

Hovercraft in Military Operations
Lockheed Martin secret "Skunk Works" project utilizes hovercraft technology
A secret experimental hybrid airship became public knowledge on 31 January 2006 when a strange object was seen in the sky over the Lockheed Martin Advanced Development Projects "Skunk Works" facility in Palmdale, California USA. In their next issue, Aviation Week & Technology magazine "scooped" the story.
The scaled demonstrator model of
Lockheed Martin's secret Skunk Works
P-791 takes its first test flight.
The story was old news, however, to Chris Fitzgerald, President of Neoteric Hovercraft, Inc. in Terre Haute, Indiana USA. Last year Lockheed Martin's test pilots came to Fitzgerald for hovercraft pilot training – a necessity because the new "P-791" hybrid airship utilizes hovercraft technology.
The airship uses four air cushions as landing gear, located on the outer lobes. The Aviation Week article speculated, "Taxiing the vehicle could be like flying a hovercraft, except one with greater exposure to winds. An advantage of the air cushions is they could be reversed to suck the aircraft onto the ground to resist winds for cargo operations. Air pressure may also be the best way to spread landing loads into the inflatable structure."
In commenting on the test flight of what was a scaled demonstrator of the P-791, silver and marked "Lockheed Martin" with the Skunk Works logo on its tails, the article observed, "It's not clear how the pilot was performing the balletic spins on his taxi-out, whether purely with vectored thrust, or by spinning around one sucked-down air cushion, or other means … the company did not announce or want to discuss the flight."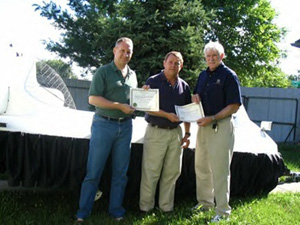 (Left to right) Lockheed Martin
Flight Test Engineer Tim Blunck
and Flight Operations
Manager/Chief Test Pilot, Eric P.
Hansen
receive their Class III
Hovercraft Pilot Certificates from
Chris Fitzgerald, President of
Neoteric Hovercraft, Inc.
In response to the story, Eric P. Hanson, Manager of Flight Operations and Chief Test Pilot for Lockheed Martin, told Chris Fitzgerald, "We haven't released specific information … Aviation Week got a few things wrong and made some speculations, but it's not far off." He continued, "Notice they refer to my turns on the ground as 'ballet.' Your training is to blame!"
Both Hanson and Lockheed Martin Flight Test Engineer Tim Blunck are keeping Fitzgerald up-to-date as they implement the hovercraft training he provided to them at Neoteric.
Hanson reported early on, "I performed the first "taxi" test of our hybrid airship demonstrator on its four air cushion landing pads. With the four vectored propulsors I skated, sidestepped, backed, and did 180-degree reverses with solid control in 5-knot winds on concrete taxiways and on the runway. The training you provided Tim Blunck and I last June was a tremendous help."
Hansen and Blunck were both in the cockpit during the first test flight, with Hanson as pilot. An observer said the flight was "very smooth," and said the craft performed very tight 360-degree turns while taxiing, made a brief takeoff roll, climbed to a low altitude, made a few banks including a long sweeping turn, then came back and landed.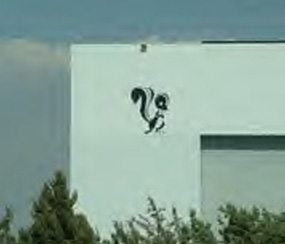 Lockheed Martin's Skunk Works facility
at Palmdale Air Force Plant 42 Airport
in California.
Blunck related the experience to Fitzgerald: "The vehicle is inflated, engines are on and we have hovered it once. The training you provided enabled us to understand the sensations around us and gave us a better situational awareness as the systems were energized."
Lockheed Martin has not yet officially disclosed the purpose or technical details of the airship, other than to say it is being used to test airship technology.
"We have not done any public discussion about the airship," Lockheed Martin spokeswoman Dianne Knippel told the Los Angeles Daily News, who published a second story last month. But "it's kind of hard to hide a blimp," Knippel added.
Neoteric's Fitzgerald explained, "This flight involved a scaled test demonstrator model with four 100-horsepower 2-cycle engines driving vectored thrust props and an extra engine driving an electric generator that produces current to enliven four electric fan motors on the four hoverpads for both lift and suction."
"All of the 100-horsepower engines are similar to the power plants used on many light hovercraft," he continued.
Company materials state that the full-scale hybrid airship, when developed, will be designed for unrefueled global reach providing Field Commanders with flexible, cohesive, "Ready to Fight" battle units. It will have a massive throughput of 500+ tons, and the innovative landing system will enables affordable heavy-lift logistics to unimproved forward areas on land or sea. The materials point out "flexible debarkation," a feature provided by hovercraft technology: the airship will have the capability to debark on land or sea, with amphibious operations and rapid turnaround.
Although hybrid airships are drawing new interest from military officials, the concept has a military history dating back two centuries.
Napoleon's armies used hot air balloons to watch enemy forces, as did both the North and South armies during the American Civil War. During World War I, Germany sent zeppelins – airships with rigid frames – to bomb London and Paris. The U.S. Navy hunted Nazi submarines with frameless blimps during World War II, and during the early years of the Cold War, blimps with radar watched for Soviet bombers.
In recent years, airships have drawn new attention from the American military. Last year the Pentagon hired both Lockheed Martin and Aeros Aeronautical Systems Corporation to study possible designs for an airship capable of transporting soldiers and gear around the world to combat areas. Code-named Walrus, the new airship would fly using a combination of lighter-than-air gas as do blimps or zeppelins, and aerodynamic lift created by the craft's shape, as well as thrust vectoring.
Although Lockheed Martin is developing a design for the Walrus project, the company states that the P-791 is not related to Walrus. A company official told Aviation Week that the P-791 is not part of a government contract, but an independent research and development project by the Skunk Works to better understand airship capabilities and technologies.
"Skunk Works" is the unofficial, though trademarked, name for Lockheed Martin's Advanced Development Projects. Originating with "black projects" during World War II, the Skunk Works has made an indelible mark on aviation history through its development and production of a number of legendary aircraft, including the U-2, the SR-71 and the F-117.
Perhaps the new P-791 and its hovercraft technology will join the ranks of legend in Lockheed Martin's illustrious record as producer of many of the world's most famous aircraft.

Hovercraft in Commercial Applications
Hovercraft Eliminate "Bugs" in South Korean Port Expansion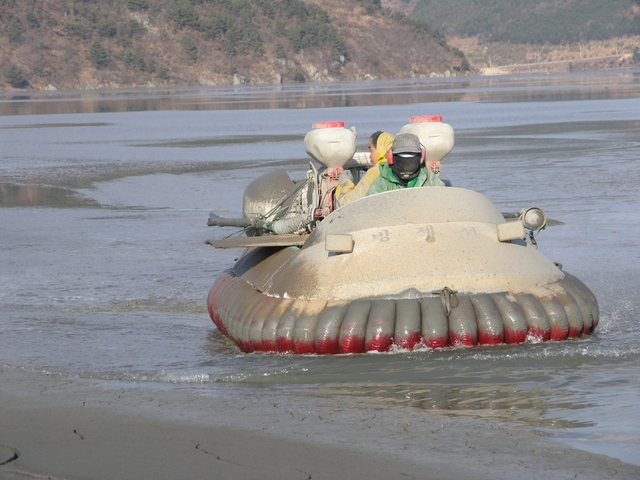 DreamAir's Neoteric hovercraft dispersing
selective insecticide in South Korea's
Pusan New Port project.
A blossoming $9 trillion economic marvel in South Korea, the Pusan New Port (PNP) expansion, recently hit a few bugs – a plague of them, in fact – but hovercraft are coming to the rescue.
The first three of the planned 30 berths of world's newest state-of-the-art container port became operational in January 2006 at a top-level ceremony hosted by President Roh Moo-Hyun. The new port is expected to become one of the largest in the world, and the gateway hub of North East Asia. When completed in 2011, the mammoth port expansion project will have invested more than 9 trillion won in government and private money. It is expected to create 4,500 new jobs and generate 740 billion in operational revenue and 3.5 trillion in extra revenue.
But economic vibrancy is not the only impact the PNP project is having on the region: it has also unleashed millions of insects on the residents of South Kyongsang Province.
To reclaim miles of seashore, retaining walls have been built and water is being pumped from areas adjacent to the existing Pusan Port. As the water shallows, much to the dismay of area residents, it is providing a fertile breeding ground for hoards of insects.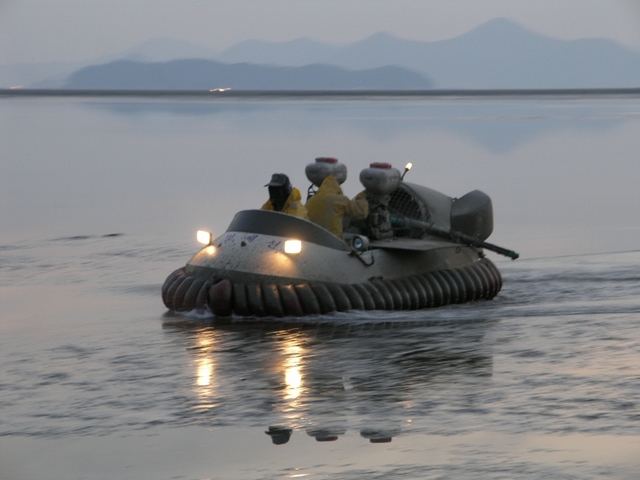 The vastness of the Pusan New Port
saltwater tidal basin requires night
operations by the hovercraft.
DreamAir Co. Ltd., the Neoteric Hovercraft, Inc. dealer in South Korea, has secured the ongoing contract to eliminate the Pusan New Port plague of insects. Hovercraft are superior vehicles for spraying applications. Unlike crop duster aircraft, hovercraft do not create a problem with chemical spray drift, and are often used in mosquito abatement, as well as in rice and cranberry farming.
The DreamAir hovercraft are regularly dispersing millions of dollars of a selective insecticide, supplied by a company in Japan, over several square miles of a saltwater slurry tidal basin. The project often necessitates hovering in freezing weather and at night – conditions in which hovercraft again prove to be ideal.
The joint developers of Pusan New Port are the United Arab Emirates' Dubai Port World and Korea's Samsung Corporation. Dubai Port World, currently enmeshed in a political storm regarding its operational management of six ports in the United States, has secured a 50-year contract to manage and operate Pusan New Port.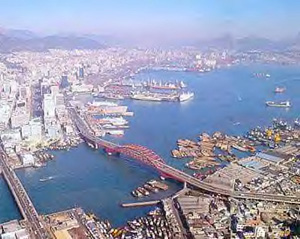 Aerial view of the Pusan Port
area under expansion.
Sultan Ahmad Bin Sulayem, Chairman of DP World, stated to Gulf News that the opening of the first phase of Pusan New Port marks a key moment for the company in its bid to become one of the world's leading port operators, and that DP World is keen to build its global presence in the ports business at a time when countries such as China and India are emerging as centers of massive growth.
We leave it to larger powers to sort out the political bugs. In the meantime, hovercraft are neatly and efficiently eradicating the actual bugs swarming from the Pusan New Port project.
For additional photos of DreamAir's hovercraft in action, and a gallery of other commercial hovercraft at work, see Commercial Hovercraft Gallery.
Air Commander Hovercraft, Inc.
Air Commander Hovercraft, Inc. of Delray Beach, Florida USA announces its transformation into a new company, Hovercraft Depot, Inc., which will provide parts, service and accessories for Scat, Aerocruiser, Hovercraft Concepts, Hovercraft America, Sky Rider, Sea Breeze, Starship 500, RX2000, Hover Jet and homebuilt hovercraft owners.

The Air Commander manufacturing operation has been sold to Air Cushion Technologies, Inc., a company in Hobe Sound, Florida, which will continue production of the former Air Commander product line, and will maintain the AirCommander.com web site.

Hovercraft Depot, Inc. looks forward to their success in higher quality and volume, and can be reached at HoverDepot@aol.com; telephone 561-274-2247; fax 561-276-4159.
Griffon Hovercraft, Ltd.
Griffon Hovercraft, Ltd. in the United Kingdom is producing three Griffon 8100TD hovercraft for Sweden's Försvarets Materielverk, the Ministry of Defense Procurement Division, for use in the Swedish Amphibious Battalion. The 8100TD is a multi-role craft that carries a payload of 12 tons, and is a stretched version of the 8000Td currently in service in India, Saudi Arabia, Korea and Singapore.

The Pakistan Navy has received four Griffon 2000TD(M) hovercraft to form part of their extensive fleet. These craft are to operate in the harsh environment in the Southern region, offering the Pakistan Navy extended capability in areas which were previously unreachable with conventional craft.

More Griffon news here
Hov Pod Hovercraft
Hov Pod Hovercraft of the United Kingdom announces that the United Nations World Food Program has purchased the Hov Pod PRC65 for operations in harsh conditions in South Sudan. The hovercraft will be based on the Nile River in Padak, a small town north of Bar, a regional capital of South Sudan.
More Hov Pod news here
Neoteric Hovercraft, Inc.
In response to demand from the rescue and ecotourism markets, Neoteric Hovercraft invested four years of research and development in the manufacture of a six-passenger Hovertrek™. The first models of this new craft have been shipped to South Korea for use in rescue and bridge building operations. The next shipment will go to Mexico, where the craft will be utilized in ecotourism.

Construction of the six-passenger hovercraft is achieved using extended front and rear portions of the four-passenger model, then bonding the front and rear portions together. The craft is powered by a 2-cycle liquid cooled 3-cylinder 100 horsepower engine.

For an interesting photo review of the complete manufacturing process, see Neoteric Work in Progress.
Universal Hovercraft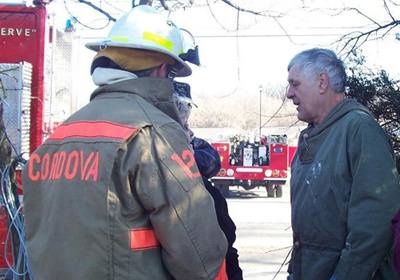 Bob Windt (right) learns from the
Cordova Fire Protection District that
everything he owns has been destroyed.
Tragedy struck Bob Windt, the founder of Universal Hovercraft, when his home, all his possessions, his workshop, three hovercraft and a new generation WIG (wing-in-ground effect craft) were destroyed in a fire on 13 January 2006. Sadly, nothing was insured.
Windt, an aeronautical engineer, is a hovercraft pioneer and has devoted his life to introducing students to hovercraft. He is considered the godfather of personal hovercraft by the Learning Channel's Junkyard Wars; he designed the world's fastest light hovercraft and holds the Guinness Hovercraft World Speed Record; he serves on the advisory board of the DiscoverHover International School Hovercraft Program and he created the prototype design for the DiscoverHover One hovercraft
In recognition of his positive influence on so many lives, the worldwide hovercraft family has joined forces to help this remarkable man rebuild his own life. To read the full story with photos, and to contribute to the effort, see DiscoverHover.org and HoverclubofAmerica.org.
Attention Hovercraft Manufacturers: To have your company news published in HoverWorld Insider, simply email it to Insider@WorldHovercraft.org.
……………………………………………………………………………………………………………………………
Subscribe to HoverWorld Insider
Submit news or articles to HoverWorld Insider.

Read past issues in the HoverWorld Insider archives.
HoverWorld Insider is published by the World Hovercraft Organization. All rights reserved.
Copyright (C) 2003 World Hovercraft Organization