Hovercraft Events / News / Information

The Official Newsletter of the World Hovercraft Organization
June 2004 - In this issue:
- Upcoming Hovercraft Events
- Guest Editorial: The Devilish Details
- DiscoverHover: the Build-a-Hovercraft School Project
- Hovercraft Adventures on the Lewis & Clark Trail
- Beyond James Bond: Hovercraft in Corporate Team Building
- Fast Facts about the World's First Hovercraft Race


Introduction
At its midway point, the year 2004 is living up to its declaration as the Year of the Hovercraft. As we reviewed in a previous issue of HoverWorld Insider, this is the first time in history that two major international hovercraft events – the World Hovercraft Championship and HoverWorld Expo 2004 – will take place in the same year. Event updates are included in this issue.
Those events, however, are of primarily of interest only to those of us who are already involved with the hovercraft. In the half century since Sir Christopher Cockerell patented the first hovercraft, the general public has considered it to be, at best, an oddity - if they consider the hovercraft at all.
Due mainly to the efforts of small manufacturers and individual enthusiasts, the hovercraft is now emerging from the status of a weird hobby of the quirky few into mainstream awareness. In addition to heavy hovercraft use by ferry services and the military, smaller recreational hovercraft are now being used by the general public in a variety of interesting ways - from honoring pioneer explorers to corporate team building, tourism, marketing and education. Beginning with this issue, HoverWorld Insider will introduce you to some unique ways hovercraft are used today.

Upcoming Hovercraft Events
29 th Annual Hoverclub of America National Hoverally
25-27 June 2004, Chillicothe, Ohio USA
www.hoverclubofamerica.org
This year's HCA National Hoverally, the largest hovercraft event in North America, will be held for the first time in Chillicothe, Ohio and will include the Ray Miller/Bob Carter Memorial Cruise on the Scioto River beginning on 25 June, followed by HCA sanctioned racing, endurance racing and model competitions 26-27 June. The Hoverclub reports that Chillicothe is cruiser hovercraft heaven, and participants will be able to cruise 60+ unobstructed river miles upstream to Columbus, Ohio. Volunteers to help with the event are needed, so be sure to check out the Hoverclub's website for more information and a listing of additional events.

Guest Editorial

by Chris Fitzgerald
Chairman, HoverWorld Expo 2004
The Devilish Details
Update on HoverWorld Expo 2004
This time two years ago I was in the midst of planning World Hovercraft Week 2002 in Terre Haute, Indiana USA. I fondly recall that only a gentleman's agreement was required for city officials to enthusiastically embrace the event and jump into action. With only a brief letter of agreement, the Terre Haute Convention and Visitors Bureau provided $20,000 in seed money; city leaders eagerly joined the Board of Directors and went to work.
The scenario is a bit different with HoverWorld Expo 2004 in Australia, where a formidable number of governmental approvals and permits must be in place before the event can happen. As someone once said, governmental regulations are a lot like catsup or tomato sauce – you either get none or far more than you want!
Even so, we are forging ahead and amassing the required documentation that will allow us to create an event to remember. A comprehensive 23-page Risk Assessment and Risk Management Plan was submitted last year to the National Capital Authority, and I have made several trips to Australia since then to further develop HoverWorld Expo.
In March of this year, I spent two weeks in Sydney, Melbourne and Canberra to jump-start the Expo planning process, and would like to provide the following update.
Upon arriving in Sydney on 13 March, I was greeted at the airport by Michael Nell of Viper Hovercraft/Nell Fabrication. Michael is an enthusiastic supporter of HoverWorld Expo and is planning to invite participants to visit his operation in South Nowra, NSW.
I also spoke with Dr. Lawry Doctors, Professor of Naval Architecture at the University of New South Wales, who is Honorary Chairman of the CACTS Symposium at HoverWorld Expo. Lawry's photographs of the 1964 World's First Hovercraft Race appeared in Flight International Magazine.
Next stop, Melbourne on 15 March. We had originally planned a media event on 16 March in Melbourne as the HoverWorld Expo PaceCraft was unveiled after its two-month journey in a shipping container from the US . However, due to Canberra Day celebrations, we were unable to obtain a trailer import permit that would allow us to unload the container, so the media event was postponed until 24 March.
This was both an irony and a portent of devilish things to come. Canberra Day, the same holiday that marked the World's First Hovercraft Race in 1964, 40 years later delayed the first media conference of HoverWorld Expo, an event designed to commemorate the 1964 race!
While in Melbourne I spent a pleasant time with Pauline and Ken Osmond. Ken is President of the Australian Hovercraft Federation and is actively and enthusiastically supporting HoverWorld Expo 2004.
On the way from Melbourne to Canberra on 17 March, I spent some time at Albury Wodonga in consideration of that area as an alternate site for the HoverWorld Expo Cruise. We have concerns that the small size and low water levels of the original site, the Molonglo River , are not conducive to cruising. Due to a lengthy drought, the water level of Lake Burley Griffin, from which the Molonglo feeds and flows, is down 29.5 inches (75 cm). In Albury Wodonga, I drove the entire perimeter of the Hume Weir Reservoir and surveyed various parts of the Murray River , then Kevin Bourke of the Albury Wodonga Convention Bureau graciously took the time to drive me to several select spots.
When I reached Canberra , Ross MacDiarmid and Steven Baldwin generously provided me with a fully equipped office at Australian Capital Tourism Corporation. I was especially honored, not only by their helpful staff, but also by the fact that this is the first time in their history that an office was provided for a client.
One of my priorities in Canberra was to explore optional race sites, because there are some concerns about the logistics of staging the race on Black Mountain Peninsula . I spent all of one day walking the entire Jerrabomba Wetlands section of Canberra Nature Park , and on the following day Park Ranger Dave Jensen and I again toured the area.
Even though "wetlands" is stretching it a bit - the Jerrabomba Wetlands are about as wet as the Sahara Desert - it proved to be an ideal race site, with a large grassed area for pits, lots of parking room, and excellent visibility with a panoramic view of the city in the background.
But the devil is in the details. It seems the Jerrabomba Wetlands is an important wildlife refuge for 77 species of birds, some migrating from as far as Japan and China . One of these birds, Latham's Snipe, takes up residence at our ideal race site for a short time each December, so the Australian Capital Territory (ACT) Parks & Conservation Services advised that it was highly unlikely that our application would be approved.
Ironically, we had to climb a barbed wire fence to enter this natural habitat, which was being grazed upon by herds of cattle and was crisscrossed overhead with an umbrella of power lines!
Thanks to Latham's Snipe, it was back to Black Mountain Peninsula . I walked the entire course with Glenn Tomlinson of ACT Urban Services and met with a number of officials. In order to create a suitable race site at this location, several boundary posts, a gate and a tree must be removed. In addition, space for camping was not sufficient and there were safety issues resulting from the fact that all access to the site is via a single road with extremely limited parking. Should it become blocked, ambulances and fire vehicles could not reach the site. Bush fires are a concern in Australia . In January 2003 a widespread bush fire just west of Black Mountain Peninsula destroyed more than 400 homes and resulted in four fatalities.
Through my remaining meetings in Canberra , I still was not convinced that we had a workable site for HoverWorld Expo. It wasn't until I was driving back to Melbourne several days later that it occurred to me that by moving the entire base of operations over to Weston Park , the peninsula adjacent to Black Mountain Peninsula , it would solve most of the operational and safety concerns. After much deliberation, we concluded that the racing pits and campgrounds will be located on Weston Park and Black Mountain Peninsula will serve solely as one of the land/water transition portions of the racecourse.
Steve Baldwin, Australian Capital Tourism's Event Development Executive, accompanied me to many of my meetings in Canberra. We met with National Capital Authority Events Officer Chris Jobson, and briefly with Chief Executive Annabelle Pegrum, who reiterated the requirements, formal approvals and permits that must be secured from various Australian Capital Territory governmental agencies before HoverWorld Expo 2004 can take place in Canberra. Among these are Environment ACT; WorkCover (equivalent to OSHA in the US); Urban Services; ACT Fire Brigade; Australian Federal Police; Australian Federal Water Police (who must inspect each participating hovercraft); Roads ACT; Parks & Conservation Services; and ACT Ambulance.
Preparing the documentation to secure such approvals is a monumental task. As one example, ACT Environment alone requires an official Environment Protection Agreement which, in part, must include a second comprehensive risk assessment detailing all …

"possible environmental impacts from the event and appropriate measures identified and measures proposed and implemented to mitigate against those risks. Some examples of those impacts could be the following, but not limited to:
- fuel filling areas
- pit areas and works undertaken in these areas
- any workshops
- wash down areas
- hours of operation
- noise levels, model of noise impact up to the closest affected residential area
- gray water disposal method of involved food vendors
- noise levels and location of all generators"
Everyone involved with HoverWorld Expo 2004 is currently immersed in the devilish details as we prepare materials to submit to these various governmental divisions. We will keep you informed as new information or changes in the plans are available.
After meeting with Steve Ramsden, the Chief Policy Advisor to ACT Minister of Tourism, Ted Quinlan, and briefing him on HoverWorld Expo, I had the pleasure of spending time with Judi Power Thomson whose father, Allen Hawkins, was the winner of the World's First Hovercraft Race. Judi is a prominent Australian artist and owner of a winery near Canberra. She not only generously provided a treasure trove of historical material about the 1964 event for the HoverWorld Expo website, she also stated that she would be delighted to host one of the HoverWorld Expo functions at her winery.
Next it was on to priority number two: recruiting a volunteer onsite manager for HoverWorld Expo 2004. I first met with Chic Henry, organizer of the Summernats Car Festival. Chic has built Summernats into one of the largest and most successful events in Canberra, and he has accomplished this without government assistance. Although he felt that his Summernats responsibilities left insufficient time to devote to HoverWorld Expo, he did recommend an associate who could manage the event from the Summernats offices for around $50,000.
This is not feasible, however, especially given that World Hovercraft Week 2002 in the US was successfully organized entirely by volunteers. Summernats is structured differently than HoverWorld Expo, and Chic apparently did not realize that HoverWorld Expo 2004 is being staged by the not-for-profit World Hovercraft Organization in conjunction with the Australian Hovercraft Federation, a not-for-profit club.
Steve Baldwin introduced me to Mary-Anne Waldren, Executive Director of the Australian Science Festival, another highly successful Canberra event. Mary-Anne suggested a former associate, Dr. Robert Simpson, as a possible event manager. Robert is now in the United Kingdom, and we are currently discussing the possibility of his return to Canberra to help manage HoverWorld Expo, hopefully as a volunteer.
About this time, I continued my talks with Dave Rogers, retired Air Chief Marshal of the Royal Australian Air Force. Dave is involved with the Australian Air Force Cadets (formerly Air Training Corps.) Many of the contestants in the World's First Hovercraft Race were Australian Air Force cadets or personnel.
The highlight of my Canberra visit was the time spent with Em Taylor and her colleagues at Questacon, the National Science and Technology Centre, which is located in the vicinity of the HoverWorld Expo race site. They greeted me enthusiastically and overflowed with interesting suggestions, such as involving schools throughout Australia in DiscoverHover and the Expo, culminating in events at the Questacon facility and adjacent grassed area that would include model competitions, entry-level drag races and an obstacle course.
But more devilish details. The grassed area is controlled by the National Capital Authority, who requires an amended Risk Management Plan, separate approvals from all the aforementioned authorities, and a $10,000 bond in addition to the $10 million in public liability insurance.
Other Questacon suggestions included extending HoverWorld Expo into multiple years, and bringing the 2006 World Hovercraft Championship to Canberra.
The lively manner in which Questacon embraced HoverWorld Expo 2004 and instantly expressed a can-do attitude and a sense of "ownership" was quite refreshing. The effort and creativity that Questacon is contributing to the event will be quite obvious and enjoyed by all who attend. The details remain to be resolved.
Re-invigorated by this experience, I returned to Melbourne on 23 March for the PaceCraft unveiling and media conference on the 24 th at Schenker Logistics Australia, the official freight forwarding company for HoverWorld Expo. Our thanks to Australian Hovercraft Federation members Ken Osmond, Adel Mostafa and Steven McConnell for demonstrating their hovercraft at the event.
On 26 March I left Australia to return to the United States where we continue to "work like the devil", detail by detail, to make HoverWorld Expo 2004 a memorable experience. You can rest assured that all the "i's" will be dotted and the "t's" will be crossed so that everything will run smoothly for you at the event. At this writing, some 50 participants from seven nations have registered.
We also ask you to watch your email for the next issue of HoverWorld Insider. We are anticipating an announcement that will encourage you to join us this December for HoverWorld Expo 2004.


DiscoverHover: the International School Hovercraft Program
Since the World Hovercraft Organization's DiscoverHover program was introduced late last year, hundreds of schools, organizations and individual students have registered to receive the program's free hovercraft plans and building instructions. The plans are now nearing completion for download from www.DiscoverHover.org.
The hovercraft plans were originally designed by Bob Windt, the holder of the Hovercraft World Speed Record, for sale exclusively to members of the Hoverclub of America, Inc. The Hoverclub's program was such a success, the World Hovercraft Organization decided to update and improve the blueprints, add teacher training ideas and make the plans available to students, instructors, schools and youth clubs worldwide - at no charge.
The original plans consisted of only two blueprints and little detail, so the first task was to convert the blueprints into AutoCAD files and to bring them into conformance with professional drawing practices. Tim Envall of Australia, and engineering students from Indiana State University in the USA initiated this work, which was then reviewed and modified by Rob Wilson, Technical Director for Neoteric Hovercraft, Inc. in the USA and Neoteric Engineering Affiliates Pty. Ltd. in Australia.
Since DiscoverHover participants will have the opportunity to race their hovercraft in competitions throughout the world, including HoverWorld Expo 2004, the next task was to re-design the craft in order to make it easier to transport. The new DiscoverHover hovercraft will be a modular design: the cockpit, the hull or base, the thrust duct and the engine module can be separated for shipping. This allows the craft to nest together to reduce shipping volume for international transport. The modular design is also an advantage when transporting the hovercraft in a small cargo or passenger van or a pickup truck.
In addition to new and improved plans, the DiscoverHover program is receiving tremendous support from Canberra, Australia's Questacon, the National Science and Technology Centre. Questacon recently announced that $50,000 of their budget will be dedicated to exhibits and programs that tie in with DiscoverHover and HoverWorld Expo 2004. According to Em Taylor of Questacon, "We are hoping to build a HoverChair, put displays on the history and the technology in the foyer, produce a promotional flyer for schools and members, and bring out the exhibit from the British Hovercraft Museum, plus a few other things."
For those of you who have already registered to receive the DiscoverHover free hovercraft plans, be sure to check the website often for their upcoming availability. For those who have not yet registered, don't miss this chance for a life-changing experience. All information on www.DiscoverHover.org, including the hovercraft plans, is free to schools and universities, to instructors, to youth organizations and students age 7 to 21 anywhere in the world. If you don't fit into one of these categories, you can still purchase the plans for a nominal fee.
DiscoverHover will also provide a popular interactive hovercraft exhibit for museums anywhere in the world, including a working HoverChair to give children the opportunity the pilot a hovercraft.

Hovercraft Adventures on the Lewis & Clark Trail
In May 1804 near the frontier community of St. Louis, Meriwether Lewis and William Clark issued a one-word command - "Sail" - and plunged into the unknown on their historic expedition to the Pacific Ocean that opened the American Northwest.
Two hundred years later, a different one-word command - "Hover" - has launched two separate teams of hovercraft trailblazers who are honoring the pioneer explorers by hovering in their footsteps, while they spread the word about hovercraft and introduce the DiscoverHover school hovercraft program to students across America.
The last issue of HoverWorld Insider featured the first of those trailblazers in From Sea to Shining Sea – in a Hovercraft, which previewed British citizen Robert Hodson's two-year Trans American Hovercraft Adventure from Savannah, Georgia to the Pacific Ocean – the longest hovercraft trek in history.
Last month an American hovercraft team from Universal Hovercraft also re-blazed the Lewis & Clark Trail from the St. Louis area to Yankton, South Dakota.
With thanks to Robert Hodson; Bill Zang, Bob Windt and their colleagues at Universal Hovercraft; and Harold Carter of the Hoverclub of America, we share with you the experiences of these modern day explorers.
Trans American Hovercraft Adventure
When Harold Carter, the Hoverclub of America's cruise director, read about Robert Hodson's Trans American Hovercraft Adventure in HoverWorld Insider, he dismissed it as an impossibility. His immediate reaction was, "This guy has to be absolutely nuts! This will never happen. He needs to get out a geography book."
A few weeks later, after discovering that Robert was already halfway up the Savannah River, Harold traveled from Atlanta with his own hovercraft to meet with Robert on Lake Hartwell. He now says, "Robert is on my mind all the time. What he's doing is something we'd all like to do, and it's absolutely awesome."
The adventure began on 7 April when Robert embarked from Savannah in his custom Griffon 450 TD Mk II hovercraft. The craft, named "Wings of the Dawn", weighs 2.5 tons, is 24 feet long and 11.5 feet wide on cushion; it can carry 28 gallons of fuel and gets about 6 miles per gallon, with a 150-mile range. Griffon Hovercraft, Ltd. of Great Britain ordinarily supplies to commercial and military operators, so Hodson may be the first individual to purchase a craft this large from Griffon.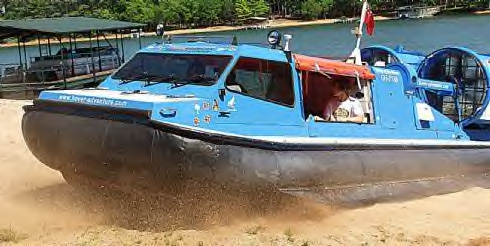 Harold Carter had an opportunity to pilot the Griffon craft on Lake Hartwell, and says, "Flying the Wings of the Dawn versus the craft most Hoverclub members are used to is like flying a Cessna 150 or other small aircraft versus flying a corporate turbo aircraft such as a Beachcraft KingAir."
Robert chose Savannah for his launch site because the birthplace of the founder of the city, Gen. James Oglethorpe, is a short distance from Robert's former home in Surry, Great Britain. Robert's home in Surry is now former because he sold it to help fund his two-year hovercraft adventure in America. (photo: Robert Hodson's "Wings of the Dawn" hovercraft)
According to Robert, his launch was a "mad rush." Although he'd had 30 hours of training, he had never operated the craft on a winding river, so he decided at the last minute to take along more diesel fuel, just in case. He raced to Wal-Mart for fuel cans while the Georgia Ports Authority arranged a crane lift into the river.
Ever fuel-conscience, at one point on his journey Robert rented a car, drove to the hovercraft's 150-mile range, and stashed filled fuel containers alongside the river, accompanied by a "Please don't take my fuel" note!
Robert says he hurriedly piled his luggage and supplies into the craft in such a manner that he could barely reach the controls - which include a Garmin GPSMAP 182C Chart Plotter, a marine radio, switches for the ballast pumps, three inclinometers, a joystick with a push-to-talk microphone button, two sets of various engine gauges, duel aircraft-type throttles and foot bars to operate five pairs of elevators inside the thrust duct.
Housekeeping was his first order of business. He packed away his supplies while a group of people gathered to see how the craft would cope with the strong current. "They had warned me that once I was in the water I was on my own," says Robert, "There was nowhere to tie up and the current would quickly take me away."

(photo: Hodson concentrates on controlling his 2 ½ ton hovercraft)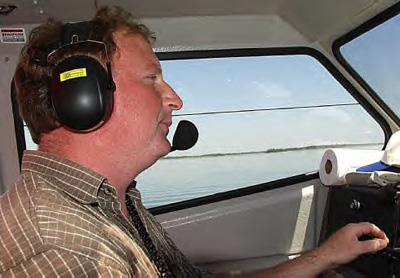 His hoverhouse in order, Robert began a "wild and spectacular" trip up the Savannah River, a sojourn of astonished stares from fishermen, midnight encounters with local hog hunters (who thought Robert was a game warden in a Humvee!); brushes with the FBI and one "dam obstacle" after another. There are no locks through the many dams on the first leg of Robert's trip so he has depended on "persuading some local folk with some lifting gear and a 25-foot trailer or flatbed truck" to overcome these obstacles. His hovercraft is equipped with four hook points enabling it to be lifted in a sling.
In Augusta, Georgia, Robert met several employees of the John Deere manufacturing facility, who not only arranged for the transport of his craft around two dams, but showed him the true extent of southern hospitality. Most everyone he meets asks, "Do you need any food or supplies?" and brings him everything from food, whiskey, and iced coolers of soft drinks to travel toiletries and books. When Harold Carter realized at Lake Hartwell that Robert's sleeping arrangements consisted of a pad on top of his storage boxes, he presented him with a much-appreciated inflatable bed.
When Robert arrived at the J. Strom Thurmond Dam in the midst of its 50 th anniversary celebration, he was immediately stopped by the FBI and U.S. Department of Natural Resources. Not understanding why a vessel from Great Britain was on the lake, the decision was made to search it. All was determined to be in order, even though when Robert maneuvered the craft around to accommodate them, it threw up an enormous cloud, covering the officials with a shower of mud and water.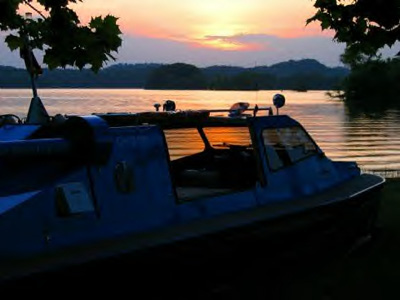 At this writing, Robert is in the Tennessee Valley water system, where he "feels like a released butterfly because the ten dams on this system all have locks." He plans to spend the July Fourth holiday in Mobile, Alabama, and to visit Neoteric Hovercraft, Inc. in Terre Haute, Indiana this October or November.
Robert has also offered to travel to Canberra, Australia at the end of this year to share his experiences at Hoverworld Expo 2004.
Until then, HoverWorld Insider and the World Hovercraft Organization joins Harold Carter and the Hoverclub of America in encouraging you to welcome Robert and his big blue hovercraft as he passes through your area. He is traveling without ground transportation or a support team, so let's don't let hospitality be found only in the south. Invite him in for a meal, or an overnight stay in a real bed and, in return, you'll be able to join the hundreds so far whom Robert has taken out for a spin in the Wings of the Dawn. (photo: The "Wings of the Dawn" at sunset on the Tennessee River)
You can track Robert's progress and see photos and videos of his adventure on his website www.hover-adventure.com.
Universal Hovercraft Lewis & Clark Adventure
On 14 May, led by Bill Zang and Bob Windt of Universal Hovercraft in Illinois and Don Bender of Michigan, a second team of American explorers launched from Hartford, Illinois - where the Lewis & Clark Expedition began on 14 May 1804 - to retrace a portion of the historic trail up the Missouri River to Yankton, South Dakota.
Unlike Robert Hodson, who had only 30 hours of training before starting his hover adventure, these trailblazers are experienced hovercrafters.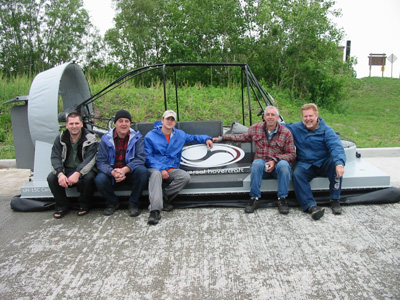 Bill Zang, President of Universal Hovercraft, is an accomplished international hovercraft racer, and was the 2003 Formula One world champion. He serves on the DiscoverHover advisory board.
Bob Windt, the founder of Universal Hovercraft, is considered by The Learning Channel's Junkyard Wars to be "the godfather of personal hovercraft." He is the original designer of the DiscoverHover entry-level hovercraft and serves on the DiscoverHover advisory board. Bob holds the Guinness hovercraft world speed record of 85.376 mph (137.40 km/h), established in Portugal in 1995.
Don Bender was formerly both a snowmobile racer and member of the pit crew for Wally Dallenbach on the Indy racecar circuit. He now works full time designing and constructing custom hovercraft in Michigan. (photo: The Universal team from left to right: Ken Roberts, Bob Windt, Bill Zang, Don Bender, and Mike Kiester)
Mike Kiester of Oklahoma is a commercial aircraft pilot and has been a hovercraft enthusiast since 1975. He was the founding Secretary/Editor of the Hoverclub of America, Inc. in 1976 and Hovercrafter of the Year in 1984. He is also co-holder (with Bob Windt) of the New Orleans to St. Louis hovercraft speed record set in 1986.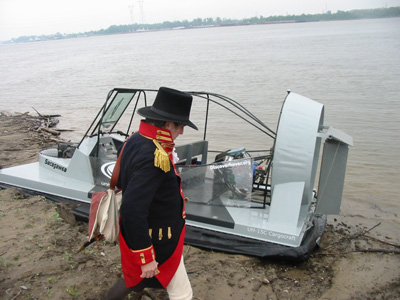 The hovercraft pros departed from Camp Du Bois near St. Louis, Missouri during the National Lewis & Clark Bicentennial Event, where Bill Zang had the honor of shuttling the great-great-great-grandson of William Clark, across the river. As they began their journey, their hovercraft, appropriately named Lewis, Clark and Sacagawea, were accompanied by replicas of the keelboats and pirogues used in 1804.
Rather than stashing fuel upriver as did Hodson, the Universal Expedition traveled at faster, less-efficient speeds in areas where fuel was readily available, and slowed to 35 mph in remote areas to conserve fuel.
The wind, rain, river debris, strong currents, and hovercraft repairs that delayed the team at points in their journey were offset by the "northern hospitality" bestowed upon them all along the way. (photo: William Clark's great-great-great-grandson with one of the Universal hovercraft)
The Sioux City Journal reported that the explorers were pleasantly surprised by the crowds of friendly people greeting them along the way, including the 30 or so residents of White Clay, Kansas, who strolled into their campsite one night.
"'They wanted to know anything we needed, tools, gas, if we wanted to go anywhere. It seemed like the whole town came out to check on us,'" said Windt."
As Bill Zang reflected, "This is America out here. The people will literally bend over backwards to help you out."
The Universal Hovercraft team had a greater goal than just commemorating the Lewis & Clark Bicentennial: to raise awareness of the importance of hovercraft as a vehicle that can operate on almost any terrain, and to introduce DiscoverHover, the World Hovercraft Organization's not-for-profit international school hovercraft program.
"We want to interest young people in this important project that makes science, physics and technology easy and fun for both students and instructors," said Zang.
At stops along their journey, the team offered hovercraft rides to the public in return for donations to DiscoverHover, and gave local students the chance to win model hovercraft kits.
Visit the Universal website at www.hovercraft.com for a full report on the Universal Hovercraft Lewis & Clark Adventure, which includes numerous photos and videos.

Beyond James Bond: Hovercraft in Corporate Team Building
Team building has become a corporate staple in America and Europe during the last decade, and continues to be a growing trend throughout the world. It is estimated that in America alone, companies spent at least $21 billion last year on team building exercises and "adventures."
The philosophy behind corporate team building is that companies can learn to work together more effectively by learning to play together - resulting in improved morale and team spirit, increased motivation, greater efficiency and productivity, a dramatic reduction in employee turnover, and a positive impact on the bottom line.
The "family atmosphere" that quickly develops amongst hovercrafters is well known to those in the sport, so it is perhaps no great surprise that corporations are realizing that hovering can foster business and employee relationships as well. Beyond being Hollywood entertainment and a fun sport, hovercraft can mean serious business. Do a search for "corporate team building" AND hovercraft, and Google now displays nearly 5,000 results.
Enjoy the following profiles of progressive corporations who are using hovercraft to build a better company.
Revolutionary Hovercraft at Revcor
www.Revcor.com
Revcor Revolutionary Air Flow, based in Chicago, Illinois USA with locations in Fort Worth, Texas USA and Juarez, Mexico, are utilizing hovercraft for not only corporate team building but as a branding and marketing concept and customer incentive.

(photo: Chris Fitzgerald, President of Neoteric Hovercraft, Inc. (back row, center)
and the Revcor hovercraft racing team with their corporate team building
hovercraft.)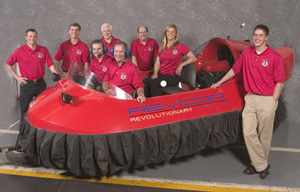 Revcor purchased their first hovercraft late last year from Neoteric Hovercraft, Inc. and named it Revolutionary Air One. Archie Eschborn, Vice President of Sales and Marketing, reports, "Hovercrafts are here to stay at Revcor and are actually a similar technology to our core technology at Revcor – air movement … after all, a hovercraft is nothing more than a big air movement device or motorized blower package."
As a part of their team building and customer service efforts, Revcor will offer hovercraft training at their Chicago headquarters for both employees and customers. According to Eschborn, the plan is to "create our own training program and offer it to visiting customers then, after training, award them a certificate and photo of them seated in the hovercraft with our Revcor instructor to hang on their office wall."
Eschborn explains Revcor's long-term vision for their corporate hovercraft: "Participating in the world of hovercraft will solidify the Revcor image of a progressive air movement technology company in the eyes of our customers. Further, since hovercraft require a propeller or fan in conjunction with a motor, we could continue our research into developing quieter fans … Improvement here could trickle down onto the technology we use in our HVAC products."
Thrillseekers, Unlimited: Hovercraft Extreme Team Building
www.ThrillseekersUnlimited.com
Thrillseekers, Unlimited, a US company with branches in Las Vegas, New York and Hollywood, offers hovercraft racing for $650 per person as a part of their Extreme Team Building program. The "Future Sports" section of their website explains, "This [Hovercraft] Future Sport experience will start with a safety briefing, followed by flying lessons. You will float on an 8-inch cushion of air at speeds up to 50 mph across a wide-open dry lake bed in the desert just outside of Las Vegas."
Among their Extreme Sports and Stunt Vacation packages are the Weekend Warrior and the 5-day Ultimate Extreme Vacation, customized packages that can include hovercraft racing, fire walking, paragliding, rock climbing, skydiving, bungee jumping, NASCAR racing, paintball, sand surfing, covert ops, and more, all directed by actual stunt men and women.
Thrillseekers also provides 30-minute Hovercraft Shows for futuristic theme shows, grand openings and other events, where "Stunt pilots fly on a cushion of air over land, water and ice … The hovercraft is a hi-tech/modern addition to any show." The fee is $2500 first day, $1,500 each day thereafter, with additional fees for the logistics crew and technical stunts.
The popularity of Thrillseekers Extreme Team Building is reflected in their news coverage in Newsweek, the Wall Street Journal, USA Today, ESPN, MTV, Marumi of Japan, Great Escapes of Australia and all the major US news networks. Among their impressive client list is Budweiser, The Discovery Channel and ESPN.
Chillisauce: Team Building Hovercraft Racing
www.chillisauce.co.uk
Chillisauce, with scores of locations throughout the United Kingdom, offers hovercraft racing as a team building exercise and for corporate events and group weekends as well.
According to Chillisauce, "Even for those who have done every other conceivable motor sport, hovercraft racing is somewhat of a unique experience. They handle like no other machine, powersliding across the surface whether on land or water."
The company believes that hovercraft racing provides a one-of-a-kind experience because the skills required to pilot a hovercraft – good balance, fine judgment and forward thinking – are different enough from any other form of land-based racing to put everyone on a level playing field from the start for a truly unique event.
Chillisauce gives each of the team building activities it offers a 1 to 10 "uniqueness rating" - among them bungee jumping, military swat team training and tank driving. Hovercraft racing is rated 9/10 on their uniqueness scale.
In the past year, Chillisauce has organized events for corporations including Coca-Cola, Price Waterhouse Coopers, Goldman Sachs, Barclays and Deloitte & Touche.

Fast Facts about the World's First Hovercraft Race
The World's First Hovercraft Race took place on March 14, 1964 – only five years after the first hovercraft flew in Great Britain - on Canberra, Australia's new, partially-filled, ₤2 ½ million Lake Burley Griffin. HoverWorld Expo 2004, 28 Dec. 2004 – 3 Jan. 2005, will commemorate the 40 th anniversary of the World's First Race, and illustrate just how far hovercraft racing has come in the last four decades.
A hovercraft is a hovercraft by any other name
The 1964 news media struggled with what to call those newfangled hovering thing-a-ma-jigs. One reporter referred to them as "strange craft that combine some of the qualities of a lawn mower, speedboat, helicopter and egg beater." Other media reported on "the world's first hoverboat race" and the world's first "hover vehicle race."
The Canberra Branch of the Royal Aeronautical Society tried to ease the confusion by explaining that 'hovercraft' was a proprietary name; that the proper term in Britain was 'air cushion vehicle' and in America, "ground effect machine' … but the media preferred various forms of 'hover-something-or-other.'
But all agreed that whatever they were, it was the first time in history that more than two of them were brought to the same place at the same time in order to compete. It was estimated that that only 18 of whatever they were existed in Australia in 1964.
What? We're racing on water?
Prior to the race, most of the 10 entrants had never hovered on water; in fact, two of them started building their hovercraft only a week before the race. It definitely evened the field when every competitor was starting from scratch in learning to cope with wind and wave conditions on a large lake.
Contestant Dan Reece explained to the media, "We have never been able to get permission to go on water in the Australian Capital Territory before … We've had to use backyards and paddocks."
Two entries tried to get a leg up on the competition. On their way to the race, the Queensland entry, to much amusement, tested their craft on a swimming pool at a Royal Australian Air Force base, and the South Australia entry took a dip on Lake Torrens the week before the race.
Allen Hawkins, first place winner, said, "Taking the water for the first time was a real shock. It was like riding a thundercloud … I didn't have much control and wind blew me about."
Judy Papps, a spectator at the 1964 event, recalls, "What is most vivid in my mind is how funny it was watching the hovercraft going off in all directions – not necessarily the one the driver intended!"
No doubt due to being hover landlubbers prior to the race, only five of the ten craft finished; three had to be towed ashore, once capsized twice, and one sank out of sight altogether.
The Disappearing Hovercraft
While being towed, Frank Greenham's hovercraft suddenly disappeared into the waters of Lake Burley Griffin. Although the lake was only partially filled, it was sufficiently deep and murky to make finding the craft a real treasure hunt. Skin divers plunged in at the end of the day to search for the craft, but came up empty-handed.
The disappearing hovercraft was finally located and fished out of the lake by the Water Police, with the aid of grapnels, four days after the race.
And the world was watching
The World's First Hovercraft Race attracted journalists, press and television cameras, and an estimated 10,000 – 20,000 spectators, more than one in seven of the entire population of Canberra. The race, according to news reports, provided them with "plenty of excitement and amusement" as they watched the genesis of the sport of hovercraft racing struggle with it's 'training wheels.'
Although the participants were certainly dampened in other ways as they capsized and faltered and sank, their spirits remained undaunted. These were true hover pioneers, with little to guide them. As contestant Dan Reece said, "You can't just go out and buy a book … You just have to figure out what makes them go and work out a design for yourself."
The sport is where it is today because of these pioneers, who predicted back then that the last word in hovercraft design would not be said for many years, and believed from the beginning that hovercrafting would be "big-time" in years to come.

In the next issue of HoverWorld Insider:
- Hovercraft in Advertising: Black Sea World, Bulgaria – a Future WHC Site?
- Hovercraft in Entertainment: Agent Cody Banks in a Neoteric Hovercraft
- Hovercraft Rescue Experiences
- Hoverchairs, hoverboards and … hoverwalkers?
- Event updates, Fast Facts … and much more!
………………………………………………………………………………………………………………………………
Subscribe to HoverWorld Insider
Submit news or articles to HoverWorld Insider.

Read past issues in the HoverWorld Insider archives.
HoverWorld Insider is published by the World Hovercraft Organization. All rights reserved.
Copyright (C) 2003 World Hovercraft Organization