Hovercraft News / Information / Events

The Official Newsletter of the World Hovercraft Organization

In this issue:
- Sport and Recreation: Upcoming Hovercraft Events / Event Reviews
- Hovercraft History: World's First Hovercraft Racing Champion
- Rescue: Hovercraft in the USA Flood Disaster
- Commercial: Feasibility of Hovercraft Ferry Services
- Education: A New Chapter in School Hovercraft Programs
- Manufacturer Profile: MAD Hovercraft
- Hovercraft Manufacturer News



Hovercraft in Sport and Recreation
Upcoming Events: World
World Hovercraft Championship 2008: Sweden, 20-24 August
Team Sweden, in association with the World Hovercraft Federation, is hosting the event of the year, World Hovercraft Championship 2008, at Flottsbro, Stockholm, Sweden. Not only does WHC2008 offer the most advanced hovercraft racing in the world, Flottsbro is one of Stockholm's most popular recreational areas, offering full service camping or rental cottages, a beautiful natural beach, hiking trails, playgrounds and a host of year-round outdoor activities.
90-100 drivers from more than 13 nations are expected to participate. Most of the pre-registered drivers are from England, France, Germany and Sweden, but Canada, Italy, Belgium, Portugal, Slovakia, Poland, Finland, the Netherlands and the USA are represented as well. The organizers recognize that transport costs have affected the number of participants and have received cancellations from Japan whose drivers found the cost of shipping and travel to Europe prohibitive.
For those who are unable to attend, WHC2008 will be unusually accessible electronically. Each craft will carry a wireless transmitter to record each lap in real-time and publish results online immediately after each race on the Hoverclub of Sweden's web site. And for those attending, there will be full 3G Internet access throughout the racing and camping areas.
The event is shaping up to be one of the most environmentally "green" World Hovercraft Championships ever. Racing will be held in a beautiful nature area, with water so clean that it is classified as drinking water – the city of Stockholm gets its drinking water just five miles from the racecourse. The organizers have arranged for recycling and say "It is very important for us to keep nature clean; after the race is over there will not be an existing trace of the weekend."
As event plans develop, stay updated at WHC2008
For photo galleries of past World Hovercraft Championships, visit the following links:
WHC2006, Lac du Tolerme, France
WHC2004, Berlin, Germany
WHC2002, Terre Haute, Indiana USA
Upcoming Events: Australia
Australian National Rally: New South Wales, 26-28 September
The Australian Hovercraft Federation has announced that the 2008 Australian National Rally will be held at Lake Cargelligo in Central Western New South Wales. This small town on the shores of a large inland water storage systems appears like an oasis on the flat western plains and is an ideal spot for hovercraft, power boats, yachting, fishing, water skiing and swimming, and is a haven for birds. Arrive on Friday for an informal bring-you-own barbeque that evening at Lake Cargelligo Caravan Park. The Saturday and Sunday schedule of events is yet to be announced; stay updated at the Australian Hovercraft Federation web site … and check out YouTube to see Australian hovercrafters in action.
Upcoming Events: USA
Pendleton Memorial Hover-In: Wisconsin, 15-17 August
Don't miss one of the best Hover-In locations in the USA Midwest at the 4th Annual Pendleton Memorial Hover-In. Muscoda, Wisconsin is located on the Wisconsin River, known for its incredible sandbars and abundant wildlife. This is the perfect event for those new to hovercrafting or for teaching students how to pilot a hovercraft for the first time.
Lowell Grand River Hover-In: Michigan, 22-24 August
Come enjoy a relaxing weekend of cruising and fellowship at what is becoming one of the largest and most anticipated hover-ins in the Midwest. Lowell is located between Grand Rapids and Lyons, MI. On Saturday morning, you'll cruise upstream 24 miles to the Dam at Lyons, then stop at Ionia for a buffet lunch. After lunch, you'll cruise back to Lowell, then head downstream to the dam in Grand Rapids and back, for a total of 106 miles. A timed slalom skills competition with prizes will be held on Sunday.
Connecticut Hover-In: Connecticut, 23-24 August
The largest annual hover gathering in the Northeast USA, held at Windsor, Connecticut, is your chance to cruise up and down the Connecticut River from Hartford to Springfield, including side trips on the secluded Farmington River.
Big Spring Hover-In: Tennessee, 11-12 October
The 30th annual Big Spring Hover-In takes place at the Rural Retreat Campground in Big Spring, Tennessee and offers relaxed cruising, good company - and great fun on the mud flats across the river.
Maumee River Cruise: Ohio, 11-12 October
Join your fellow Great Lakes Area hovercraft enthusiasts in Waterville, Ohio for a weekend of scenic autumn cruising, including hovering to historic Fort Meigs, lunch in the old downtown of Perrysburg, the Grand Rapids Apple Butter Festival and a 60-mile round trip cruise on Sunday.
Gun Lake Ice Hover-In: Michigan USA, 27 December
This annual event truly celebrates the hovercraft as an all-weather, all-terrain vehicle! Come join the Great Lakes Area Hovercraft group for a fun day of ice hovering on beautiful frozen Gun Lake, followed by dinner and a tour of Don Bender's impressive Hovercraft Design shop in Middleville, Michigan.
Check out the extensive photos galleries of past Hoverclub of America events.
Event Review: US National Hoverally

Hoverclub of America Hoverally 2008
This year it's more expensive than ever to haul a trailer full of hovercraft across the country, but it takes more than high gas prices to keep hovercraft enthusiasts away from the largest hoverally in North America. Now in its fifth year on the Scioto River in Chillicothe, Ohio, the Hoverclub of America's Hoverally '08 in June was a smashing success with racing, prize money, scavenger hunts, fireworks, a free concert by country singer Jonalee White, and guest speaker Guy Beckley from the US Navy hovercraft program.
Check out the photos and media coverage of this popular event:
Photo Gallery
Students get hands-on at Hoverally events
First lady of Hoverally
Hoverally has appeal for non-race fans
Hoverally returns
Event Review: Suwannee River Cruise is an "adrenaline pumper"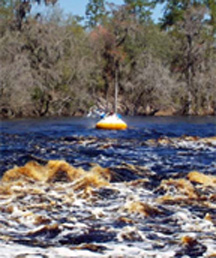 "Troubled waters ahead? No problem – just follow me" says Dave Reyburn.
The USA, with its abundant rivers and waterways, is considered by many overseas enthusiasts to be the ideal country for scenic, relaxed hovercraft cruising. This year, flood conditions in the USA have made hovercraft cruising more challenging than relaxed, as Hoverclub of America members Dave Reyburn, Alan Lindsay and Louis Bondurant discovered on the first day of the Third Annual Suwannee River Cruise in Florida 29 February – 2 March. Five inches of rain had fallen the week before the event, and when the hovercrafters arrived, half the parking lot of the visitor's center was submerged in water and the river level was 10 feet higher than it had been the year before.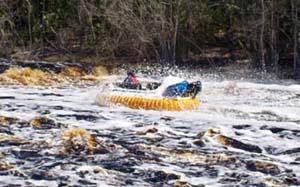 Ready for more action, Dave Reyburn heads back upstream.
Undaunted by a little water – after all, they had hovercraft! – the cruisers charged ahead on Friday with their pre-event plans to shoot the rapids at Big Shoals, the largest whitewater rapids in Florida and one of the state's greatest natural wonders. When water levels are high on the Suwannee River, Big Shoals rapids earns a Class III Whitewater classification, attracting thrill-seeking canoe and kayak enthusiasts – and now hovercrafters.
Even though pullouts were scarce because of the high water, the cruisers hovered without incident to Big Shoals, where they encountered "a very swift current and a rather daunting +3 foot standing wave" and the excitement began when Louis Bondurant nosed into the face of a wave and stalled his lift engine.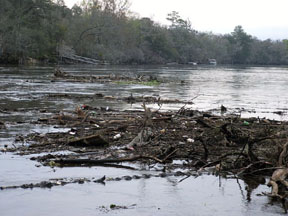 The Suwannee River cruisers were also challenged by floating islands of debris created by the high waters. K. Moyers photo.
Taking on a fair amount of water, Dave Reyburn made it through the worst section unscathed, then headed back upstream for a second assault on the shoals. His last radio transmission, to Alan Lindsay cautiously observing upstream, was "No problem – just follow me," after which his fellow cruisers lost sight of Dave's hovercraft – other than a few fan blades flying through the air! But yes, he made it, and is ready to go for it again next year.
Pre-event excitement behind them, the Hoverclub members were joined by other enthusiasts from the South and Midwest for the 110-mile roundtrip cruise on Saturday to the mouth of the Suwannee River at the Gulf of Mexico. The media were attracted to the launch, covered by reporters and photographers from Airboat Magazine, the Weather Channel, the Gilcrest County Chamber of Commerce and local newspapers, including the Gainesville Sun who ran the story as a front page feature.
As Louis Bondurant told the Gainesville Sun, hovercrafting is "a serious adrenaline-pumper", exemplified by the fact that even before leaving this year's challenging Suwannee River Cruise, participants were expressing their enthusiasm to "do it again before 2010"!
Read the complete review and photo gallery of the 2008 Suwannee River Cruise.

Hovercraft History
Allen Hawkins: World's First Hovercraft Racing Champion
Allen Hawkins, winner of the World's First Hovercraft Race; photo circa 1964.
* HoverWorld Insider expresses sincere gratitude to Allen Hawkins' daughter, Judi Power Thomson for providing photos and information about her father, deceased in 2004.*
Introduction
In the 19th century, U.S. President Rutherford B. Hayes made a call from Washington to Pennsylvania on Alexander Graham Bell's newly patented telephone and said, "An amazing invention – but who would ever want to use one?" In the 20th century, Albert Einstein declared, "If at first the idea is not absurd, then there is no hope for it."
In this spirit, on 14 March 1964 – only five years after the first hovercraft flew in Great Britain - early hovercraft pioneers brought their ten absurdly amazing contraptions to Canberra, Australia to compete in the World's First Hovercraft Race, organized by the Canberra branch of the Royal Aeronautical Society and British Petroleum Australia. The event took place on what started as a cold, windy Sunday – that ended up hot and sunny - on the city's new man-made Lake Burley Griffin, only partially filled. It attracted 10,000 -20,000 spectators – more than one in seven of the entire population of Canberra.
The news media struggled with what to call those hovering machines. One reporter referred to them as "strange craft that combine some of the qualities of a lawn mower, speedboat, helicopter and egg beater." Other media reported on the world's first "hoverboat race" and the world's first "hover vehicle race."
By any name, only 18 of them existed in Australia in 1964, and it was the first time in the world that more than two of them came to the same place at the same time to compete. Only five of the ten entrants completed the circuit; three had to be towed ashore, one capsized twice, and one sank out of sight altogether. Most of the contestants had never before operated their craft on water, and two started construction of their craft only a week before the race.
This absurdly amazing historic day in 1964 marked the genesis of the sport of hovercraft racing.
Allen Hawkins: "Riding a Thundercloud" to victory
The most victorious of these enthusiastic experimenters, Allen Hawkins of New South Wales, Australia, described the sensation of racing on water for the first time as "A real shock. It was like riding a thundercloud," he said. "I didn't have much control and the wind blew me about. On land you only have to steer, but on water you have to steer and balance. I also had to overcome the problem of waves splashing through the fan."
Hawkins overcame these problems and successfully rode a thundercloud to secure his place in history as the winner of the World's First Hovercraft Race.
| | | |
| --- | --- | --- |
| Allen Hawkins overcame steering and balance problems to win the World's First Hovercraft Race. | | Hawkins (far left) is congratulated on his win by the representative for sponsor British Petroleum (far right). |
Hawkins' hovercraft, with its distinctive beetle-like shape and a conventional rudder, was a plenum chamber Dobson AirDart from the USA, assembled in Australia from an imported kit by Hawkins and a syndicate of five others from Air-Carts, a subsidiary of Pacific Film Laboratories Pty. Ltd. Hawkins, a self-taught engineer, served as the syndicate's chief engineer and pilot.
His hovercraft, considered the most sophisticated design in the race, cost less than £500 and took six weeks to build. It weighed just 170 pounds and used one 9-horsepower lawn mower engine for both lift and propulsion, yet reached an estimated speed of 25 miles per hour in the race to win the top prize of £50 ($100USD) in the 1.5 mile efficiency race.
Along with first prize, contestants could win contests in maneuverability, ingenuity, and overall fastest hovercraft. Each craft was timed individually and the formula score calculated from installed horsepower, hoverheight and time. Hawkins won the formula prize after finishing the course in the second-fastest time of 4 minutes 30 seconds.
Hawkins and N.B. Cottee, joint managing director of Pacific Film Laboratories, hoped that hovercraft racing would quickly become as popular as go-kart racing and aspired after the event to mass produce and market models of their racing craft for approximately £1,000. "If we start the project, we will become the first company in Australia to produce hovercraft commercially," he said.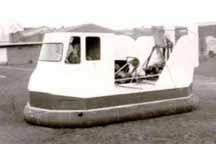 Example of Allen Hawkins' later hovercraft designs

Although the dream never became reality, Allen Hawkins retained an interest in hovercraft throughout his long life. He passed away in 2005 at the age of 87, but his pioneering spirit, enthusiasm, ingenuity and his legacy as the World's First Hovercraft Racing Champion will live on.

Riding a wave of enthusiasm

The pioneering spirit and excitement of the World's First Hovercraft Race is recalled by Chris Fitzgerald, President of Neoteric Hovercraft, Inc., who was the youngest competitor in the race:

"I can still recall the enthusiasm … We original participants were filled with a spirit of self-reliance, intrigue with newness, a frontier mentality, a naiveté of technological difficulties, a dream to experience the sensation of hovering, and the possibility of fame and fortune. Despite craft that wouldn't start, only five that managed to stagger across the finish line, and fame and fortune that has yet to arrive, we were undaunted by difficulties."

That undaunted spirit originated by Allen Hawkins and his fellow competitors is still widely evident among hovercraft enthusiasts nearly half a century after the first race, and remains the force behind the evolution of the hovercraft. Until the1964 event, hovercraft were quite crude, but what happened after the World's First Hovercraft Race was far more amazing than absurd. The event was a remarkable success, considering that Australia was remote from the technical developments occurring at the time in Europe and that the participants were largely isolated from one another with little technical support.

Thanks to that historical event in 1964, hovercraft have come a long way since those days. Hovercraft racing is now an established sport; light hovercraft are spectacular and unusually safe recreational racing vehicles and are inexpensive in comparison to wheeled racing vehicles. But even more importantly, the contraption that was once considered an absurdly amazing oddity is now used in most nations of the world for myriad vital purposes. Hovercraft save lives, transport troops and tanks, patrol borders, ferry passengers, enforce laws, control wildlife, assist in agriculture, provide leisure recreation activities and play an important role in the education of students across the globe.

Thanks to Allen Hawkins and his fellow competitors, today the history of the hovercraft is being written not only by inventors, engineers and racers. It is being written by neighbors building a hovercraft in their garage, by the local fire department performing rescues and by students building hovercraft in school programs worldwide.

Photo Gallery: The World's First Racing Hovercraft
The winning hovercraft: The winner of the World's First Hovercraft Race was this American-designed plenum chamber Dobson Air Dart, built from a kit and piloted by Allen Hawkins. The front view (right) of Hawkins' winning hovercraft shows its Westbend 9 hp combined lift and thrust engine. Hawkins is shown seated in his craft (left).

Second place: Bill Selge and K. M. McLeod's hovercraft, an annular peripheral jet design with a 4.2-inch hoverheight had two 2 hp Victa lawn mower lift engines and another for thrust. The craft won second place in both the formula and maneuverability trials and was highly commended for ingenuity.

Third place: Alan Ellis' 80 sq. ft. 320 lb. craft placed third in the formula (efficiency) race and won the second race, a maneuverability trial in the form of a slalom. Ellis, an electrical engineer, was a member of the Canberra Aero Club, where he was nicknamed "Lame" because he was a Licensed Aircraft Maintenance Engineer.

Fastest hovercraft: After capsizing twice in trial runs, Arthur Powell and Roy Raymond's annular peripheral craft, with a vector generator motor from an old World War flying boat, went on to win the speed competition. Powell and Raymond dragged it out of the water and flipped a coin to see who would pilot it in the formula race. Raymond won the coin toss, but when the vector drive shaft broke he was disqualified from the race. After the race, they dismantled their craft and destroyed the frame. Although they had built their last hovercraft, Raymond returned to his favorite pastime - building and flying light aircraft – and as of 2002 he was Australia's oldest licensed pilot.

Sinking hovercraft: While being towed, Frank Greenham's hovercraft suddenly sank into Lake Burley Griffin, securing his position in history as the world's first hovercraft racer to sink his craft. Divers plunged into the lake at the end of the day to search for the craft, but came up empty handed. It was fished out of the lake four days later by the Water Police with the aid of grapnels.

Most unusual hovercraft: Brian Kensington's three-pod hovercraft was the most unusual design in the World's First Hovercraft Race. It sported three sub-cushions for stability and was the only hovercraft in the 1964 race with a flexible skirt. It used an outboard engine for thrust. To help Kensington finish construction on the craft in time for the race, Australian Air Cushion Vehicles provided him with a fan design to copy; his craft utilized three fans of this design.

Most ingenious hovercraft: This annular peripheral jet hovercraft, entered by Cpl. J. Kenneth Murray and LAC L. Gillies, technicians from the Royal Australian Air Force, was awarded the prize for ingenuity in hovercraft design. The 3-engined craft had a thrust propeller constructed from a modified helicopter tail rotor.

Longest hovercraft: The lengthy 3-engined hovercraft entered by Dan Reece had two 98cc Villiers engines for lift and a 3 ½ hp lawn mower propulsion engine. Reece, the only British competitor in the race, returned to England to win Europe's first amateur hovercraft race in 1965, which was held at Apethorpe Hall, Northants and marked the origin of the Hoverclub of Great Britain. In 1966, Lord Brassey, the owner of Apethorpe Hall, formed Hover Air Ltd. with Reece as his designer. Before the company closed, it produced more than 100 Hoverhawk hovercraft, sold worldwide. In this photo Reece (third from left) is seen talking with race officials.

Heaviest hovercraft: Designed and constructed by Chris Fitzgerald, Rob Wilson and others on the Australian Air Cushion Vehicles team, this annular jet craft, at 1,150 pounds, was the heaviest craft in the race and required a crane for loading and unloading. It was propelled by a hydraulic retractable Johnson outboard engine and steered by a retractable hydrodynamic fin on the bow. Transmission failure forced the team to withdraw from the competition. After the race, the craft served research purposes until it was cannibalized and burned in 1972. Fitzgerald and Wilson vigorously pursued their interest in hovercraft, founded Neoteric Hovercraft, Inc. and moved the company's manufacturing facility to the USA in 1975. Fitzgerald serves as president of Neoteric Hovercraft, Inc. USA and Wilson is president of Neoteric Engineering Affiliates, Pty. Ltd. Australia as well as technical director of Neoteric Hovercraft, Inc. USA.

Hovercraft in Rescue Operations
Hovercraft perform vital rescue role in USA flood disaster
In May and June 2008, the worst flooding in decades inundated vast sections of the Midwest USA, forcing tens of thousands of people from their homes, causing perhaps 24 deaths, and generating damage in the billions of dollars. As reported on 20 June in the International Herald Tribune, the devastation of the flood disaster will have global repercussions. Five million acres of prime farmland was ruined, and "Since the USA is the world's biggest grain and food exporter … rising domestic inflation [due to flooding] is sure to aggravate global food prices in coming months."
From the first rising waters, and continuing yet today, hovercraft are being utilized in the flood disaster to do what they do best: perform rescues in conditions that limit the use of other vehicles …
Monumental rainfall in central Indiana caused widespread flash flooding in the first week of June, and by 8 June President Bush had declared a major disaster in 29 Indiana counties. Brown County, Indiana and surrounding areas saw some of the worst flooding in decades as bridges and roads were washed out. Officer Steven Stafford of the Lawrence County Sheriff's Department in Bedford, Indiana – who is in the process of evaluating Neoteric's experimental rotary powered hovercraft – was pressed into action to rescue flood victims.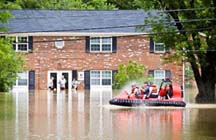 A Scat hovercraft was deployed in Brown County, Indiana where water levels varied widely, making passenger-loaded boats difficult to operate.
"The currents were unreal!" exclaimed Stafford. "We were called to assist an ambulance that couldn't reach a patient. Helmsburg was completely flooded and a dam had given way upstream and was expected to make it worse. We brought out two patients to the ambulance and then evacuated another 13 people to a bus that took them to shelters."
Quickly rising waters created a dangerous situation for rescuers and victims alike. "It was something out of the movies. They had plenty of help in Columbus, Indiana [home to the huge Cummins Engine Company] where we rescued just three people. We hovered through streets that had swift currents flowing in from all directions, with only about 5 inches of the tops of full size trucks lining the streets," said Stafford.
"Trying to avoid boat traffic coming from side streets made it difficult for an overloaded hovercraft to accelerate through the hump," Stafford explained. A hovercraft takes off like an airplane and requires a long 'runway' free of traffic to generate enough speed to climb out of the 'hump' in the water generated by the lift air. If this process is interrupted, the hovercraft must start the takeoff process all over again.
The many roads closed throughout the county caused great difficulties for the rescuers, explained Stafford. "We were stranded in Columbus for hours before an area had receded and allowed us to leave."
The unique capabilities of Stafford's hovercraft drew attention from both victims and rescuers. "I had several different departments inquire about the craft and they were serious about looking into buying one," says Stafford.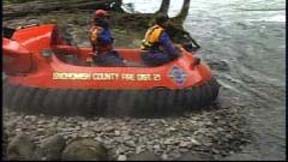 The Snohomish County Fire District utilizes a Neoteric Rescue Hovertrek™
Outside the Midwest, flood conditions in other parts of the USA have put hovercraft into service as canoe and raft enthusiasts take to the waters before they recede to normal levels. On 23 June, three people were rescued in Darrington, Washington after their raft hit a downed tree and capsized on the Sauk River, still very high and swift with lots of whitewater. The victims were able to make their way out of the water and onto the bank in a heavily wooded area without roads.
The rescue hovercraft of the Snohomish County Fire District was the only vehicle capable of reaching the victims. Real-life rescues in process are rarely accessible by the media and it isn't often that they are captured on film, so don't miss this impressive and unusual video this hovercraft rescue from start to finish, filmed by KIRO television.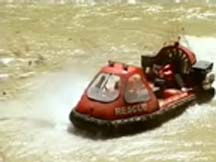 A Hovertechnics rescue hovercraft outperformed a helicopter in flood rescue operations.
In the state of Montana, another rafting accident on Sunday, 25 May, utilized a Hovertechnics rescue hovercraft. It proved to be invaluable in search and rescue efforts to locate three men whose raft hit a rock and flipped on the swollen Dearborn River. One of the men was fatally injured.
The Dearborn River, which cuts through rugged mountain terrain, was flowing at more than 5,050 cubic feet per second, up from a standard flow of only 250 cubic feet per second. The hovercraft was launched Sunday night on the rapids-ridden water. "The water was high with a lot of debris. There were a lot of strong eddies and currents out there … the runoff and the swift water and the terrain made it difficult," recalls rescue volunteer Twila York.
A helicopter joined the search and located one survivor, but its rotor clipped a tree soon after, forcing it to land. Responders in the hovercraft, however, pushed on and rescued the survivor from a rock.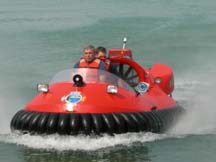 The Whitefish, Montana Fire Department's Neoteric Rescue Hovertrek™
The Dearborn River was too powerful for traditional boats, and a hovercraft was the one rescue vehicle able to navigate its waters. "It's invaluable," said Lewis and Clark Search and Rescue member Mike Allen. "That hovercraft is probably the only vehicle we could get on the river at this point in time."
In Whitefish, Montana, also on 25 May, an overturned canoe gave the Whitefish Fire Department a reason to fire up their two-year-old Neoteric hovercraft for the first time in the line of duty. The hovercraft was purchased by area residents and donated to the Whitefish Fire Department.
A member of a canoeing party on Whitefish Lake had stood up, capsizing the canoe and tossing its three occupants into the cold water.
Water temperature was approximately 40 degrees, so a speedy response time from rescuers was necessary. "They were probably in the water for only 17 minutes from the time we got the call until we pulled them out," stated Captain Dave Baker of the Whitefish Fire Department. The victims were wearing cotton clothing but no life jackets. "Cotton absorbs water and gets heavy and cold," said Baker. "There was starting to be some numbness in the extremities."
One of four pilots trained to operate the craft, Baker said the high-tech hovercraft performed well in its maiden rescue.

Hovercraft in Commercial Applications
The Economic Feasibility of Hovercraft Ferry Services
Introduction
For 50 years commercial and military operations have utilized hovercraft to travel over surfaces that prove difficult for other vehicles. In terms of economic feasibility, the hovercraft as a means of transport is similar to other machines that operate on steel rail, air and sea. Hovercraft ferry services have existed in the states of Victoria and Queensland and in the northern territory of Australia, and in Sweden, Japan, Hong Kong, China, England, France, Canada and other countries, but only a few remain. The oldest remaining service today is in the United Kingdom across to the Isle of Wight.
History indicates that public ferry operations of any type require public subsidies. When subsidies dry up, so does the ferry service! To survive, a ferry service must have some form of subsidy along with one other key ingredient: The service must offer a huge advantage to the traveler.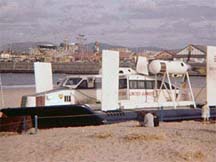 The first commercial hovercraft ferry, a Vickers VA3, established in 1962 in the UK.
The first commercial hovercraft venture was launched in 1962, a hovercraft passenger service between Moreton, Wirral and Rhyl, North Wales. Although shortlived - a storm ripped the craft from its moorings at Rhyl and smashed it against a sea wall - the venture aroused interest and other commercial operations soon followed.
In the late 1960s, Hoverlloyd (originally Lloyd, a Swedish shipping company) established a hovercraft ferry across the English Channel from Ramsgate to Calais, an SRN4 that in calm weather could carry 30 compact cars and 254 passengers. Sharing facilities with Hoverlloyd, Seaspeed, which was owned by British Rail, launched a service between Dover and Calais. Crossing times were as low as 40 minutes in good weather. On traditional ferries, crossing times were normally 100 minutes. Hovercraft service limits were always due to the weather when crossing the English Channel; when seas reached more than 6-8 feet, service was suspended.
High fuel and maintenance costs made the economics of these hovercraft ferries increasingly uncertain. After a long rundown, the Ramsgate service closed in 1982 and the Dover service followed in 1993. Today, the only commercial hovercraft service in Britain is the original operation between Portsmouth and the Isle of Wight and is operated by Hovertravel, the world's longest existing commercial hovercraft operator.
In recent years, numerous cities have explored the feasibility of commercial hovercraft ferry services. A few have succeeded for a short time, but eventually they fail. HoverWorld Insider investigates three recent commercial hovercraft operations and explores the factors predictive of their success or failure …
King Cove, Alaska USA: A lifesaver in extreme conditions
Like most of Alaska, the remote village of King Cove is dependent on air travel to maintain a connection with Anchorage. Situated 650 miles from Anchorage on the western tip of the Alaska Peninsula where the Aleutian Islands chain begins, King Cove relies on the airport at Cold Bay. Even though the villages are only 20 air miles apart, King Cove doesn't have an airport that can handle medevacs and the weather often makes it too dangerous to fly. Clark Corbridge, Aleutians East Borough Assistant Administrator said, "I have been in the airplane when – literally – the pilot and I were the only occupants not screaming. That's how rough the air can get. "
King Cove urgently needed a year-round means of water transport that could cross the 13 km wide Cold Bay, a stretch of water without natural harbors, which is open to storm-force winds and is ice-covered in winter. Their traditional ferry operates in summer, and then bi-weekly; it can take several days to make a round trip. In medical evacuations, this had not proven adequate.
A hovercraft was recognized as a solution and, with the help of U.S. federal funding (subsidy), in February 2007 King Cove established a hovercraft transportation link to its nearest all-weather airport in Cold Bay.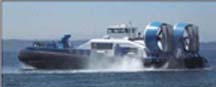 The Suna-X hovercraft handles extreme applications in King Cove, Alaska USA.
With the assistance of the Canadian Coast Guard, the King Cove planning committee found a new design that met their needs: the Hoverwork BHT130, named the Suna-X. Because of the Jones Foreign Bottoms Act, an antiquated U.S. regulation, any vessel used in coastwise trade must be built in the USA. King Cove found and commissioned Kvichak Marine Industries of Seattle, Washington USA to manufacture their hovercraft, under license to Hoverwork on the Isle of Wight, UK, a subsidiary of Hovertravel, also on the Isle.
The Suna-X is the largest passenger hovercraft to be built in the United States. Measuring 98 feet long and 50 feet wide, the Suna-X can carry 50 passengers and 22 tons of freight, including cars, trucks and an ambulance. In good conditions, the craft crosses Cold Bay in 20 minutes.
On 13 March 2008, Mayor Stanley Mack was reported by the Aleutians East Borough newspaper as saying that the Suna-X hovercraft is "a lifesaving machine" and "it is doing what it is supposed to do." In its first six months, the craft transported 1,090 passengers, 110 vehicles and 110,000 pounds of freight. Since its launch last year, 27 successful medevacs to the Cold Bay airport have been counted.
The Aleutians East Borough's initial criteria required the hovercraft to have 95% reliability; provide year-round service; and operate in winds up to 30 knots and seas up to five feet. It is reported that the Suna-X has met these requirements. Based on historical wind data, it is reported to be operable 99% of the time, 365 days per year and can function in maximum winds of 45 miles per hour and wave heights of 10 feet 6 inches.
The hovercraft's annual operational costs were projected to be $870,000. The Aleutians East Borough committed to cover half with a $460,000 annual subsidy. Based on current fees, the National Wildlife Refuge Association (NWRA) calculates that revenues for only 200 days per year from just 15 passengers and 2 vehicles per trip, along with freight and mail, will approach $1,000,000 annually, covering estimated operating costs and actually producing a profit. Due to the low environment impact of hovercraft, the NWRA is a supporter of this successful hovercraft service and has offered to assist King Cove in securing additional operating funding.
Christian Island, Ontario, Canada: Hovering in Comfort
For the residents of Christian Island, Ontario, a hovercraft presents a unique approach to an old problem. Located on Georgia Bay, notorious for its icy covering during winter, the Chippewa community of Christian Island experiences limited and dangerous travel during winter months. Chief Rodney Monague of Beausoleil First Nation on Christian Island explains that when existing traditional ferry services are forced to shut down in winter, those people without snowmobiles are faced with additional expense. Scoots (enclosed airboats that 'scoot across water and ice) remain the only alternative transportation.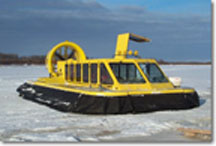 A Vanguard hovercraft safely and economically ferries passengers across Georgia Bay in Ontario, Canada.
Scoots have been used in the past to reach the mainland when Georgia Bay is iced over. But scoots are not large enough to accommodate a reasonable number of passengers and they're unable to adequately assist in emergency situations. The ride is too rough, and patients don't like it. Snowmobiles work well for personal travel, but are dangerous when the ice thins out.
After reviewing many options, the elders of the Beausoleil First Nation tribe decided that a hovercraft could solve their winter ferry problems. The new craft, a Vanguard 18 manufactured by Vanair Hovercraft in Kenora, Ontario, went into service in May 2008.
Accommodating 18 passengers, the Vanguard 18 is advertised as one of the toughest and most economical passenger hovercraft on the market. Constructed of aluminum, it measures 11.05 meters in length with an off cushion height of 3.10 meters. A 350 hp diesel engine, cruising speed of 35 knots and spacious interior ensure the hovercraft can be used in case of emergencies. Its economical fuel consumption also allows for reasonable passenger fares.
The residents of Christian Island are confident that the hovercraft's unique ability to fly above the surface of the ice on a cushion of air will provide a smoother ride. "The scoots are very hard on our elders, so the hovercraft will be easier, more convenient and comfortable for them," explains Monague.
Rochester, New York USA – Toronto, Canada: A different story
While the hovercraft employed at King Cove and at Christian Island fit for the needs of their communities - and subsidies are available - that is not the case with a proposed hovercraft ferry service between Toronto, Canada and Rochester, New York USA. In March 2008 the two cities put out a call for a privately funded ferry service across Lake Ontario. Two companies submitted proposals: Hovercraft Transit Services for a 400-passenger hovercraft; and SEVSTARS for an 8-passenger wing-in-ground effect (WIG) vessel.
The idea of using a ferry between these two cities is not a new one. In the summer of 2004, a ferry named Breeze ran between Toronto and Rochester, but was docked due to debt after only 80 days in service. The craft was promptly purchased by the City of Rochester and put back into service, but the city quickly lost $10,000,000 and the service was discontinued.
The difficulties with this proposed hovercraft ferry service rest primarily on cost, on regulations dictated by the craft's movement between Canada and the United States, and on the absence of subsidies. The proposal put forth by Hover Transit Services requires the acquisition of a hovercraft once used to cross the English Channel. US regulations force the craft to be based in Canada since it was built in England. The size and weight of American automobiles creates an additional problem. The extra weight adversely impacts the economical advantages of a hovercraft by increasing energy costs and reducing craft performance.
Hover Transit Services maintains that the refurbished character of the proposed hovercraft will allow for a cost-effective start up. Toronto officials are not excited about the noise and tactical issues facing implementation of hovercraft transport. Meanwhile, the existence of other viable subsidized transportation options makes the hovercraft questionable.
Travel by hovercraft seems to be viable in situations where other vehicles will not work. Compounded by a history of failed past attempts, this is not the case with travel between Rochester and Toronto. On 13 June 2008 Rochester Mayor Bob Duffy and the Toronto Port Authority jointly announced that they will not continue to actively pursue a privately owned and operated ferry service between their two cities.
Conclusion
Industry experts agree that there exist two fundamental requirements for a hovercraft ferry operation to succeed:
First, it is imperative that the route to be traveled by the hovercraft is one in which no other technology would work. This was the case in King Cove, Alaska where no option but a hovercraft could provide quick and safe travel to the only all-weather airport in the area. This was also the case at Christian Island in Ontario, Canada, where scoots, snowmobiles and aircraft had all been tried and proven unworkable. In contrast, travel between Rochester, New York and Toronto, Canada can be achieved by other methods.
Second, for public transport systems to be successful, some form of subsidy is necessary and cooperative government support is essential. The King Cove project was supported by federal funding, and is receiving offers of funding from diverse groups such as the National Wildlife Refuge Association and the Friends of Alaska National Wildlife Refuges. The Rochester/Toronto project, however, sought a privately funded venture.
In addition, experts advise that experienced hovercraft ferry management experience is essential, and recommend that a hovercraft maintenance operation be established at one end of the ferry route, with spare parts and a complete engine, fan/propeller and skirt repair shop – a significant capital outlay.

Hovercraft in Education
Mooroolbark College: A New Chapter in DiscoverHover School Hovercraft Programs
Susan Hockfield, President of the USA's Massachusetts Institute of Technology, as quoted in a US edition of Newsweek Magazine, believes that "Keeping [a nation's] innovation system strong will be key to … remaining competitive. To do that, we must invest in talent and research. First, that means investing in education – especially core science, math and engineering."
In the same article, Esther Dyson, Editor of Release 1.0, stated "It's time to emphasize creativity in technology and science. We don't revere scientists and engineers anymore. We revere movie stars. The goal is to change our culture by celebrating people who are creative technically. One model to accomplish this is organizing competitions, like the X Prize for private spaceflight, or the international FIRST competition, sponsored by US inventor Dean Kamen, where high schoolers compete to make the best robots. When I say creative, you think about artists and dancers and musicians, but you can be very creative in designing things that work. There is an art to technology …"
Rob Forbes, an instructor at Mooroolbark College in Victoria, Australia, exemplifies this culture-changing spirit as he employs the DiscoverHover School Hovercraft Program. With it, he inspires his students' interest in science, math and engineering through creatively building something useful and by celebrating their accomplishments through competitions.
When Forbes learned about DiscoverHover at a technology conference in 2004, he quickly became the pioneer of school hovercraft programs in Australia. Then an instructor at Wantirna College, he and his students built Australia's first DiscoverHover One hovercraft, and his program served as an exemplary model of school hovercraft programs in action.
Now a veteran in his quest to introduce school officials and students to the value of hovercraft in education, Forbes' recent transfer to Mooroolbark College inspired the staff, faculty and students to establish a DiscoverHover program of their own. Launching the program at a new school was a bit easier than establishing the first program in Australia. He praises his Mooroolbark students for their self-motivation, which has allowed him to become more of a facilitator, enabling the students to develop their skills at their own pace.
"The students have also established some very positive links with their local community in seeking sponsorship for the hovercraft program at the school," states Forbes. "They have found the plywood and foam construction relatively easy to follow after some basic instruction," states Forbes.
In an interview with DiscoverHover, Forbes said, "The rewards I've received as an educator cannot be put into words. When you have a student who believes he or she can't do math sit down and persist in transferring measurements and angles from plans to timber, calculating cuts so they can get the most out of the timber they have available, and to make the hovercraft fit together properly – that learning speaks for itself!"
In a recent correspondence, Forbes has shared with HoverWorld Insider an article about the recent launch of the Mooroolbark student hovercraft at a show with two other college's craft. We share it now with you, in celebration of the accomplishments of the students at Mooroolbark College …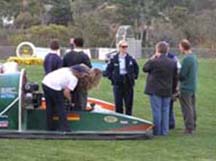 Press and well-wishers surround Mooroolbark College's first DiscoverHover hovercraft.
Mooroolbark College Hovercraft Launch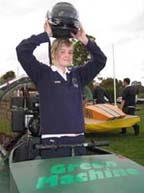 Sophie McDonald served as driver during Mooroolbark College's hovercraft presentation.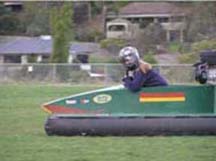 Sophie McDonald performs her speed runs.
The official launch of the Mooroolbark College hovercraft on 16 May 2008 was an action packed event with three shchools hovercraft and three Victorian Hoverclub craft on display. Mooroolbark's Green Machine was the first out on the oval [Australian for football field] and although not yet warmed up it was extremely fast and provided plenty of entertainment for the large crowd. The local police officers were in the center of the oval with radar gun at the ready to check speed-readings from the craft.
The driving ranks from the student team at Mooroolbark College had been decimated by 50% due to a basketball game the day before. But there were no shortage of volunteers from other students; the fact that they had never sat in a hovercraft before didn't seem to bother them. Sophie McDonald was our driver for the day and soon got down to business.
And it was quite clear from the first run she meant business. It was go hard or go home. After she had done her runs she hitched a ride in one of the club craft, and caught up with the media and police to check her speed readouts. Great job Sophie!
DiscoverHover Sister Schools announcement
The popular DiscoverHover International School Hovercraft Program has added a new feature to its web site. The DiscoverHover Sister Schools program is now profiling individual schools who are interested in partnering with other DiscoverHover schools. The first featured school is SMA 1 Padang Senior High School in West Sumatra, Indonesia. SMA 1 Padang is located in a historic building near Padang Beach on the Indian Ocean in a land of scenic beauty with a distinct culture. New to the DiscoverHover program, the students of this school are eager to establish a Sister School relationship with a school in another country. To learn more about SMA 1 Padang, to visit its web site and to contact the instructor, visit DiscoverHover Sister Schools.
If your school is interested in establishing a sister school relationship and you would like to have it profiled on the DiscoverHover web site, send an email about your school to PR@WorldHovercraft.org.

Hovercraft Manufacturer Profile
MAD Hovercraft - A Family Business
MAD Hovercraft in Slovenia, Europe, is a family-operated business catering to adrenaline seekers with hovercraft that have a clever amphibious design – that of a 3D frog. With 2 hovercraft models available in different options, the company's mission is to provide a low-cost, reliable hovercraft with racing ability that will appeal to racers and off road adventurers. For those who want something more, MAD hovercraft has created BUFO hovercraft – an organically designed high performance hovercraft, with 2 or 3-4 passenger models in unique gel coat colors and patterns.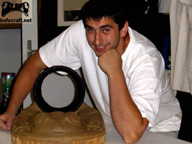 Ales Muha, founder and owner of MAD Hovercraft, with a model of the BUFO Hovercraft.
Company founder Ales Muha began building and designing hovercraft in 2000. Unable to afford a hovercraft at retail price, Muha began to build his own in the family workshop and soon found a market with his friends and acquaintances. In 2005 he founded MAD Hovercraft, which stands for "Muha Ales Design." Now age 30, Ales and his wife Tanja operate a business they truly enjoy.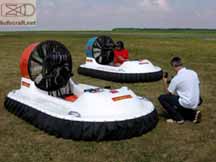 Muha's basic model, the MAD Hovercraft.
In cooperation with Bojan Mavsar, a Slovenian Master of Arts, MAD Hovercraft designs prototypes and assembles the final products for their customers. The company does not have the capability to manufacture the entire hovercraft; they outsource much of the fiberglassing and welding to three outside companies. Mavsar is involved in gel coat painting and design, but Muha is the true innovator of the company.
"Mostly we manufacture by ourselves, especially models, molding and prototypes," states Muha. Once a prototype has been tested and the design approved, the hull components are manufactured by a fiberglass boat building company. Using MAD Hovercraft engineering specification plans, outside companies produce other sections of the hovercraft. The BUFO took 6 months to go from idea to product and cost approximately 30,000 Euros to reach production stage. Examples of their models appear on the MAD Hovercraft web site.
The company's 2 passenger MAD Hovercraft uses a small Rotax 503, 45 or 52 HP aircraft engine for quick hump time and speed capability. By balancing the craft's speed with reliability, Muha strives to offer an economical racing and recreational option. The MAD Hovercraft retails from 8,900 Euros to 10,000 Euros depending on the customer's specifications. It is also offered as a kit (complete hull, skirt, impeller and fan guard) for homebuilders. Kit prices begin at 2,900 Euros.
The recently released 2-4 passenger BUFO Hovercraft is a high performance, organically designed hovercraft for both leisure use and racing. Despite its size, Muha states the speed of the BUFO craft is not compromised in the least. To give credence to this claim, last year one of Italy's leading formula 2 racers, Renato Presotto, took a BUFO Hovercraft to victory in timed laps with six similar machines at a small hovercraft meeting in Azzano, Italy.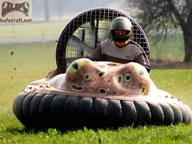 BUFO Hovercraft, an upscale model of MAD Hovercraft.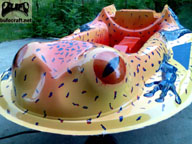 Mad Hovercraft's entry in WHC2008. The unique design reflects Muha's fascination with the amphibious nature of the hovercraft.
In November 2007, Muha learned about an issue with his engines; Rotax, the engine manufacturer, decided to discontinue 447 and 503 engines BUFO uses in their hovercraft, although they will be available through the end of 2008. Hirth has agreed to replace the discontinued Rotax designs. Problems with engine availability are not the only issues facing Muha. MAD has sold nearly 35 kits and fully assembled craft in different countries, including Hungary, Italy, Poland, Austria, Russia, Serbia, Croatia, Check Republic, Sweden, and Argentina. He explains that his greatest difficulties are dealing with the regulations in Europe and the high cost of transporting overseas. "For example, it is impossible to officially register a hovercraft in our country, impossible to insure a hovercraft, and impossible to get CE certifications as a manufacturer." says Muha.
Muha's solution to these problems is to withdraw from hovercraft manufacture, and focus instead on hovercraft rental. He plans to limit manufacture to several hovercraft per year, some for his needs and some for special customers. "Slovenia is more profitable for hovercraft renting than manufacturing, so I am staying in the hovercraft business - not in manufacture, but as a member of our new Hovercraft Club that works under our sponsorship." He continues, "I hope to find right people interested in continuing of my work and to find business opportunities in manufacturing MAD and BUFO hovercraft for the global market."
Muha is adamant that hovercraft will continue to be a large part of his life. He and his friends have established the new Hovercraft Club of Slovenia, for which Muha serves as chairman, and are working to popularize hovercraft, still little known in Slovenia, as a recreational vehicle. In addition, he is preparing a new BUFO craft for this August's World Hovercraft Championship 2008 in Sweden, which will be piloted by Renato Presotto.

Hovercraft Manufacturer News
Aeromobile, Inc., USA
Dr. William Bertelsen, one of the pioneers of air cushion technology and founder of Aeromobile, Inc., has launched an interesting new blog, Dr. Bertelsen's Thoughts on Transportation.
"For over 50 years I have seen ways to make transportation of all kinds better, and have invented technologies to improve the way we travel by air, by land and by water. Unfortunately, many of the same limitations that plagued mobility then still remain, and are by and large much worse," says Bertelsen. With his blog, he hopes "to make people aware that there are solutions to gridlock, traffic fatalities, limited aviation options, and the frustration and inconvenience faced with every mode of 'modern' transportation. These frustrations have been around so long that people think there are no alternatives. But, there are, and I want to make you aware of them."
Dr. Bertelsen's new blog affords us an opportunity to see into the mind of this great innovator.
Flying Fish Hovercraft, UK
On 23 July 2008, pilots from Flying Fish Hovercraft crossed the English Channel to mark the 40th anniversary of the first commercial hovercraft service from England to France. Their craft were somewhat smaller than the SRN4 Princess Margaret, which made the first crossing in 1968. The two 10-foot long, two-passenger hovercraft set off from England at 7 a.m. and arrived on the coast of France 57 minutes later, confirming that today's light hovercraft are quite capable of crossing the Channel from England to France.
Griffon Hovercraft, Ltd., UK
Griffon Hovercraft of Southhampton, England has introduced a new craft at the top of their line. The Griffon 8100TD offers a solution to those needing a higher payload than that of the Griffon 8000TD. The longer and wider 8100TD also sports a larger engine, an Iveco Vector 20 with 1000bhp, and can carry up to 98 additional passengers. The Swedish government has placed the first batch of orders for this new model.
The Avon Fire and Rescue Service has purchased a Griffon 380TD for rescue use along the shoreline of Weston-super-Mare in Avon, UK. The mudflats in this area necessitate a hovercraft for rescue operations, a valuable addition to the Coastguard and Life Boat services operating in the area. The 6-passenger craft, the smallest in the Griffon range, will perform a variety of rescue services, including rescuing people who become trapped in the mud and providing support during inland flooding.
Chief Fire Officer, Kevin Pearson, says, "Not only will it mean we can reach trapped casualties in just a few minutes, but it will also ensure the safety of our firefighters, who until now have had to walk out onto the mud and risk becoming stuck themselves."
Hov Pod, UK
In February 2008, Hov Pod began training dealers for their brand new Hov Pod SPX hovercraft. All training modules were passed. The Hov Pod model features a quieter build than previous models. A new material increases the sound buffer beyond the ability of Hov Pod's older fiberglass machines.
As experienced by numerous hovercraft manufacturers (watch for an upcoming feature story in HoverWorld Insider) Hov Pod was recently victimized by a scam artist. An individual attempting to start an F1 racing venture plagiarized material from the Hov Pod web site and then attempted to involved Hov Pod customers and others. The unfortunate incident is described in detail on the Ripoff Report web site, where Hov Pod explains, "We wish it to be known that we have no connection with F1 Hoverpod Racing. We consider the use of the Hov Pod videos and images on the F1 Hoverpod Racing website as unlawful and misleading. We understand that F1 Hoverpod Racing has tried to copy our product design. If any individual wishes to contact us for further discussions regarding purchase of the Hov Pod … please contact us through our website."
Neoteric Hovercraft, Inc., USA
The Neoteric Hovertrek™ owned by Club Montée, a recreational center in Germany, is involved in the movie "The Palermo Shooting" by Hollywood director Wim Wenders. The hovercraft was used to transport actress Milla Jovovich on the set. Screened at the Cannes Film Festival last month, the movie is scheduled for release in Germany and Sicily later this year. Club Montée's hovercraft is a major attraction for their center; see the photo gallery.
Neoteric hovercraft were also featured in the May issues of two major off-road vehicle magazines in Russia, as a cover story in RedSleds and also in At the Wheel.
The Spring 2008 issue of The Lay of the Land, a publication of The Center for Land Use Interpretation in Los Angeles, California USA, featured both Neoteric Hovercraft, Inc., Indiana USA and Hovertechnics of Michigan USA.
Wild Winds Hover Tours, USA
As the only hovercraft tour operation in Northeast Pennsylvania USA, Wild Winds Hover Tours provides a wide range of hovercraft adventures in their 6-passenter Neoteric Hovertrek™. These activities include training; charter trips and tours; charity events and parties; 20-minute Introductory Hover Flights; and Corporate Team Building adventures in which groups can learn to pilot a hovercraft and then test their skills.
Attention Hovercraft Manufacturers:
To have your company news published in HoverWorld Insider, simply email it to Insider@worldhovercraft.org.
……………………………………………………………………………………………………………………………
Subscribe to HoverWorld Insider
Submit news or articles to HoverWorld Insider.

Read past issues in the HoverWorld Insider archives.
HoverWorld Insider is published by the World Hovercraft Organization. All rights reserved.
Copyright (C) 2008 World Hovercraft Organization