Hovercraft Events / News / Information

The Official Newsletter of the World Hovercraft Organization
August 2006 - In this issue:
- Sport and Recreation: Event news and updates
- Military Hovercraft: LCACs carried on ships built of World Trade Center steel
Hovercraft evacuate Americans from Lebanon
- Education: New DiscoverHover communication programs
- Rescue Hovercraft: Hovercraft rescue pilot after F-16 crash
- Hovercraft Manufacturer News



Hovercraft in Sport and Recreation
Upcoming Events: World
Hovercraft sail to France for WHC2006
Hovercraft from throughout the world are on their way to France for the 2006 World Hovercraft Championship, 22-27 August in Lot, France.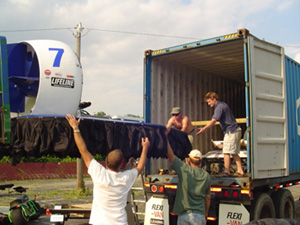 Team Can-Am members and friends
load Steven Pope's newly constructed
"Swift" F-S
At the close of registration, a record 161 drivers from 16 nations were scheduled to participate in WHC2006, surpassing the anticipated 120. Those nations include: Australia, Belgium, Canada, France, Germany, England, Ireland, Italy, Netherlands, Norway, Portugal, Slovakia, Sweden, United States and Wales.
Team Can-Am 2006, racers from the United States and Canada, gathered in Piqua, Ohio USA on 8 July to load their six hovercraft, stacked two high, into a 40-foot shipping container to begin the journey to France. The Canada/USA team consists of Chris Barczynski Sr. and Chris Barczynski Jr. of Canada, and Ralph DuBose, Kent Gano, Steven Pope and Graham Spencer of the United States.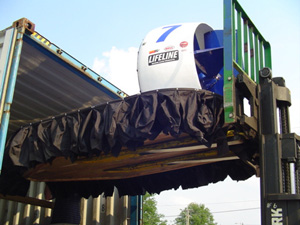 Steven Pope's "Swift" stacks on the top
level of the shipping container.
The dedication of these experienced hovercrafters is illustrated by how much time, effort and expense they devote to traveling to World Hovercraft Championships. The cost of shipping the Team Can-Am hovercraft to and from France exceeds $12,000US -- and that is in addition to the drivers' airfare and other expenses.

The 2006 World Hovercraft Championship will premiere an exciting new event: World Hovercraft Cup Endurance Racing. This new concept is attracting teams from throughout the world to engage in friendly competition between nations while encouraging quieter, more economic and environmentally friendly hovercraft. WHC2006 Endurance Racing will consist of three one-hour races on separate days, and the winning team will take home the World Hovercraft Cup for their nation.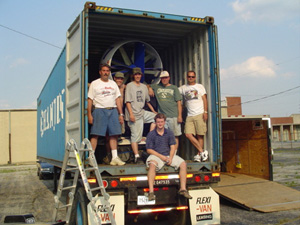 Standing, left to right: Kent Gano,
Ralph DuBose, Chris Barczynski, Jr.,
Chris Barczynski, Sr., Dave Reyburn;
Sitting: Keller DuBose.
HoverWorld Insider wishes Team Can-Am an exciting experience and much success as they represent North America and the Hoverclub of America at the 2006 World Hovercraft Championship!
To learn more about endurance racing, see World Hovercraft Cup.
For updates as the 2006 World Hovercraft Championship unfolds, see WHC2006.com.
Photo reviews of past World Hovercraft Championships:
WHC2004 in Germany: Photo Galleries
WHC2002 in the USA: Photo Galleries
Upcoming Events: USA
Late Summer Hover-In: 11-13 August, Muscoda, Wisconsin
In addition to the cruise, a new event will be featured: The HCA Challenge, with cash prizes for the winners at the 12 August dinner. For complete details, go to Hoverclub of America: Muscoda.
St. Joe, Indiana: 12-13 August
The event features a cruise on the St. Joseph river, the famous PickleFest, and offers free family camping with swimming and a waterslide. The nearby World War II Museum has free admission. For more information, see Hoverclub of America: St. Joe.
Pacific Northwest Hover-In: 18-20 August, Toledo, Washington
Experience hovercrafting at its finest in the Pacific Northwest, at the River Oaks RV Park and Campground, located on the northern shore of the Cowlitz River and just an hour from the hiking trails of Mt. Saint Helens. For details, photos and registration information see Pacific Northwest Hover-In.
Connecticut Hover-In: 26-27 August, Winsor Locks, Connecticut
The Hover-In features cruises up and down the Connecticut river, from Hartford to Springfield, including side trips on the secluded Farmington river. For more information, see Hoverclub of America: Connecticut.
Event Review:
June 2006: US National Hoverally
The largest hovercraft event in the USA, organized by the Hoverclub of America, offered a number of new attractions this year. For the third year, the event was held in Chillicothe, Ohio at the Scioto River venue. Participants came from Australia, Canada, England, Holland and the United States.
The Chillicothe race course, not recognized as a speed track in the past, was lengthened in the straightaways this year in order to encourage faster speeds and benefit higher-powered hovercraft. Canada's Chris Barczynski Jr. reached speeds approximating 65 mph on the newly-expanded back stretch. Barczynski placed first in both the Formula 1 and Formula 2 races in his unusual light metal craft - most hovercraft are constructed of fiberglass.
Hoverally race results for all classes are posted on HoverclubofAmerica.org.

Endurance Race starting lineup
at the 2006 US National Hoverally.
Another new Hoverally feature this year was the debut of Endurance Racing, designed to give fans more racing action and to allow racers of different levels to compete on the course together.
Hovercraft racing is traditionally divided into classes, five of which depend on engine size; each class races multiple heats of 5-10 laps. The Hoverally 2006 Endurance Race, with a Le Mans start and heavy traffic, was a single 40-lap event encompassing hovercraft of all sizes and speeds. Endurance races are long enough that high-speed racing craft require pit stops for fuel and repairs, while slower multi-purpose craft may not – helping to create an even playing field.
Hoverclub officials and members were pleased with the outcome of this new racing event, saying it was the most rousing event of the Hoverally, and our now making plans to add even more features in future endurance races.
"It was close racing, especially for the top three positions, with exciting back-and-forth action for the full 40 laps," said Ralph Weas, who served as Chief Scorer. Chris Fitzgerald, President of Neoteric Hovercraft, Inc., reported, "The endurance race brought racing fans to their feet … they were standing and cheering."
Dave Reyburn of Goshen, Indiana won the first official Hoverclub of America Endurance Race in his Revtech Rocket, with Shane Wilkey following in second place with his Modified UH-13PT. Alan Bedsworth, in a Scat I placed third. Full Endurance Race results are posted on the Hoverclub of America web site.
Professional photos from the 2006 US National Hoverally can be viewed here. All photos, as well as a racing DVD, are available for purchase.

Hovercraft in Military Operations
U.S. Navy LCACs to be carried on ships built of World Trade Center steel
A U.S. Navy amphibious assault ship, still under construction, has already made history twice: it is being built with scrap steel from the September 11, 2001 terrorist attacks and it survived Hurricane Katrina. Bringing together these two 21st century tragedies, the USS New York Landing Platform Dock (LPD) 21, an amphibious transport dock ship, is being built in New Orleans with 24 tons of scrap steel from the collapse of the World Trade Center.
The structural steel, including a 20-foot, 30-ton beam, was extricated from the Fresh Kills landfill on Staten Island where the wreckage from the twin towers was dumped after 9/11. The beam is believed to have been part of the South Tower, the second to be hit by an aircraft hijacked by terrorists, but the first to collapse. The steel used in the World Trade Center is believed to be some of the heaviest, thickest steel ever used in a building's construction.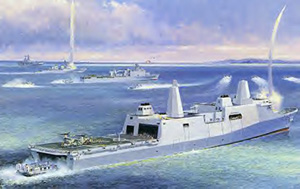 Northrop Grumman artist
rendering of USS New York.
The $816.6 million USS New York is the fifth of 12 new San Antonio-class amphibious transport ships to be built by Northrop Grumman Ship Systems. Later vessels in the class will also carry names honoring those whose lives were lost in the 9/11 attacks: USS Arlington, named for the location of the Pentagon; and USS Somerset, in memory of United Flight 93, which crashed in Somerset County, Pennsylvania after its passengers struggled with hijackers believed to be heading for another Washington, D.C. target.
The girders taken from Ground Zero have been treated with the reverence accorded religious relics. At a ceremony in 2003 when seven tons of steel were melted down in a Louisiana foundry and cast in the mold for the bow-stem, the foremost section of the hull on the water line that slices through the water, U.S. Navy Vice Admiral Philip Balisle said, "The spirit and traditions of service and sacrifice that have made our nation great have been rekindled in the ashes of the World Trade Center and will be poured strong and resolute in the steel we pour here today."
"Those big rough steelworkers treated it with total reverence," recalled Navy Capt. Kevin Wensing, who attended the ceremony. "It was a spiritual moment for everybody there."
A New York City father, Patrick Cartier, Sr., who lost his son in the collapse of the South Tower, said, "You've got the very soul of the event in that mangled steel … using it would almost be a resurrection."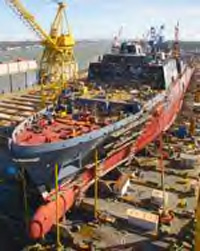 USS New York under
construction
When Hurricane Katrina went through the shipyard last summer, it disrupted production but the USS New York was not seriously damaged. Workers were back in action two weeks after the storm, and more than 200 employees whose homes were lost to Katrina are living at the shipyard in a quickly set up "Camp Katrina." Many shipworkers have even postponed their retirement in order to a part of the project.
The USS New York, USS Arlington and USS Somerset will be part of a nine-vessel fleet of new amphibious transport ships that will replace the functions of four older amphibious ships: to transport and land Marines, their equipment and supplies by air cushion craft, conventional landing craft or amphibious vehicles, augmented by helicopters or vertical takeoff and landing aircraft in amphibious assault, special operations or expeditionary warfare missions.
LPD ships have proven to be even more useful for humanitarian assistance than for war, and the U.S. Navy performs amphibious operations year-round, assisting in crisis response, humanitarian operations and disaster relief. For instance, the USS Boxer aided in the aftermath of Hurricane Katrina.
With a length of 684 feet (208.5m), the new ships are twice as long as the Statue of Liberty is tall. They weigh 24,900 tons and can do 22 knots (41 km/h). In addition to two LCACs, they carry four CH-46 Sea Knight helicopters, missile launchers, and a crew of 1,000.
The Navy and Marine Corps state that the San Antonio-class amphibious transport ships are their future in amphibious warfare and are the cornerstone in the strategic plan known as "Forward … from the sea." Their compatibility with the Marine Corps "mobility triad" of Landing Craft Air Cushion (LCAC), Advanced Amphibious Assault Vehicles (AAAV), and the MV-22 Osprey make them an important component of the Chief of Naval Operations' Sea Power 21 vision.
LCAC: The cornerstone of U.S. amphibious forces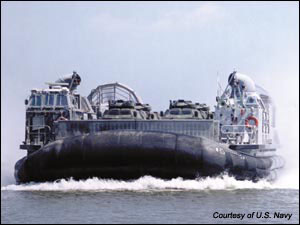 US Navy LCAC shown operating
below hump speed
Amphibious transport ships get the troops out to sea, but it's the LCAC that actually brings the troops, equipment and supplies to shore.
The LCAC, based on hovercraft technology, is a high-speed fully amphibious landing craft used by the military to transport personnel, equipment, cargo and weapons systems from ship to shore and across the beach. Like all hovercraft, the LCAC rides on a cushion of air, supplied by four centrifugal fans driven by the craft's gas turbine (jet aircraft) engines and enclosed by a flexible skirt system of rubberized fabric. Unlike Surface Effect Ships (SES), no portion of the LCAC hull penetrates the water surface; the entire hull rides approximately four feet above the surface. The LCAC is approximately 88 feet long and can carry a maximum payload of 75 U.S. tons.
An innovation of modern amphibious warfare technology, the LCAC is today the cornerstone of U.S. amphibious forces, in use by the U.S. Navy since 1984. The Navy's first LCAC landing on foreign soil occurred in 1987 in Okinawa, and the largest deployment of LCAC took place in 1991 when eleven craft served in the Persian Gulf in support of Operation Desert Storm.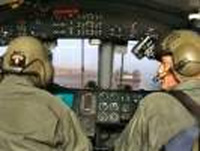 LCAC cockpit
The advantages of the LCAC over previous forms of landing craft are numerous. Conventional landing craft reach a top speed of eight knots, can cross 15% of the world's beaches, and must launch assaults from one to two miles offshore. The air cushion technology used in the LCAC gives it greater capabilities than conventional landing craft.
With its higher speed, flexibility, and over-the-beach capacity, the LCAC can access 80% of the world's coastlines and make an over-the-horizon assault from up to fifty miles offshore in favorable wind and sea conditions.
Like all hovercraft, the LCAC can travel over many flat surface types and can clear smooth obstacles four feet high. It can transport payloads such as an M-1 tank at higher speeds than conventional landing craft. The LCAC allows more forces to reach the shore in a shorter time, with shorter intervals between trips, and reduces the buildup of troops and materiel in the surf zone. Equipment can disembark via both forward and aft ramps, lessening offload time. Another advantage is that its air cushion technology makes the LCAC less susceptible to pressure-sensitive mines than other assault craft or vehicles.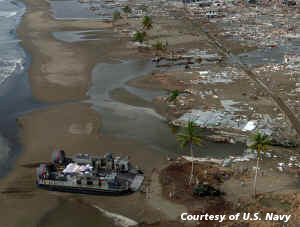 LCAC aiding Indonesian flood rescue
Many tend to think of the hovercraft as a boat, but the similarities between an LCAC and an aircraft are substantial. The craftmaster sits in a "cockpit" or command module, communicating via a headset radio to a traffic controller, which for LCACs is a well-deck control center located near a ship's sterngate. The craftmaster steers with a yoke and uses foot-operated rudder controls. The LCAC is similar to a helicopter in that it has six dimensions of motion: up, down, forward, backward, side right and side left.
Although initially used by the U.S. Navy primarily as a troop and equipment transporter, the LCAC has evolved into a multi-mission craft. Used more frequently for humanitarian relief than for warfare, Navy LCACs delivered relief aid, medical supplies and water purification plants to survivors of the 2004 earthquake and tsunami in Indonesia, when many cities were inaccessible by land. Navy personnel serving in this mission were amazed by the "unbelievable lift capacity" of the LCACs, claiming that their ability to get to shore quickly gave an advantage to their life-saving efforts.
It is a fitting tribute that LCACs, the primary vehicle of the United States' amphibious forces in both military defense and humanitarian aid, will soon be transported aboard ships that embody the memory of the victims of September 11, 2001 tragedy.
LCACs evacuate Americans from Lebanon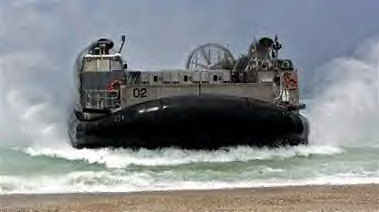 An LCAC arrives to evacuate American
citizens from a beach north of Beirut,
Lebanon.
(AP Photo/Kevork Djansezian)
In their most recent humanitarian mission, U.S. Navy LCACs aided in the recent mass departure of more than 15,000 American citizens from Lebanon.
The U.S. Embassy in Lebanon requested military assistance after Israel bombed the runways and fuel storage areas of the Beirut International Airport, and the Navy deployed a task force of ten ships, led by the USS Iwo Jima Expeditionary Strike Group, to assist in the evacuation.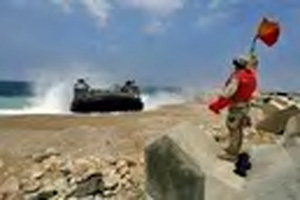 SN Michael Lawton from the USS
Whidbey guides an LCAC used to
evacuate Americans from a beach
north of Beirut.
AP Photo/Kevork Djansezian
2,200 Sailors and Marines from the 24th Marine Expeditionary Unit (MEU) used both LCACs and helicopters to accomplish the evacuation. Navy LCACs carried Americans from the shores of Lebanon to strike group amphibious ships anchored in Beirut's harbor, from which they were flown by helicopter to the Mediterranean island of Cyprus, 120 miles away.
Officials coordinated with Israel to assure safe passage of the ships, since Israel set up a sea blockade of Lebanon in early July. Tens of thousands of foreigners have fled Lebanon since the beginning of the Israeli assault.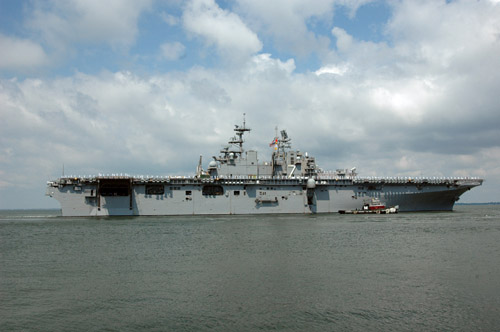 USS Iwo Jima
The USS Iwo Jima (LHD-7), based in Norfolk, Virginia, is a Wasp class amphibious assault ship. The largest of the amphibious ships, the Wasp class is usually the command ship of an Expeditionary Strike Group, and is often put to use in non-combatant evacuations and other humanitarian missions. Last year the USS Iwo Jima served as the command ship and headed the joint task force that provided aid to New Orleans in the aftermath of Hurricane Katrina.

Hovercraft in Education
DiscoverHover announces new communication programs
The World Hovercraft Organization's popular DiscoverHover international school hovercraft program has truly become global. As of August 2006, membership has increased to more than 1700 instructors and students in 55 nations.
In response to the numerous requests from instructors who would like to collaborate with other schools as their students build the DiscoverHover One hovercraft, we announce two new programs to facilitate communication between DiscoverHover member schools and to connect them to the worldwide hovercraft community: a Sister School Program and a list-serv Discussion Group.
DiscoverHover Sister School Program
The new Sister School Program is open to all instructors registered with DiscoverHover and can now be accessed at Sister Schools. The program allows you to search for potential sister schools by nation, and by state in the USA. You may then easily email individual instructors or all instructors in a state or nation with one click.
Partnering with other schools offers instructors the opportunity to share ideas and expertise as your students build their hovercraft, and will broaden the educational experience for both you and your students.
Instructors may partner with sister schools from your own country or with schools in other nations – or both. The DiscoverHover Sister Schools Program can be used for a simple exchange of hovercraft building tips, or it can easily expand into cooperative curriculum development and student exchange visits between schools and countries.
Sister school programs are proven to be educational opportunities that have tremendous impact on those involved, and can have an influence on future international relations as well.
Participants cite many benefits, including a deeper understanding of other cultures; new global and historical perspectives on their own societies; lasting personal relationships; increased language competence; and increased excitement and enthusiasm about learning.
DiscoverHover Discussion Group
The new DiscoverHover Discussion Group is an email list-serv that connects DiscoverHover members throughout the world with each other - and with experienced hovercraft builders as well. The Discussion Group is open to all DiscoverHover members, as well as to the worldwide hovercraft community – hoverclubs, manufacturers, builders, racers and individual hovercraft enthusiasts.
The Discussion Group is the place for DiscoverHover students and instructors to ask questions and seek help from each other - and from the experts - as you build your hovercraft.
All DiscoverHover members, as well as non-members, are invited to join the Discussion Group. To subscribe, go to DiscoverHover Discussion.
Share your experiences!
As the DiscoverHover International School Hovercraft Program continues to mature, we invite you to share your experiences with the program:
- Learn how to have your school appear as a Featured School on DiscoverHover.org at Featured Schools

- Learn how to post news about your school's hovercraft project on DiscoverHover.org at the News Center

Hovercraft in Rescue Applications
Hovercraft rescue pilot after F-16 crash
A United States Air Force F-16 jet aircraft crashed in Utah this March on the mudflats along one of the islands in the Great Salt Lake near Hill Air Force Base. The impact of the $30 million jet, flying at approximately 300 miles per hour when it hit the ground, shattered it into small burning fragments strewn across a vast area of muddy terrain. The pilot, 1st Lieutenant Jay Baer, a member of 388th Fighter Wing's 421st Fighter Squadron, safely ejected before the impact.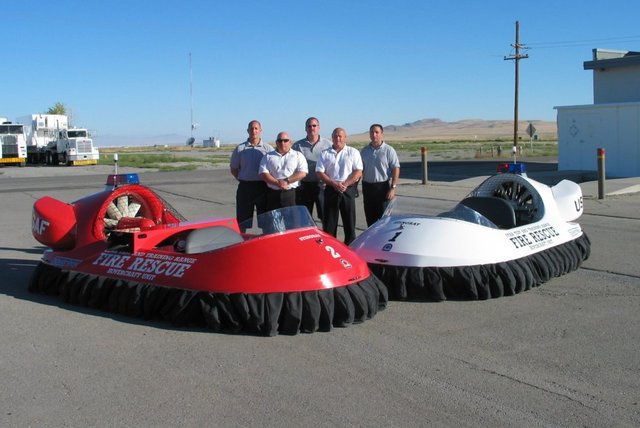 Left to right: Cory Lingelbach, Chief
David Kallman, Jason Krotts, Calvin
Strickland and Sean Cooreman pose
at UTTR with theirNeoteric Rescue
hovercraft.
The hovercraft employed by Fire and Emergency Services at the Utah Test and Training Range (UTTR) came to Baer's aid in less than an hour. Cory Lingelbach, UTTR's hovercraft training officer, and a second firefighter, Sean Cooreman, hovered to the downed pilot, examined him for injuries, monitored his vital signs, and stayed with him and kept him warm until an AirMed helicopter arrived.
The two hovercraft employed by the Air Force at UTTR are Rescue Hovertrek™, custom manufactured by Neoteric Hovercraft, Inc. in Terre Haute, Indiana USA, and are the same craft utilized by the U.S. Border Patrol, the National Parks Service, airport police/fire/EMS, and sheriff, police and fire departments worldwide. One is a two-person craft that can transport a driver, a medic and a patient on an attached stretcher. The second craft can carry a four-person team or two firefighters and an explosive ordnance technician and has additional seating for another person or more equipment.
Prior to purchasing the hovercraft last August, Air Force emergency responders at UTTR had to rely on trucks and all terrain vehicles, which often delayed their response time to three hours or more. Ron Short, Director of the Utah Test and Training Range, explains, "Most of the terrain at the UTTR consists of mudflats. During wet months, traversing across the range is extremely difficult even with ATVs. The hovercraft provide the capability to move across any soil conditions."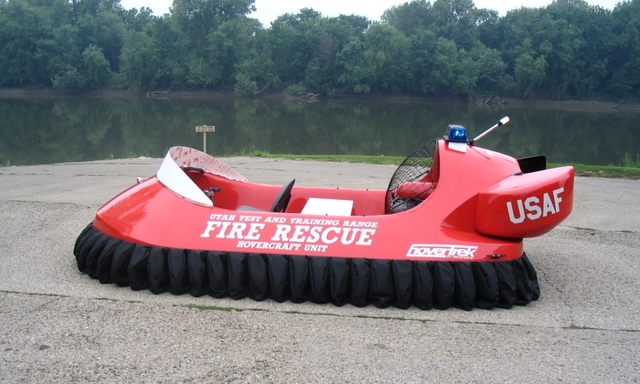 One of UTTR's Neoteric Rescue hovercraft
prior to its maiden test flight on the
WabashRiver in Terre Haute, Indiana
before delivery to Utah.
David Kallman, Chief of Fire and Emergency Services, said, "This is the first time our hovercraft were used in a real-world situation. We wouldn't have been able to get out to the crash site and rescue the pilot without them. They are state of the art." He adds, "The Salt Flats are full of crevices and holes filled with water that slowed our response times, even with ATVs, but the hovercraft glide right over the uneven terrain and go where no other vehicles could go."
Hovercraft operator Cory Lingelbach contacted Neoteric Hovercraft after the rescue to report, "We launched from land then hit the water then land, water, and land again. This just goes to show you the hovercraft are very versatile."
The hovercraft were also used in the search and recovery operations, which began the day after the crash. Accompanied by 1st Lt. Janna Aumick of the 75th Mission Support Squadron Services, one of the Disaster Control Group responders, the UTTR's Neoteric hovercraft were assigned to search for the F-16's fuel tanks.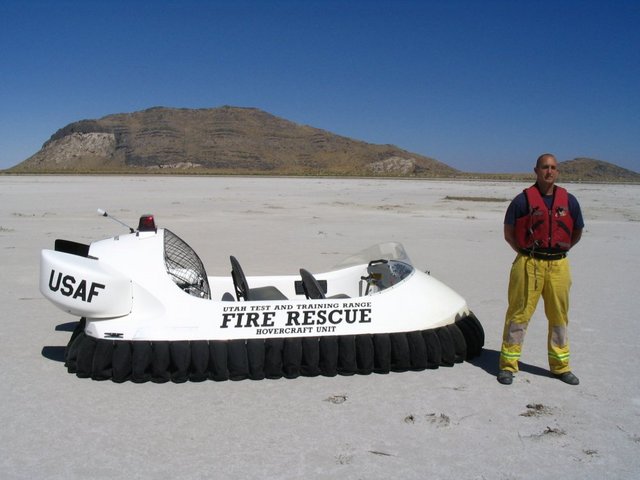 Cory Lingelbach, Chief Trainer, with one of
the UTTR'S Neoteric Rescue hovercraft on
Utah's hard salt pan.
Lt. Baer's aircraft was one of four F-16 single-seater fighter jets returning to Hill Air Force Base after a Close Air Support training mission when the crash occurred. CAS missions provide air power in support of ground troops, and the 388th Fighter Wing's 421st Fighter Squadron trains regularly for future deployment.
This was the first Air Force F-16 crash in Utah since 2002, when there were two pilot fatalities in two crashes in less than a month. More than 7,000 F-16s each year fly missions over the Utah Test and Training Range, and in the past two decades seventy F-16's have gone down. Given these statistics, the hazards of flying a fighter jet are great, even outside a war zone, and particularly when the flight occurs over terrain that is inaccessible to traditional rescue vehicles. Range Director Ron Short emphasizes that "time is of the essence when getting to a downed pilot during an aircraft accident."
The progressive thinking of UTTR officials in employing hovercraft to vastly reduce their response time will likely be responsible for saving the lives of Air Force pilots in the years to come.
Neoteric Hovercraft, Inc.
Neoteric Hovercraft, Inc., Terre Haute, Indiana USA announces an important addition to its executive staff. Ralph Weas, of Indianapolis, Indiana, has joined Neoteric in the position of Business Manager. Weas, with a degree in Business Administration, brings to Neoteric a diversified business background with extensive management, sales and customer service experience in the oil, collections and fast food industries.
His interest in hovercraft began years ago when he had the opportunity to ride on a 36-passenger British Hovercraft SRN-6 at Expo '67 in Montreal, Canada. In his more than 25 years as a member of the Hoverclub of America, Inc., Ralph has at various times held the position of President and Vice President. He has served for many years as Treasurer and member of the Board of Directors, as well as a race official.
As an attendee of the first World Hovercraft Championship in Germany in 1987, he was a member of the Unites States delegation that was instrumental in founding the World Hovercraft Federation. Weas has also played leading roles in the organization of two World Hovercraft Championships in the United States, for which he also served as Chief Scorer. Ralph has closely followed the evolution of the light hovercraft industry, including several visits to large hovercraft operations in Europe, and now assumes a leadership position at Neoteric, where his responsibilities will include sales, policy development, purchasing and personnel management.
AirLift Hovercraft, Australia
The Australian Army has purchased a hovercraft from AirLift Hovercraft, Australia to deter trespassers, set up live firing targets and recover rounds for the sand and tidal flats at the Proof and Experimental Establishment (P&EE) in Port Wakefield, South Australia.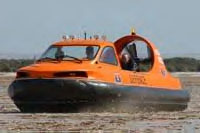 Australian Army's AirLift hovercraft in
action on the Port Wakefield tidal flats.
Photo: LAC Casey Smith, 92 WG
P&EE has a large marine area prohibited to the public due to the presence of unexploded ordnance. Trespassers, particularly professional and recreational fishermen, are a problem in the area. The Army is using the hovercraft to clear trespassers regularly detected by surveillance radar.
Major Michael Ahern, P&EE Commander, says that weekly hovercraft patrols "help us to send a strong message to fishermen and crabbers. The hovercraft is an absolutely essential capability to support our test and evaluation activities. Without it, he says, "We can't say that the area is clear of the public and therefore we can't conduct live fire activities."
Powered by a Subaru engine for thrust and a smaller one for lift, the 6m AirLift hovercraft can reach speeds of up to 60km/h over sand, water, mud, mangroves and seaweed on the tidal flats.
Slipstream Hover Technologies, LLC, USA
A new hovercraft enthusiast-owned company, Slipstream Hover Technologies, is open for business as a one-stop resource for all hovercraft needs. Jason Kuehn, President of Slipstream, is a long time hover enthusiast. Introduced to hovercraft years ago in the school program at North Vigo High School in Terre Haute, Indiana USA, one of the first school hovercraft programs in the world, Kuehn serves as the Hoverclub of America Forum Administrator and is an active hovercraft racers and builder.
Kuehn says his goal is to make the Slipstream web site "a favorite tool for hovercrafters everywhere, helping you to spend more time with your hovercraft and less time looking for what you need." The company's mission is to maintain the best prices in the industry and to find and create new and innovative products for the hovercraft community.
Slipstream invites you to their Grand Opening Sale, offering 10% off the first order for all new customers.
Air Commander Hovercraft, USA
Air Commander has entered into the retail sales market with the opening of its first retail store in Orlando, Florida. Located near Disney Village, the facility can accommodate seven hovercraft and has a dock area in which demonstration rides can be offered. The company plans to open four additional retail stores in Florida over the next twelve months.
Attention Hovercraft Manufacturers:
To have your company news published in HoverWorld Insider, simply email it to Insider@WorldHovercraft.org.
……………………………………………………………………………………………………………………………
Subscribe to HoverWorld Insider
Submit news or articles to HoverWorld Insider.

Read past issues in the HoverWorld Insider archives.
HoverWorld Insider is published by the World Hovercraft Organization. All rights reserved.
Copyright (C) 2003 World Hovercraft Organization