Hovercraft News / Information / Events

The Official Newsletter of the World Hovercraft Organization
In this issue:
- Editorial: Welcome Back to HoverWorld Insider
- Bubba's Hover: A Global Boost for the Hovercraft Industry
- Launch of the World's First Hovercraft Flight Academy
- Recreational Hovercraft: Event News and Reviews
- Hovercraft in Education: World's First Intercollegiate Hovercraft Race
- Rescue Hovercraft: First Responders Recommend Hovercraft for Rescue Operations
- Commercial Hovercraft: Canair Hovercraft Find New Life in Tourism Industry
- Military Hovercraft: New Ship-to-Shore Options in USA, South Korea and China
- Hovercraft Manufacturer News
Welcome Back to HoverWorld Insider
Before we share with you the latest global news about hovercraft, let us sincerely apologize for our lapse in publication over the last few years. Without burdening you with a torrent of excuses, we do feel our readers are entitled to an explanation.
Although the Insider is a publication of the World Hovercraft Organization, it is voluntarily produced and funded by Neoteric Hovercraft, Inc. For this reason, what happens at Neoteric directly affects what happens with the Insider - and recent years have been eventful ones.
On the positive side, Neoteric has been undergoing a rapid growth phase and is also a part of a new venture, Hovercraft Training Centers, LLC, which you'll learn more about in this issue. Insider Publisher Chris Fitzgerald, president of Neoteric, has been immersed in managing this time-consuming growth, involving global travel and constant hovercraft pilot training.
Everyone in the industry knows that hovercraft manufacturers do not have extensive resources or a large staff. On the negative side, this growth has been accompanied by personnel changes, staff illnesses, and a temporary re-allocation of resources.
Each issue of HoverWorld Insider involves considerable costs and overhead. Why is Neoteric willing to absorb these costs? Chris Fitzgerald explains, "It's just our contribution to the industry. When the industry expands, everyone benefits. And every time a reader lets us know they've found some value in an issue - every time a school incorporates a hovercraft project into their curriculum, every time a life is saved by a rescue hovercraft – these are the things that make it worthwhile for me and are good indicators of industry success."
But let's not look back. Let's look forward together to a world where hovercraft are well-known and used in myriad ways to benefit everyone concerned. We promise you that in this new world, you can expect a new issue of HoverWorld Insider every three months – and eventually more often.
You'll see as you read on that hovercraft have recently taken a giant leap forward in worldwide recognition, so the Insider re-launch is happening at the perfect time. But don't just read – participate and take advantage of this opportunity. The purpose of the Insider is to promote - at no charge - the entire hovercraft world: manufacturers, hovercraft clubs and societies, rescue organizations and law enforcement; commercial hovercraft users; the military; schools; and individual owners, racers, cruisers and enthusiasts. Please keep us updated on your activities and news, and let us know what you'd like to read in HoverWorld Insider. All it takes is an email to Insider@WorldHovercraft.org and we'll do the work for you!

Bubba's Hover: A Global Boost for the Hovercraft Industry

No matter where you live, you've undoubtedly seen Bubba's Hover, the viral video of 2012 Masters Champion Bubba Watson tooling around a golf course in the BW1, the hovercraft golf cart manufactured by Neoteric Hovercraft, Inc. But just in case you aren't one of the nearly 8 million people who've watched it on YouTube or one of hundreds of millions who've seen it featured by major news media worldwide - here it is:
How It All Began: From a Napkin to Neoteric
In January 2012 Oakley, Inc., the California-based sports accessories and apparel manufacturer, became Bubba Watson's corporate sponsor. The BWI was born out of Oakley's desire to make a splash in promoting its association with Watson. As Fortune Magazine reported, "The sport oozes old rather than hip, yet Watson's successful history with YouTube inspired Nathan Strange, Oakley's director of global marketing, to hire the creative minds behind Thinkmodo, viral video kings James Percelay and Michael Krivicka. Sitting around a table, the team brainstormed wacky ways to focus on innovation and design, adding energy to the tired sport while staying true to golf's tradition."
"We brainstormed a bunch of ideas, and we ended up with creating the world's first golf cart hovercraft," says Strange. "Bubba was out of his mind. This is the kind of stuff he loves."
Percelay later revealed to Yahoo News that the whole project began with a napkin drawing, sketched while they were sitting around that table. Never before in the history of the hovercraft – or any other vehicle, for that matter - has a simple napkin marked a turning point for an entire industry!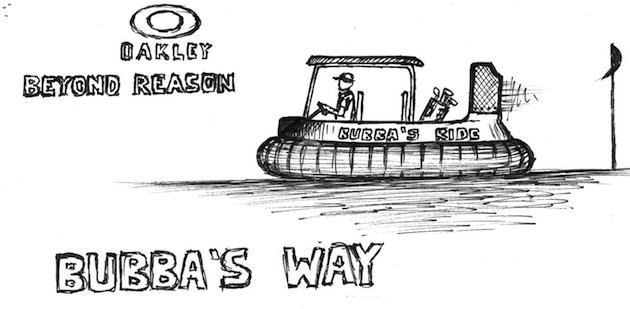 The napkin drawing that lead to the creation of the BW1 golf cart hovercraft. Image courtesy Thinkmodo.
With the napkin art complete and Bubba eager to hover, the frenzy began. Due to Watson's touring schedule, Oakley had only a couple of weeks to find a hovercraft manufacturer to build the BW1 and to shoot the video. They quickly decided that Neoteric, the world's original light hovercraft manufacturer, was the company to design and build the world's first hovering golf cart. But first, Neoteric President Chris Fitzgerald had to be convinced that this was a legitimate project. In his 50 years in business, Fitzgerald says he's seen scores of harebrained schemes, and he was skeptical of this one at first, but Thinkmodo Finally convinced him this was the real deal.
Normally it takes about 3-4 weeks for a standard production hovercraft to be manufactured. Fitzgerald says it was a scramble, but he and his staff also entered frenzy mode and the customized prototype BW1 hovercraft golf cart was designed and manufactured in three weeks. Thinkmodo worked closely with Neoteric in designing standard golf cart features for the craft and travelled from New York City to Neoteric's Indiana factory to film the production process.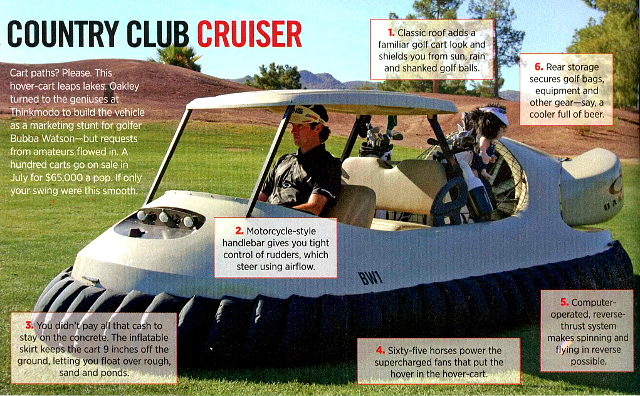 Thinkmodo worked with Neoteric to adapt standard golf cart features for the BW1 hovercraft golf cart. Image courtesy Forbes Magazine.
From the beginning, the BW1 was a top secret project; even Neoteric was kept in the dark about most of the details. Until Thinkmodo came to Neoteric to film the manufacture of the hovercraft, even Chris Fitzgerald had no idea that Bubba Watson and Oakley were involved.
Next, everyone involved entered stealth mode. In mid-January Fitzgerald had to secretly transport the BW1 by trailer from Neoteric's headquarters in Terre Haute, Indiana to the Raven Golf Club in Phoenix, where Bubba's Hover was filmed. "We had to travel by night," Fitzgerald says. "They didn't want to arouse any curiosity and didn't want anyone taking photographs. We had to disassemble the craft for the trip so it didn't look like a golf cart and hide everything with layers of draping. It was all very James Bond."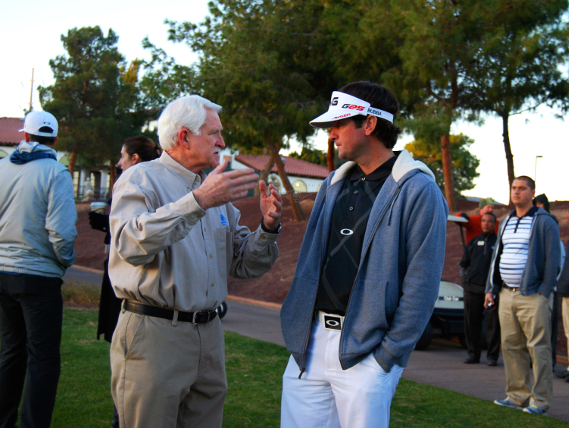 Chris Fitzgerald puts Bubba Watson through a crash flight training coursefor the filming of Bubba's Hover. Neoteric Hovercraft photo.
Keeping the filming from the public eye and preventing snooping cell phones from snapping photos was a complex strategy. First, the lake scene was filmed at 6:30 a.m. before the Raven Golf Club opened. The rest of the filming was quickly moved to the 18th hole, hoping to complete the project before early morning golfers made their way through the course. Fitzgerald, who has been training hovercraft pilots for decades, put Watson through a few minutes of flight school, and off Bubba hovered, thrilled to tool around the golf course on the hovercraft. "He gave us that big Bubba smile. He was impressed," says Thinkmodo's James Percelay.
As the reaction to the video would soon prove, the BW1 was the star of the show, with Watson and Fitzgerald playing supporting roles.
The World Takes Notice
Bubba's Hover was posted on YouTube on April 2 and the results immediately surpassed everyone's expectations. It caught the Internet by storm and as of this writing the video has nearly 8 million views and more than 85,000 shares. The viral sensation caused Oakley's web traffic to increase by more than 40% and Bubba Watson to gain more than 100,000 new Twitter followers.
But this was only the beginning of the publicity blitz. After Bubba's Hover was filmed in Arizona in March, Fitzgerald hauled the BW1 back to Terre Haute where it was kept in hiding at the Neoteric factory. In late March, he then secretly transported it to the east coast, for Thinkmodo to produce a second video for NBC television's Today Show.
Today Show anchors Matt Lauer and Al Roker were quickly trained by Fitzgerald and then filmed flying the BW1 around the Trump National Golf and Country Club in Bedminster, New Jersey, a Donald Trump course built on the former estate of automobile developer John DeLorean. The program was aired on April 5, and Thinkmodo's James Percelay and Michael Krivicka appeared live with Matt and Al at New York City's Rockefeller Center, along with the BW1.
On a cold March morning, Chris Fitzgerald trains Matt Lauerto fly the
BW1 hovercraft golf cart.
NBC's Matt Lauer and Al Roker glide over the greens in Bubba's BW1. Image courtesy the Today Show.
Watch the full Today Show video.
Neoteric was under a nondisclosure agreement and could not reveal their involvement in the project until after the Today Show feature aired on April 5. Even so, the world had already begun to discover that Neoteric Hovercraft manufactured the BW1, and after April 5 the company was barraged with hundreds of phone calls; fortunately Neoteric had taken Thinkmodo's advice and hired an outside phone service to assist them. Neoteric also had to increase the bandwidth of their website twice to handle the dramatically increased traffic – hundreds of thousands of hits. And in less than a week, Neoteric was flooded with BW1 orders, coming in from not only individuals but from golf course owners and developers from around the world. As CNN reported, "It's a golf cart that's anything but par for the course and it had wannabe drivers drooling watching Masters champ Bubba Watson tooling around in a modified hovercraft, zipping over water hazards. When people see the video, they respond as did CNN's Piers Morgan, who said in an early interview with Bubba Watson on Piers Morgan Tonight, 'If it's real, then I want one!'"
Business as usual at Neoteric came to a standstill as Fitzgerald was bombarded with calls not only from potential customers but from major media throughout the world. As he told Fortune Magazine on April 4, "We're trying to put together an emergency management team now. We're in a tsunami!"
The media tsunami is best illustrated by the Bubba's Hover case study Thinkmodo recently posted on their website:
The Future: Limited Edition Bubba's Hover Signature Hovercraft Golf Cart
Bubba's BW1 was the prototype hovering golf cart, produced exclusively for the Thinkmodo video. But as golf pros, amateurs and golf course owners everywhere immediately wanted to capture the always distinctive "Bubba style" and orders poured in, it soon became apparent that Neoteric's Chris Fitzgerald would need to produce more. As Thinkmodo's Michael Krivicka told Yahoo News, "He's actually forced to do it because he's getting so many inquiries. Millionaires from Russia are calling him, placing orders."
Golf course owners quickly recognized the benefits of hovercraft golf carts. Since they have no wheels, they cause no damage to the course. A hovercraft has a footprint pressure 33 times less than the human foot – the same environmental impact of a seagull standing on one leg. It sails right over water hazards, sand traps, mud – even snow and ice – so golfers can soar over hazards instead of driving around them.
Golf courses can use hovercraft golf carts for maintenance instead of other utility vehicles because they don't damage the ground. They fly right over waterlogged or freshly laid grass and can be used to spray fertilizer and grass seed and are a great way to blow early morning dew from fairways. Hovering golf carts can also boost golf course profits: in winter, when most courses are closed and making no money, hovercraft golf carts can be used to give joyrides. And, as one owner told Neoteric, there would be no need for new golf courses to put in expensive cart paths.
To begin meeting the demand, Neoteric is now in the process of manufacturing replicas of the BW1, with an enhanced roof structure to make access even easier. A total of 100 limited edition 4-passenger and 6-passenger Bubba's Hover Signature Hovercraft Golf Carts are in production, with delivery to begin in June. For more information, contact Neoteric Hovercraft.
Bubba's Hover Boosts the Entire Hovercraft Industry
Thinkmodo, the stunt masters behind viral video successes such as the Popinator and AMC's Zombie attack on New York, says Bubba's Hover is, by far, their most successful marketing campaign to date. Its purpose was to generate attention for Oakley as a golf brand and Bubba Watson as an Oakley athlete; the golf cart hovercraft was never intended to be more than a prop. Even though Neoteric was not even mentioned in the video, the company has benefitted hugely from its production but the benefits haven't been limited to Neoteric. On a much wider scale, the Bubba's Hover video has also given a major boost to the entire hovercraft industry.
"The absolutely fantastic thing is that it is spreading the word that this technology exists and it can be used for doing lots of different things," Chris Fitzgerald explains. "I've been in this business for 50 years. You can pull your hair out trying to figure out how to get the information out that this technology exists. In one fell swoop this has introduced light hovercraft to the world – the U.S. population in particular. Hovercraft are fairly well known in Europe, but not in the United States."
The industry effect is well-described in an email Fitzgerald received from HovPod, a hovercraft manufacturer in the United Kingdom – one of many Neoteric has received from other manufacturers. HovPod owner Mike Glanville wrote, "When the news broke, we were overwhelmed with enquiries so we quickly realized something had changed. Many people are saying they never knew such hovercraft were available. The viral effect of the story has given hovercraft in general a boost and we are eternally grateful."
Granville adds, "We think the story ranks as the hovercraft scoop of the century!"
Read more Bubba's Hover news coverage on the Neoteric blog and the Neoteric website

World's First Hovercraft Flight Academy
Hovercraft Training Centers LLC, the world's first hovercraft flight academy, has launched its flagship location in Terre Haute, Indiana USA, offering comprehensive light hovercraft operation and maintenance training and certification for rescue, military, commercial and recreational hovercraft pilots.
Hovercraft Training Centers (HTC) was founded by Chris Fitzgerald, who is also founder and President of Neoteric Hovercraft, Inc., the world's original light hovercraft manufacturer. Fitzgerald has trained and certified hovercraft pilots for more than 30 years. By formalizing his experience into an official training program that prepares both professionals and recreational hovercraft enthusiasts to achieve peak performance in record time, his proven training curriculum lets new pilots bypass the most costly and time-consuming part of learning to fly and maintain a hovercraft: trial by error.
Customized hovercraft flight training and maintenance instruction
Five distinct certification programs cater to all hovercraft applications:
Standard Training is designed for the general or recreational pilot and covers the basic operation and maintenance required to become a certified solo hovercraft pilot.
Advanced Training takes piloting and maintenance skills to the next level. Trainees learn sophisticated techniques for operation in extreme environmental conditions, such as swiftwater, narrow waterways, obstacle courses, steep inclines and more.
Master Training is individualized and focuses on specialized training in rescue/military operations and teamwork in an emergency, military or work environment. This course also trains flight instructors: Master students will teach a Standard Training course under the supervision of a certified master hovercraft pilot.
Specialized Training is highly customized to meet the needs of rescue, commercial and military hovercraft pilots, both novice and experienced. The course covers basic operations, then proceeds to mastery of actual applications such as ice/swiftwater/flood rescue; task-specific commercial training; military interdiction; night ops and instructor training.
Franchise Training prepares franchisees for Hovercenter ownership by qualifying them to provide Hovercraft Test Flights and Standard Hovercraft Pilot Operation and Maintenance Training. It also includes training in extended maintenance as well as Hovercenter setup, operations, management, sales, and marketing.
For those new to hovercraft, or who are wondering if a hovercraft will work for their particular situation, Hovercraft Training Centers also offer a Test Flight where they can spend a couple of hours at HTC, discuss their needs, experience hovercraft operation and determine whether a hovercraft can increase their productivity, improve their safety - or just let them have more fun.
Military LCAC/SSC Flight Training
HTC is also exploring the possibility of using light hovercraft for initial pilot training for military LCACs (Landing Craft Air Cushion) and the newer SSCs (Ship-to-Shore Connector). HTC founder Chris Fitzgerald explains, "LCAC pilots are trained using simulators, followed by final training in LCACs – a costly protocol with a low retention rate. In contrast, military aircraft pilots initially receive training in light aircraft then subsequently in heavy aircraft. Following the aircraft training protocol and utilizing light hovercraft for initial LCAC/SSC training is thought to be a much more effective training method."
This month Fitzgerald was invited to the U.S. Navy Assault Craft Unit 4 in Virginia Beach, home to 39 of the Navy's 72 LCACs, to conduct an overview of the current LCAC training program and to explore ways in which Hovercraft Training Centers could assist with craftmaster, navigator and engineer training. During this exploratory mission, he had the opportunity to operate the simulator and to also pilot an LCAC.
This opportunity to pilot an LCAC confirmed his theory that light hovercraft can play an important role in heavy military hovercraft training. Before this, the largest hovercraft Fitzgerald had ever flown was a 20-passenger. After piloting the 100-ton $22 million dollar LCAC, he said, "I found it relatively easy – actually easier than the simulator - and that was with no advance instruction. I had no trouble getting over hump, operating in a straight line, turning, modulating speed, stopping. I attribute that to years of piloting smaller light hovercraft; it was pretty much second nature."
In addition to offering many other advantages, using light hovercraft to train LCAC/SSC craftmasters, navigators and engineers would lower the current trainee dropout rate, and light hovercraft could also attract and prequalify suitable candidates.
HTC founder Chris Fitzgerald prepares to take the controls of a
100-ton U.S. Navy LCAC.
With no advance instruction, HTC founder Chris Fitzgerald pilots
a U.S. Navy 100-ton LCAC.
Meet Hovercraft Training Centers Graduates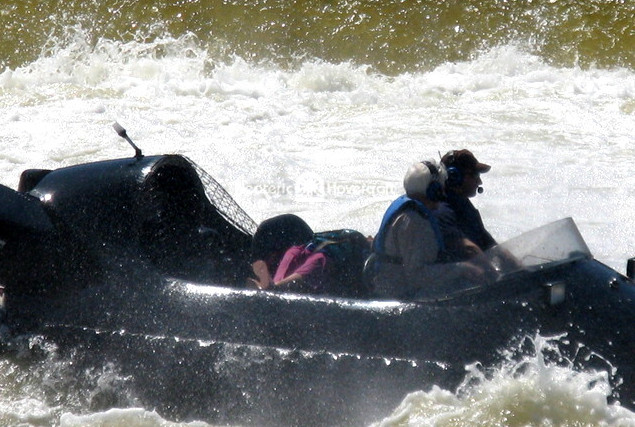 Capt. Lingelbach undergoes whitewater rescue training at HTC.
Capt. Cory Lingelbach, Hill Air Force Base, Utah USA
At the Utah Test and Training Range (UTTR) along the Great Salt Lake, when a plane goes down or loses equipment the Air Force depends on Capt. Cory Lingelbach and his rescue team for rescue and recovery – and they need to be able to fly over the treacherous mudflats surrounding the lake.
When the Air Force determined that hovercraft were far superior to ATVs for their rescue missions, Capt. Lingelbach enrolled in HTC's Advanced Training course, customized for UTTR's needs to include difficult access, swiftwater rescue and nighttime rescue operations. He reports that learning proper hovercraft operation has not only boosted the safety of their rescues – it has also reduced recovery time from an average of two hours with ATVs to just 20 minutes with hovercraft.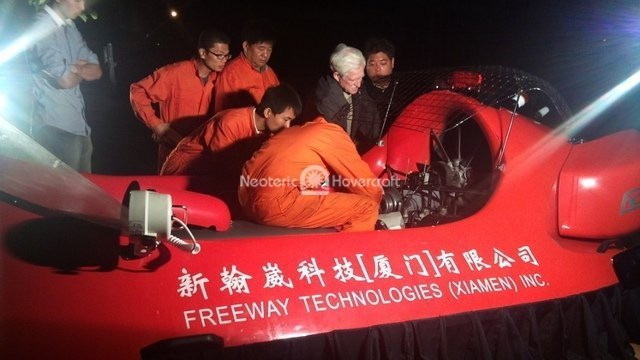 Freeway Technologies trainees learn hovercraft
maintenance procedures at Freeway's headquarters in Xiamen.
Huiguang Chen and his colleagues from Freeway Technologies, Inc., traveled more than 11,000 miles from China to HTC headquarters in Terre Haute, Indiana USA to undergo pilot and maintenance training.
Chen is emphatic about the importance of proper training: "It is a MUST to take training before operating a hovercraft. It's different than anything else. Someone would need to experience it themselves, get it out on their own and have the feeling, because it's not like driving a car or flying a helicopter."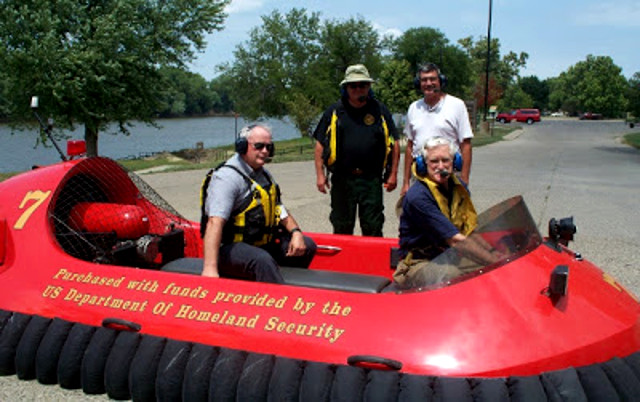 Chief Ellis undergoes HTC flight training.
Mark Ellis, White River-Hazelton Fire Department, Indiana USA
Fire Chief Mark Ellis admits to some initial misconceptions about hovercraft, assuming that they operate like other watercraft. After reading HTC's Hovercraft Pilot Training Manual, he better understood the importance of flight training.
"After I read the manual a couple of times I realized, 'Hey, this is complicated'," he says. "I guess I made the mistake of thinking, like a lot of people, that it's like operating a boat. I found out real quickly that it's more like flying a helicopter. Just reading the manual is not going to get you there. You need some hands-on training with a professional leaning over your shoulder telling you what you're doing right or wrong."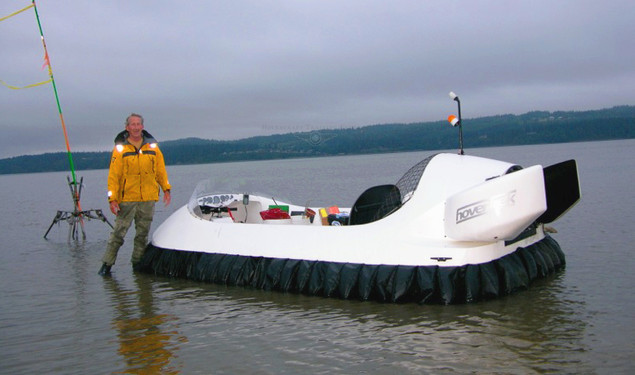 Dr. Elgar spends hours hovering over tidal flats,
mud, sand and water.
Dr. Steve Elgar, Massachusetts USA
Dr. Steve Elgar, Senior Scientist with Woods Hole Oceanographic Institution, compares the hovercraft to "a helicopter upside down" and insists, "I would never have gotten anywhere without the training."
Logging more than 100 hours in flight during a recent research project on the tidal flats north of Seattle, Washington, Dr. Elgar reports his hovercraft allowed him to traverse multiple terrains and work in all tidal and weather conditions.
"The hovercraft was crucial to our productivity. We could not have done our project without it. No question whatsoever. Best investment I made in the entire project," Dr. Elgar says.But he adds, "It was harder to drive than I expected - and much harder to fly well. You should just consider training part of the purchase price. You'll understand how the craft works and end up much happier."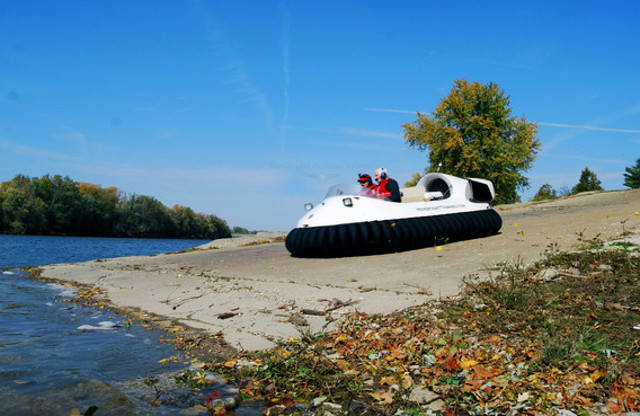 Pilot trainee Gary Meyers flies a hovercraft down
the boat ramp onto the Wabash River.
Gary Meyers enrolled in HTC's Standard Training course to explore the idea of adding a hovercraft to his outdoor adventure hobbies around Lake Havasu, where he lives.
"I called Neoteric Hovercraft and it was strongly recommended that I not invest anything in a hovercraft without this training," Meyers says. "One of the things that's definitely unique is that you have to have a feel for it. I wouldn't sell a hovercraft to somebody who didn't want to take the training. It cut down the learning curve to just 24 hours, instead of 24 months!"
"Understanding the physics of airflow, weight balance, lift and thrust – it's all important," he continues, "Look at it this way: would you just jump in an airplane and start flying?"
Meet more HTC hovercraft pilot graduates
HTC Franchise opportunity
Hovercraft Training Centers plans to expand throughout the world and is offering opportunities to own a Hovercenter franchise. This is an opportunity to make your next venture a true adventure and to get in on the ground floor of an expanding international industry. And the timing is perfect: the recent phenomenal global publicity about the viral video Bubba's Hover has interested millions of people worldwide in hovercraft – everyone wants to hover like Bubba!
Learn more about owning a Hovercraft Training Centers franchise.
Follow Hovercraft Training Centers on Facebook and Twitter.

Hovercraft in Sport and Recreation
Watch Hovercraft Race Videos
The Hovercraft Club of Great Britain website now features videos of hovercraft racing events across Europe and the USA. You can enjoy live coverage of events as they take place, or replay videos from past events. Be sure to tune in May 4-6 for live coverage of the action at the first UK National of the 2013 season at Magnolls Farm near Accrington Lancashire.
There's no better introduction to the world of racing and recreational hovercraft than to watch them in action - and no better way to find out what you've been missing!
Upcoming Events: World
World Hovercraft Championship 2014
The World Hovercraft Federation has recently announced that its governing board has, by a large majority, accepted Germany's recent provisional proposal to host the World Hovercraft Championship in 2014. The 2012 World Hovercraft Championship also took place in Germany, in the heart of the country at Saalburg. As event plans develop, watch for updates on the World Hovercraft Federation website.
Upcoming Events: Europe
British / European Hovercraft Championship Racing: May 25-27, Nottingham, England
The Hovercraft Club of Great Britain and the European Hovercraft Federation will host championship racing for the third year at Hackett's Lake next to the National Watersports Center at Holme Pierrepont. The roster includes a media morning on May 24 to show off your craft and have your own five minutes of fame; a youngsters' hover-in; live entertainment; free camping and lots of exciting racing.
European Hovercraft Federation Race: June 8-9, Grez-Neuville, France
Club Anjou Aéroglisseurs and the Festival Committee of Grez-Neuville will host the second round of the European Hovercraft Championship 2013 as part of the Grez-Neuville Town Festival. The event includes a Saturday Paella Party, followed by fireworks.
Cholmondeley Castle Pageant of Power: June 15-16, Cheshire, England
After a great response to demonstrations of racing craft last year, the Hovercraft Club of Great Britain has been asked to run a full National Race as part of the 2013 Pageant of Power, the largest motorsport event in northwest England, with a huge range of attractions. More than 50,000 visitors are expected to attend, making this the perfect opportunity to showcase the sport of hovercraft racing.
Upcoming Events: USA

Muscoda Spring Hover-In: June 1-2, Muscoda, Wisconsin
Drawing participants from as far as Texas, Alaska, and the Netherlands, this event at Victoria Riverside Park Campground boasts a showing of 15-30 hovercraft including commercial hovercraft, homebuilt craft, custom designs, racing craft and more. The Wisconsin River, known for great sandbars and abundant wildlife, provides the backdrop for this popular gathering of enthusiasts.
Universal Hovercraft Mississippi Rally: June 7-9, Muscatine, Iowa
In conjunction with the Muscatine Boat Show, this year's Rally features a Friday evening cruise and a Saturday morning cruise followed by hovering on the park pond, a cardboard boat regatta, gutter boats, and a hog roast. Sunday brings a morning cruise and may include a race around the pond. Registration, attendance, and meals are all free.
Riverfest 2013: June 22, Fort Wayne, Indiana
The Hoverclub of America teams up with Indiana University/Purdue University Fort Wayne for its annual Riverfest, a family-friendly festival on the banks of the St. Joseph River. The day includes live bands, art, food, games; canoe, pontoon and hovercraft rides; a 5K obstacle mud run through campus; an after-dark flotilla down the river and it culminates with a fireworks display. 20,000+ are expected to attend. Hovercraft owners are invited to bring their craft and offer rides. Entry, parking, and river rides are all free.
Hoverally 2013: July 19-21, Piqua, Ohio
This year's event offers a full schedule of races, cruises and challenges on the banks and waters of the Great Miami River, with plenty of entertainment for the non-hover set. Featured speaker Chris Fitzgerald, President of Neoteric Hovercraft, Inc. and Hovercraft Training Centers, LLC will give a presentation on Neoteric's hovercraft noise reduction efforts. Camping and nearby hotels and bed & breakfasts are available.
8th Annual Muscoda Pendleton Memorial Hover-In: Aug. 3-4, Muscoda, Wisconsin
Join those who brought you the Spring Hover-In for their annual fall event at Victoria Riverside Park Campground. Organizers encourage those new to hovercraft to attend this casual event which usually includes a Saturday evening potluck cookout.
Les Cheneaux Islands Hover-In: Aug. 17-18, Cedarville, Michigan
Join fellow hovercraft enthusiasts on Coryell Island for the launch of this new Hover-In, set to become an annual event.
Connecticut Hover-In: Aug. 24-15, Windsor, Connecticut
The largest annual northeast USA Hover-In features cruises up and down the Connecticut River from Hartford to Springfield, including side trips on the secluded Farmington River.
Wabash Cannonball Cruise: Aug. 31 - Sept. 1, Vincennes, Indiana
This Labor Day weekend cruise based in Kimmel Park offers three days of hovercraft fun over multiple venues. Enjoy cruising on the historic Wabash River, sightseeing at George Rogers Clark National Historical Park and the Lincoln Bridge, dinners at local restaurants, and nightly campfire gatherings.
Check out the extensive photo galleries of past Hoverclub of America events.
Event Review: Spring Fling Hover-In
More than 30 hovernauts from eight states, along with their guests, gathered on the mudflats of the Tennessee and Hiwassee Rivers for the Hoverclub of America's inaugural Spring Fling Hover-In, April 19-21. Nestled between Chattanooga and Knoxville, Tennessee, Dave and Linda Braden's Rural Retreat served as the setting for this event. Attendees enjoyed river cruises, a cookout, after-dinner entertainment, and breakfast at the B & B Marina.
Spring Fling hovercraft on the shore of the Hiwassee River
near Big Spring, Tennessee. Image courtesy Harold Carter.
.
Dave Reyburn of Goshen, Indiana, flies into the B & B Marina for breakfast. Image courtesy Harold Carter
A highlight of the weekend was the "Sock it to the Clock" competition in which ten contestants competed individually against their own time, putting the smaller, low-powered craft on a level playing field with the biggest, fastest models. Scott Hull of Crestview Hill, Kentucky took first place, with Michael McFarland of Adrian, Michigan and Dave Reyburn of Goshen, Indiana coming in second and third, respectively.
"I wanted to test the waters for a spring gathering," organizer Harold Carter told attendees in a post-event wrap-up, "and you have proven that it was a good idea."
Carter adds, "For those of you who haven't experienced a Hover-In at Rural Retreat Campground, I encourage you to save a couple of days of vacation time and join us in October for the annual Big Spring Hover-In. You won't regret it!"
See a photo gallery of the Spring Fling Hover-In
More information about the October Hover-In
To submit upcoming events or event reviews for the September 2013 HoverWorld Insider,
please email Insider@WorldHovercraft.org
World's First Intercollegiate Hovercraft Race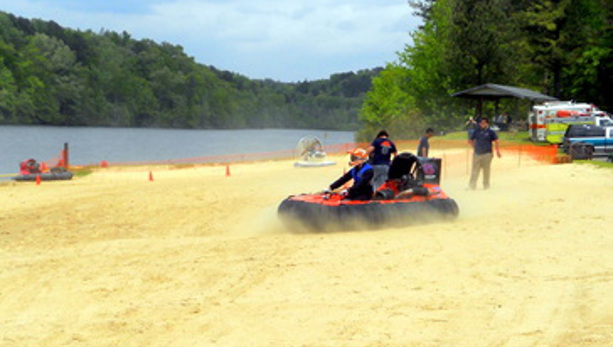 Auburn University senior Garrett Blackburn pilots the Hovering
Tigers' craft at the University Hoverbowl Challenge. Image courtesy Garrett Blackburn.
Auburn University's Hovering Tigers bested the University of Alabama's Hoverteam in the inaugural University Hoverbowl Challenge on April 27 at Lake Lurleen State Park near Tuscaloosa. Dubbed the "Iron Bowl of Hovercraft", referring to the annual football face-off between the two rival universities, the intercollegiate hovercraft showdown was the first of its kind in the world of hovercraft racing.
Auburn University senior Garrett Blackburn pilots the Hovering Tigers' craft at the University Hoverbowl Challenge. Image courtesy Garrett Blackburn.
Both teams were set back by equipment failure, with the UA Hoverteam managing only one lap of a one-hour endurance race over land and water. The team's main craft was benched due to skirt and engine issues and the throttle cable broke on the backup craft, putting the team almost immediately out of the running. The Auburn Hovering Tigers completed 24 laps before experiencing drive shaft issues.
While the UA Hoverteam initiated and hosted the meet, Auburn held a distinct advantage: its Hovering Tigers, the brainchild of a group of engineering students, has been around since 2003 - although this race was its first in three years. UA's team was formed less than a year ago when a group of aerospace engineering students headed up by Hisham Ali of Muscle Shoals, Alabama took on the construction of a hovercraft as a senior project. Both teams' racing craft were completely student-designed and engineered.
"We have no template, so we're learning as we go," said UA team member Dylan Malone of Robertsdale, Alabama. "What we know now we taught ourselves or learned it through our education." Computer software and 3-D printing technology aided the students in their design, along with an interdisciplinary team of advisors from the UA College of Engineering, the Department of Aerospace Engineering and Mechanics, the UA Student Government Association, the Alabama Space Grant Consortium, the Design Industry Workroom and the Hoverclub of America.
Auburn's team, composed of a diverse group of students in the fields of polymer and fiber, mechanical, chemical, electrical, industrial and systems engineering, as well as non-engineering majors, plans to develop an upgraded craft next year that will feature improvements such as separate fans for lift and thrust.
Auburn's Hovering Tigers (left to right): Jeff Thompson, Mary Palmer Cook, Thomas Wills, Garrett Blackburn, Nick Johnson, and Sanyam Shirgaonkar. Image courtesy Garrett Blackburn.
Hoverclub of America's Kent Gano with University of Alabama Hoverteam craft at the University Hoverbowl Challenge.
Image courtesy Garrett Blackburn
The Hoverclub of America's Kent Gano, who advised Auburn's team in its early days and is now working with UA, hopes this event could be the start of a collegiate racing division.
"The race was a great learning experience," said UA Hoverteam's Mark Wysock, an aerospace engineering student from Huntsville. This race will be the last for Wysock, who graduates in the spring. "It will help our rising seniors and underclassmen be better prepared to compete next year."
Auburn advisor Jeff Thompson of the Department of Polymer & Fiber Engineering agrees, and hopes to get more colleges involved. "I think we started a tradition," he says.
Is your school or university involved in a hovercraft project or event you would like published in HoverWorld Insider?
Email Insider@WorldHovercraft.org and we will contact you for details.

Hovercraft in Rescue Operations
First Responders Recommend Hovercraft for Rescue Operations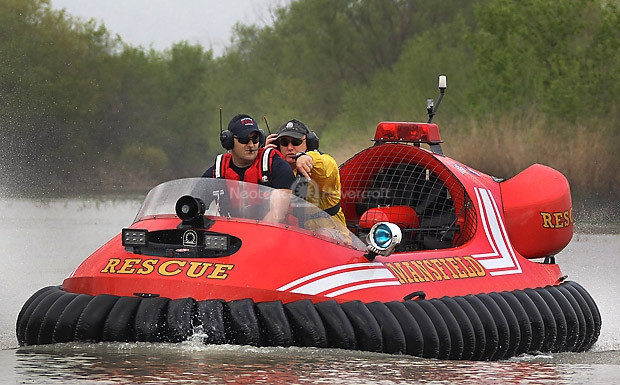 The Mansfield Fire Department's rescue hovercraft.
Photo courtesy Neoteric Hovercraft, Inc.
A recent article in the Dallas Morning News reports that the Mansfield Fire Department in Texas has joined the ranks of first responders across the world who have something in common with golf pro Bubba Watson: they can now fly across any surface in a state-of-the-art hovercraft. No matter how important this capability may be to Bubba on a golf course, it is critical in rescue operations. Hovercraft not only save lives in areas where boats, helicopters and other rescue vehicles can't travel – they also protect the lives of first responders.
As Mansfield's Captain William Franks told Hovercraft Training Centers during his recent flight training, "We have a 22-person swiftwater rescue team and we do have a boat that we paddle in most places. But a hovercraft is the answer to the faster rescue – a safer rescue. This way we can rescue and not put our people in the water."
Captain Franks' comments are constantly echoed by first responders who rely on hovercraft in their rescue missions, whether on swiftwater, ice, mud, snow or other terrain. HoverWorld Insider has compiled a small sampling of these comments ...
Snohomish County Swiftwater Rescue, Washington USA
For Trent Nunamaker, a firefighter and head of the Snohomish County Swiftwater Rescue team, their hovercraft is all about rapid access:
"It allows us to access any part of the river within minutes. And it doesn't matter what the conditions are. We operate it in the spring floods and in the summer when the water is barely three feet deep. When the river is low, it can be hard to get a boat or anything with a big hull down there. Hovercraft allow us to access parts of the river that would take a much longer time.
We used to use inflatables on rope systems. We switched to the hovercraft because in a flood environment there is so much stuff you can't see under the water - fridges, chairs, mattresses, fences, thistle, debris. If we were there in a boat with a prop, we'd get tangled up. Inflatables would just get stuck. Being able to be on top of the water is key."
Perry Clear Creek Fire Department, Indiana USA
Firefighter Joe McWhorter says the demanding nature of a first responder's job prompted the Perry Clear Creek Fire Department to invest in a hovercraft:
"We once had to carry a 300 lb. person on a backboard across some questionable open ice. Sure, we wear ice rescue suits for things like this, but they are not made for long hikes over open ice. If we get hurt while performing a rescue, all we've done is become another victim, making the job twice as hard.
The hovercraft is like a life insurance policy for our guys – that's what it boils down to."
North Muskegon Fire Department, Michigan USA
The North Muskegon Fire Department, the first fire department in Michigan to recognize the advantages a hovercraft offers, has been relying on rescue hovercraft since 1986. Located on a peninsula between Muskegon Lake, Bear Lake and Lake Michigan in an area with brutal winters, the craft has been a particular asset in the department's frequent ice rescue operations.
Fire Chief Steve Lague reports that 75% of the department's hovercraft rescues involve ice fisherman; the others involve primarily iceboats and snowmobiles. He says his hovercraft has saved more lives than his fire engines – hundreds of lives since 1986 – and that at least half of these victims would have drowned without the hovercraft:
"Before the hovercraft we had to rely on ropes, pushing out on ladders or whatever we could find. But that hovercraft just flies right over deteriorated ice. Swimming through or breaking your own ice to get to someone is exhausting, time consuming and it isn't safe. Cutting a hole in the ice with a chain saw to reach someone is not real world rescue.
We can take a 9-1-1 emergency call, dress, launch the hovercraft and get out to a victim on the other side of the lake in less than 10 minutes. Before the hovercraft, it took 45 minutes to an hour. When someone falls into this cold water, we have only about 15 minutes to get to them before hypothermia sets in and it's too late. We have a Coast Guard helicopter in Muskegon County, but helicopters require warm up procedures, so we beat the Coast Guard every single time, whether summer or winter. Helicopters are a great asset, but hovercraft allow more rapid response."
Utah Test & Training Range, Hill Air Force Base, Utah USA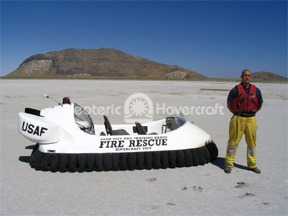 Capt. Cory Lingelbach with one of the UTTR's rescue hovercraft on Utah's hard salt pan. Photo courtesy Neoteric Hovercraft, Inc.
Capt. Cory Lingelbach, the UTTR Hovercraft Unit's Chief Training Officer, used one of the base's two hovercraft to rescue a downed F-16 pilot who crashed on the Great Salt Lake mudflats, where no other rescue vehicle could travel.

The impact of the $30 million jet, hitting the ground at approximately 300 mph, shattered it into small burning fragments scattered across a vast muddy terrain. The UTTR hovercraft not only rescued the pilot, who ejected before impact; they also were used in the search and recovery operations to retrieve armaments and environmentally or security sensitive components of the aircraft.
Prior to their hovercraft purchase, when the Range used ATVs and trucks, emergency response times could reach more than three hours. With their hovercraft, they can reach victims in minutes.

Capt. Cory Lingelbach explains, "The conditions under which we operate are very rough. Before we had the hovercraft, we had to recover a downed plane and got six of our ATVs stuck in mudflats, blew engines and lost all the equipment. In the F-16 rescue, we were in a race against time. We launched our hovercraft and beat the life flight helicopter to the pilot. He was amazed to see us and surprised we beat the helo to his location. We launched from land then hit the water, then land, water, and land again. This just goes to show you the hovercraft is very versatile."
From the rescue of downed aircraft pilots on mudflats, to swiftwater, flood and ice rescue operations, the unprecedented value of hovercraft in rescue missions is steadily becoming more widely recognized. Dick Setliff, former director of the Vigo County Emergency Management Agency in Terre Haute, Indiana summed it up quite well:
"A hovercraft is the greatest device that I can possibly think of for rescue work. It's about the price of a good police motorcycle, and that's nothing if you can use it to save just one life."
Each issue of HoverWorld Insider will feature an article about hovercraft in rescue operations.
If you have an interesting story to share, please email Insider@WorldHovercraft.org

Hovercraft in Commercial Operations
Canair Hovercraft Find New Life in the Tourism Industry
There are only seven Canair 512 hovercraft in existence. Canair manufactured light commercial hovercraft in Canada from 1988-2000, closing its doors after twelve years due to insufficient financial resources. The largest model the company produced was the Canair 512; only seven model 512s were built and now two of them are gaining attention in new hovertour operations in the USA and Germany…
Cool Breeze Hovercraft Tours opens this summer in Iowa USA
The long sought after dream of Jearmie and Melissa Baker of Centerville, Iowa USA is about to take hover flight. After purchasing a Canair 512 hovercraft, the couple has formed Cool Breeze Hovercraft LLC, which will operate from the Honey Creek Resort State Park on Rathburn Lake near Moravia, Iowa.
The couple touts their operation as "the only hovercraft tour operation in the Midwest" and plans to operate in all weather conditions in their fully-enclosed and heated 12-passenger hovercraft.
The Cool Breeze Canair 512 started its working life with Rainbow Hovercraft of Long Beach, California, working adjacent to the Long Beach Indy Car racetrack and the busy harbor, which is also the site of the Queen Mary.
See the Cool Breeze Hovercraft website for updates on their hovertour opening. You can also follow Cool Breeze on Facebook, or contact Jearmie Baker at jmbaker@gmail.com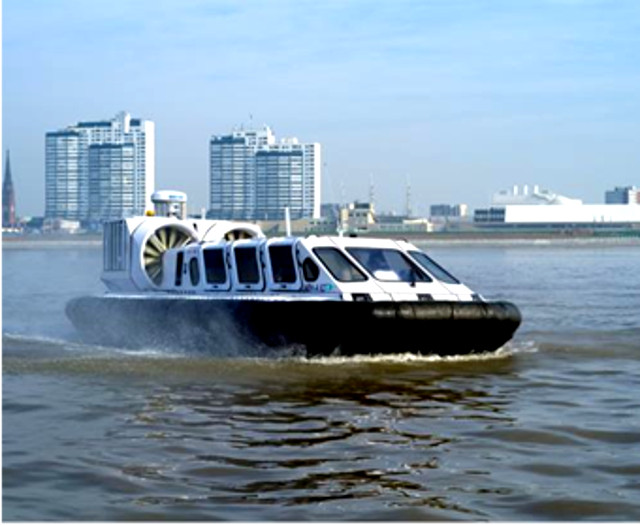 Hovertours Bremerhaven's Canair 512 on the Weser River. Image courtesy Canhover Air Cushion Vehicles.
Hovertours Bremerhaven soon begins second season in Germany
Hovertours Bremerhaven will soon launch its second season operating a Canair 512 hovercraft around the busy port of Bremerhaven on Germany's northwest coast. "Bremen's Harbor" is located at the mouth of the Weser River where it empties into the North Sea. The port is the site of a high-traffic cruise ship terminal and a major German car export operation; more than 1,350,000 cars are imported or exported every year via Bremerhaven. The port of Bremerhaven is also the sixteenth-largest container port in the world and the fourth-largest in Europe.
The sleek lines of the Canair 512 complement the bright skyline of the port, which offers an interesting contrast to the old world charm of the city center.
The origins of Bremerhaven date back to early settlements of the 12th century. Due to its strategic position at the confluence of a major river and the North Sea, the port was once attacked and captured by Swedish forces. It was eventually returned to German control and the city was officially founded in 1827. Today, in addition to being a significant port, the city is also home to a major wind turbine production center and a number of tourist attractions, including the German Maritime Museum, the Bremerhaven Zoo and the Atlanticum aquarium.
Note: Canhover Air Cushion Vehicles, located in British Columbia, Canada, serves as a support establishment for Canair 500 series hovercraft.
Each issue of HoverWorld Insider will feature an article about hovercraft in commercial operations.
If you have an interesting story to share, please email Insider@WorldHovercraft.org

Hovercraft in Military Operations
USA: Ship-to-Shore Connector: the U.S. Military's New Hovercraft
In 2012, the U.S. Navy awarded a $212.7 million contract to New Orleans-based Textron, Inc. for the design and construction of the Ship-to-Shore Connector (SSC) which will replace the aging Landing Craft, Air Cushion (LCAC) hovercraft used to transport Army and Marine equipment and personnel since 1986. Crucial to amphibious warfare as well as to humanitarian missions, these craft allow ships to transfer heavy loads straight onto the shore over shallow water, rocks and other obstacles without the need for port facilities. LCACs have given the U.S. Navy and the Marines access to 70% of the world's coastlines, as opposed to about 15% for conventional landing craft.
As payload demands rise - largely due to the increasing weight of equipment designed to withstand attacks by IEDs and anti-tank weaponry - the U.S. Navy sought a transfer solution that not only carried more weight, but improved upon the LCACs' operating costs and maintenance demands. This next generation of military hovercraft boasts larger, more efficient engines, heavy use of composite materials, and fly-by-wire operation as well increased payload - from 60 tons to about 74 tons at full speed of 35 knots. And while the LCAC was designed for a 10-year service life, the SSC has an expected 30-year service life.
The U.S. military's current LCAC. Image courtesy U.S. Navy.
Artist's rendering of the Ship to Shore Connector. Image courtesy
SSC Team Textron (Textron Marine & Land Systems, L-3 Communications and Alcoa Defense).
Rolls-Royce, with its North American headquarters in Indianapolis, Indiana, has been awarded the contract to power the fleet of SSCs. Each craft will use multiple Rolls-Royce MT7 gas turbines, derived from the highly successful AE1107 engine that powers the U.S. Marine Corps' V-22 Osprey tilt-rotor aircraft. This technology will give the SSC a 25% power increase over the LCAC, while dropping fuel consumption by 11%.
Work on the new fleet of SSCs will be performed in Indianapolis, IN (37%); Camden, NJ (25%); New Orleans, LA (11%); Norway (8%); Great Britain (7%); Farmington, MI (6%); and Eatontown, NJ (6%) and is expected to be complete by June 2015.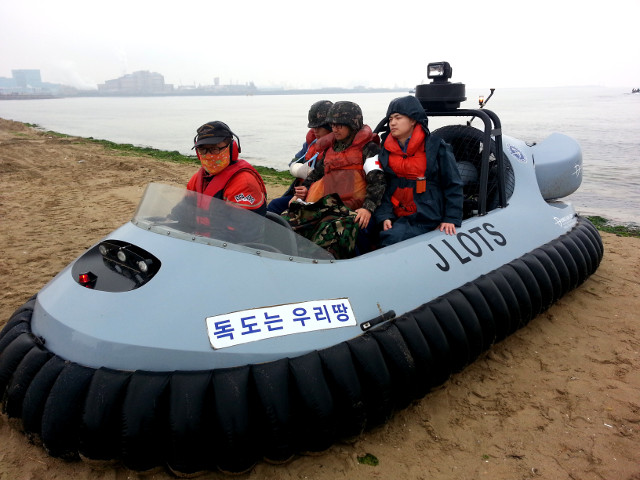 South Korean Navy personnel are transported in a Neoteric Military Hovertrek ™ during April's joint U.S./South Korean military exercises
in South Korea. Image courtesy DreamAir Co.

SOUTH KOREA: U.S. / South Korea Military Exercises Explore Ship-to-Shore Transport Solutions

Both heavy and light hovercraft were featured in U.S./South Korea joint military drills carried out in April near Pohang, South Korea to practice offshore loading and unloading of ships where port facilities are unavailable. These annual drills are conducted to enhance the security and readiness of the Republic of South Korea. Two U.S. Navy LCACs were deployed in landing exercises performed by the 3rd Marine Expeditionary Force based in Okinawa, Japan.

The South Korea Navy is also exploring how light hovercraft could improve ship-to-shore onloading and offloading of equipment and reduce dependence on large, vulnerable seaports. Dream Air, Co., the Neoteric Hovercraft, Inc. dealer in South Korea, demonstrated the capabilities of the Neoteric Hovertrek™ as a more rapid and less expensive transport option for personnel and smaller loads.

This year's exercises were conducted in an atmosphere of heightened tension on the Korean Peninsula, with North Korea's Kim Jong Un calling for an end to the joint U.S. / South Korea drills, demanding the withdrawal of sanctions imposed following North Korea's third nuclear test and threatening aggression against both the U.S. and South Korea.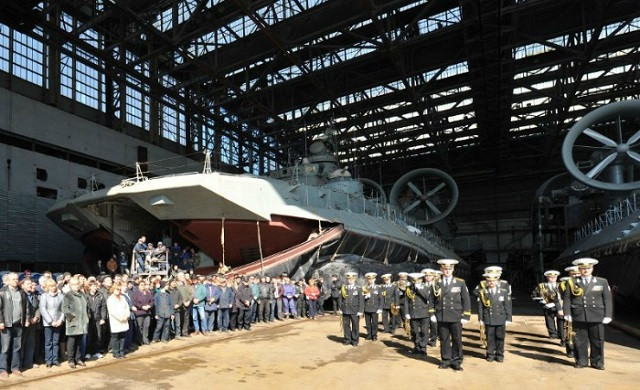 Delivery ceremony for the first Ukrainian-built Zubr-class LCAC commissioned by the Chinese Navy. Photo courtesy Ukroboronprom.
CHINA: China acquires Soviet-designed Zubr-class LCAC
The Chinese Navy accepted delivery of the first of four Zubr-class LCACs in an April ceremony with state-owned Ukrainian arms dealer Ikroboronprom. A second Zubr is in production in the Ukraine, and the remaining two craft are scheduled to be manufactured in China under the supervision of Ukrainian technicians. The total cost of the four craft is reported to be $315 million USD.
The Chinese acquisition comes at a time when other nations, such as the U.S. and Greece, are retiring and replacing their aging LCACs, which have a reputation for being expensive and difficult to operate and maintain.
Deriving its name from the Slavic word for bison, the Zubr is the largest LCAC in the world, with a payload of 150 tons, a cargo area of 4300 square feet and a fuel capacity of 56 tons. First developed in the USSR in the late 1970s and put into service with the Soviet Navy in 1988, the Zubr is employed by Russia, Greece, Ukraine and now China. This recent delivery marks a total of nine in active service worldwide.
Each issue of HoverWorld Insider will feature an article about hovercraft in military operations.
If you have an interesting story to share, please email Insider@WorldHovercraft.org
Formation of the Hovercraft Manufacturers Association
The World Hovercraft Federation has announced the formation of the Hovercraft Manufacturers Association (HMA) on March 8, 2013. The mission of the HMA is to develop and mature the hovercraft industry, promote hovercraft use in recreational and commercial roles, represent the industry to the media and to legislative authorities and work together to ensure that members produce safe hovercraft.
HMA membership is open to all full-time professional hovercraft manufacturers throughout the world. The initial annual membership fee is £200.00 ($261.98 USD) to cover initial setup costs (website, PO box, etc.) but it is anticipated that the fee will decrease considerably in subsequent years. An associate membership for £100 ($130.99 USD) is available to manufacturers of hovercraft exclusively for racing.
John Gifford, former Director of Griffon Hovercraft was elected Chairman of the HMA; Russ Pullen, Director of Flying Fish Hovercraft, was elected Secretary/Treasurer. Formative members include the following:
BBV Hovercraft
Flying Fish Hovercraft
HovPod Hovercraft
K&M Products (Eagle Hovercraft)
Norfolk Hovercraft
Vortex Hovercraft
For more information about the Hovercraft Manufacturers Association, contact russ@flyingfishhovercraft.co.uk
Hovertrans Solutions Pte. Ltd., Singapore
Hovertrans Solutions now offers its 50-ton payload heavy lift Hoverbarge for charter. The first of its kind to be manufactured in Singapore, the Hoverbarge is constructed for use in the oil and gas industries, heavy logistics industries, and for civil engineering work in otherwise inaccessible or on environmentally sensitive terrain.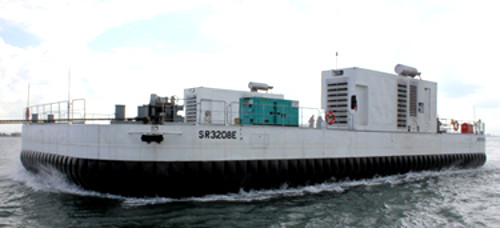 The Hovertrans Hoverbarge. Image courtesy Hovertrans.
Hovery Hovercraft, Brazil
Aero DC Ltda., the manufacturer of Hovery Hovercraft, announces two new models for 2013: the Hovery B1 one-person craft and the Hovery B2 two person craft. Both feature the special characteristics of the assemble-it-yourself foldable Hovery concept, including a lightweight collapsible structure transportable without a trailer, single joystick operation, and pricing lower than traditional rigid hovercraft.
Attention Hovercraft Manufacturers:
To have your company news published in HoverWorld Insider, please email it to Insider@WorldHovercraft.org.
Subscribe to HoverWorld Insider
Submit news or articles to HoverWorld Insider
HoverWorld Insider is published by the World Hovercraft Organization. All rights reserved.
Copyright (C) 2013 World Hovercraft Organization